Color Sample Gallery
The biggest challenge most shops face is around color. To help you meet that challenge we had a vision to create a better way for you, your customer, architects and designers to make the right selection of finish and look for your project. As a solution to your problem, our showroom has been transformed into a Color Sample Gallery. Our Color Sample Gallery has become THE destination for color selection.

Over 500 Samples of Wood Finishing Colors
On display, you will find over 500 color samples made in house and available to you. Using nearly a dozen species of wood and different staining and finishing techniques, it is now possible for you to see and choose from over 500 stain and finish samples. The sample varieties range from wiping stains on maple to dyes on exotic veneers. You will see multi-step dye-wipe combinations, pearl finishes, pigmented lacquers and CV's, glazes, crackles, waterborne finishes, and the list goes on. We had a vision and we nailed it!
Immediate Availability
In addition, we can produce all the materials used to achieve these colors and finishes in a matter of minutes, allowing you to immediately provide your qualified finisher with what he needs to successfully complete your job.
Location & Times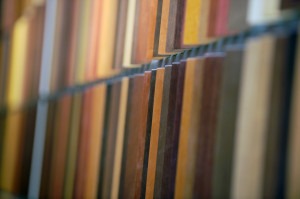 Our Color Sample Gallery is located at 14622 Southlawn Lane, Rockville, MD, 20850 and is open to the trade Monday thru Friday 8:00 am-3:00 pm.
The phone number is 301.424.3033 and the phone lines are open Monday thru Friday 8:00 am-3:00 pm. If you call after hours, or we are unavailable, leave a message or send us an email at info@prowoodfinishes.com.