In our internet based, fast paced world today, do you still need face-to-face consultation and solutions?
Pro Shop
Resources that are cohesive and comprehensive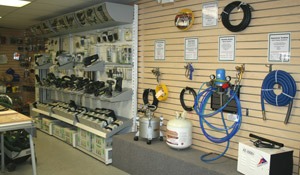 Pro Wood Finishes' Pro Shop isn't just another store where you buy products. Our showroom and contractor center goes way beyond that. Whatever your finishing needs, we are consistently there for you providing knowledge, training, troubleshooting, advice, and timely delivery of your products. Because of our depth of knowledge and expertise, we can recommend the products you need, saving you time and money. Pro Wood has what you need when you need it, and can also recommend custom solutions for the most complex projects. And of course we always have unadvertised in-store specials.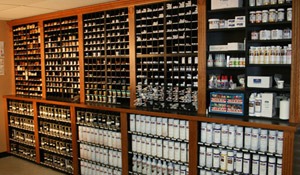 When it comes to spray equipment selection and servicing, you'll enjoy fast turnaround and expert service on the repair and cleaning of your equipment. We make sure your spray systems are operating properly by Original Equipment Manufacturer (OEM) parts, and guarantee the parts and service for each repair. We have a highly qualified spray equipment repair technician who will help you get back up and running quickly. We can also help you assess the cost and longevity of repairing a product versus buying it new. After a repair, we provide maintenance advice to make your equipment last longer, and can recommend additional parts to "improve" performance.
The Pro Wood Finishes team also manages product orders, color matches, and equipment repair services for our customers better than our competition. We track your order from beginning to end. We intentionally review it to make sure you get not only what you asked for but what you want.
Pro Shop Contact Information:
14622 Southlawn Lane
Rockville, MD 20850
Phone: 301-424-3033
Fax: 301-340-9023
info@prowoodfinishes.com
Hours of Operation:
Phones: M-F 8:00 – 3:00
Pro Shop: M-F 8:00 – 3:00
B2B only. We do not sell retail.
"I have to admit- I was impressed by the level of personal attention we received when we expressed an interest in upgrading our current finishing program. We knew we were behind the times and Andy Spagnolo came out with different formulations and literature to describe their properties, and a gun to apply them. We were able to select a new product and procedure from the sample finishes he sprayed with in our booth. I thought that kind of service was a thing of the past! Thanks Andy!!!"