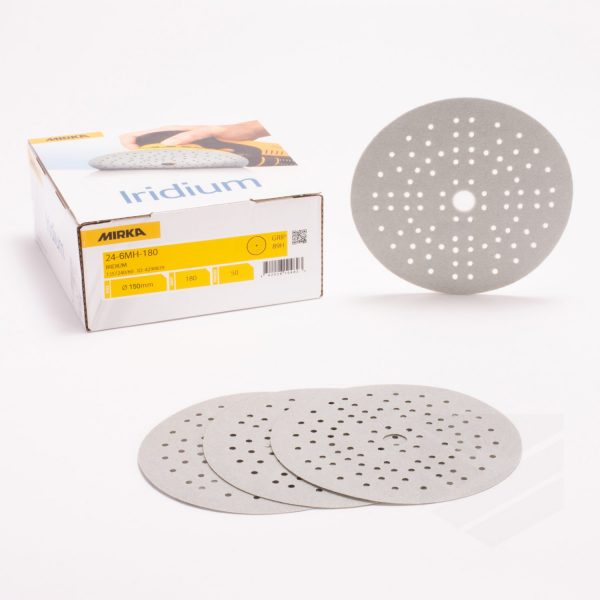 Iridium
Mirka's Iridium is produced with cutting edge technology and perfected for speed and efficiency. From coarse to fine grits, Iridium cuts faster with fewer steps on both soft and hard surfaces. Thanks to the new precision coating, the abrasive does not wear out easily. It practically repels dust, so the grains stay sharp longer. Dust extraction is efficient and convenient with Mirka's new multihole (121 holes) pattern. Just place and go. Get to the finish line faster, move up a gear.
Features: Fast sanding and consistent scratch pattern saves you time and money. Consistent quality and non-stick coating repels dust and provides a long disc life. Effective multihole pattern delivers outstanding performance without clogging. Premium paper backing offers remarkable flexibility and grain adhesion.
*For more information regarding this product see Information Sheet.
Description

Size

Attachment

# Holes

Grit

Package

Abrasive/Grain

Backing

Brand

Product #

Price

Quantity

Action

Iridium (special order)

Size

6"

Attachment

Hook & Loop

# Holes

121 Holes

Grit

40

Package

50/box

Abrasive/Grain

Ceramic/Aluminum Oxide

Backing

Latex C-paper

Brand

Mirka

MRK24-6MH-40

Call for Price

Iridium (special order)

Size

6"

Attachment

Hook & Loop

# Holes

121 Holes

Grit

60

Package

50/box

Abrasive/Grain

Ceramic/Aluminum Oxide

Backing

Latex C-paper

Brand

Mirka

MRK24-6MH-60

Call for Price

Iridium

Size

6"

Attachment

Hook & Loop

# Holes

121 Holes

Grit

80

Package

50/box

Abrasive/Grain

Ceramic/Aluminum Oxide

Backing

Latex C-paper

Brand

Mirka

MRK24-6MH-80

Call for Price

Iridium

Size

6"

Attachment

Hook & Loop

# Holes

121 Holes

Grit

120

Package

50/box

Abrasive/Grain

Ceramic/Aluminum Oxide

Backing

Latex C-paper

Brand

Mirka

MRK24-6MH-120

Call for Price

Iridium

Size

6"

Attachment

Hook & Loop

# Holes

121 Holes

Grit

150

Package

50/box

Abrasive/Grain

Ceramic/Aluminum Oxide

Backing

Latex C-paper

Brand

Mirka

MRK24-6MH-150

Call for Price

Iridium

Size

6"

Attachment

Hook & Loop

# Holes

121 Holes

Grit

180

Package

50/box

Abrasive/Grain

Ceramic/Aluminum Oxide

Backing

Latex C-paper

Brand

Mirka

MRK24-6MH-180

Call for Price

Iridium

Size

6"

Attachment

Hook & Loop

# Holes

121 Holes

Grit

240

Package

50/box

Abrasive/Grain

Ceramic/Aluminum Oxide

Backing

Latex C-paper

Brand

Mirka

MRK24-6MH-240

Call for Price

Iridium

Size

6"

Attachment

Hook & Loop

# Holes

121 Holes

Grit

320

Package

50/box

Abrasive/Grain

Ceramic/Aluminum Oxide

Backing

Latex C-paper

Brand

Mirka

MRK24-6MH-320

Call for Price

Iridium

Size

6"

Attachment

Hook & Loop

# Holes

121 Holes

Grit

400

Package

50/box

Abrasive/Grain

Ceramic/Aluminum Oxide

Backing

Latex C-paper

Brand

Mirka

MRK24-6MH-400

Call for Price

Iridium (special order)

Size

6"

Attachment

Hook & Loop

# Holes

121 Holes

Grit

500

Package

50/box

Abrasive/Grain

Ceramic/Aluminum Oxide

Backing

Latex C-paper

Brand

Mirka

MRK24-6MH-500

Call for Price

Iridium (special order)

Size

6"

Attachment

Hook & Loop

# Holes

121 Holes

Grit

600

Package

50/box

Abrasive/Grain

Ceramic/Aluminum Oxide

Backing

Latex C-paper

Brand

Mirka

MRK24-6MH-600

Call for Price