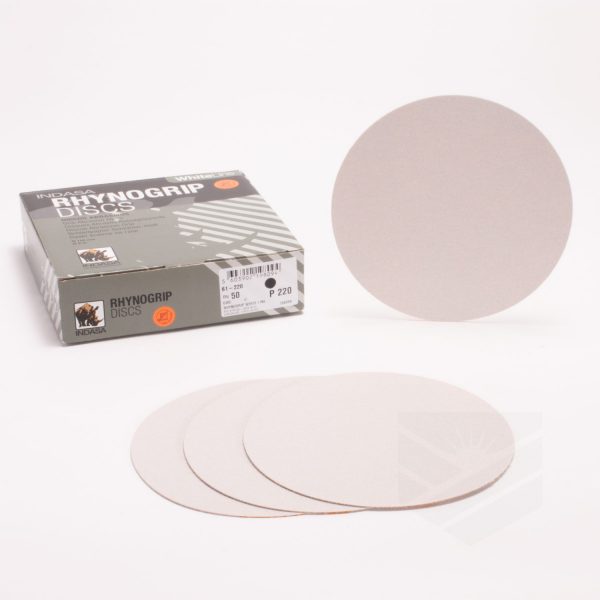 Rhynogrip White Line
Rhynogrip White Line features high initial cutting action for rapid stock removal and a clog resistant coating for long-lasting sanding. A great value for the money. For use on the following substrates: wood coatings, old paint, primers, gel coat, soft & resinous wood, fillers, fiberglass, metal, and walls & drywalls.
*For more information regarding this product see Information Sheet.
Description

Size

Attachment

# Holes

Grit

Package

Abrasive/Grain

Backing

Brand

Product #

Price

Quantity

Action

Rhynogrip White Line (special order)

Size

6"

Attachment

Hook & Loop

# Holes

No Holes

Grit

36

Package

50/box

Abrasive/Grain

Aluminum Oxide

Backing

D wt Paper

Brand

Indasa

INA61-36

Call for Price

Rhynogrip White Line (special order)

Size

6"

Attachment

Hook & Loop

# Holes

No Holes

Grit

40

Package

50/box

Abrasive/Grain

Aluminum Oxide

Backing

D wt Paper

Brand

Indasa

INA61-40

Call for Price

Rhynogrip White Line (special order)

Size

6"

Attachment

Hook & Loop

# Holes

No Holes

Grit

60

Package

50/box

Abrasive/Grain

Aluminum Oxide

Backing

D wt Paper

Brand

Indasa

INA61-60

Call for Price

Rhynogrip White Line

Size

6"

Attachment

Hook & Loop

# Holes

No Holes

Grit

80

Package

50/box

Abrasive/Grain

Aluminum Oxide

Backing

D wt Paper

Brand

Indasa

INA61-80

Call for Price

Rhynogrip White Line

Size

6"

Attachment

Hook & Loop

# Holes

No Holes

Grit

100

Package

50/box

Abrasive/Grain

Aluminum Oxide

Backing

D wt Paper

Brand

Indasa

INA61-100

Call for Price

Rhynogrip White Line

Size

6"

Attachment

Hook & Loop

# Holes

No Holes

Grit

120

Package

50/box

Abrasive/Grain

Aluminum Oxide

Backing

D wt Paper

Brand

Indasa

INA61-120

Call for Price

Rhynogrip White Line

Size

6"

Attachment

Hook & Loop

# Holes

No Holes

Grit

150

Package

50/box

Abrasive/Grain

Aluminum Oxide

Backing

C wt Paper

Brand

Indasa

INA61-150

Call for Price

Rhynogrip White Line

Size

6"

Attachment

Hook & Loop

# Holes

No Holes

Grit

180

Package

50/box

Abrasive/Grain

Aluminum Oxide

Backing

C wt Paper

Brand

Indasa

INA61-180

Call for Price

Rhynogrip White Line

Size

6"

Attachment

Hook & Loop

# Holes

No Holes

Grit

220

Package

50/box

Abrasive/Grain

Aluminum Oxide

Backing

C wt Paper

Brand

Indasa

INA61-220

Call for Price

Rhynogrip White Line (special order)

Size

6"

Attachment

Hook & Loop

# Holes

No Holes

Grit

240

Package

50/box

Abrasive/Grain

Aluminum Oxide

Backing

C wt Paper

Brand

Indasa

INA61-240

Call for Price

Rhynogrip White Line (special order)

Size

6"

Attachment

Hook & Loop

# Holes

No Holes

Grit

280

Package

50/box

Abrasive/Grain

Aluminum Oxide

Backing

C wt Paper

Brand

Indasa

INA61-280

Call for Price

Rhynogrip White Line

Size

6"

Attachment

Hook & Loop

# Holes

No Holes

Grit

320

Package

50/box

Abrasive/Grain

Aluminum Oxide

Backing

C wt Paper

Brand

Indasa

INA61-320

Call for Price

Rhynogrip White Line (special order)

Size

6"

Attachment

Hook & Loop

# Holes

No Holes

Grit

360

Package

50/box

Abrasive/Grain

Aluminum Oxide

Backing

C wt Paper

Brand

Indasa

INA61-360

Call for Price

Rhynogrip White Line (special order)

Size

6"

Attachment

Hook & Loop

# Holes

No Holes

Grit

400

Package

50/box

Abrasive/Grain

Aluminum Oxide

Backing

C wt Paper

Brand

Indasa

INA61-400

Call for Price

Rhynogrip White Line (special order)

Size

6"

Attachment

Hook & Loop

# Holes

No Holes

Grit

500

Package

50/box

Abrasive/Grain

Aluminum Oxide

Backing

C wt Paper

Brand

Indasa

INA61-500

Call for Price

Rhynogrip White Line (special order)

Size

6"

Attachment

Hook & Loop

# Holes

No Holes

Grit

600

Package

50/box

Abrasive/Grain

Aluminum Oxide

Backing

C wt Paper

Brand

Indasa

INA61-600

Call for Price