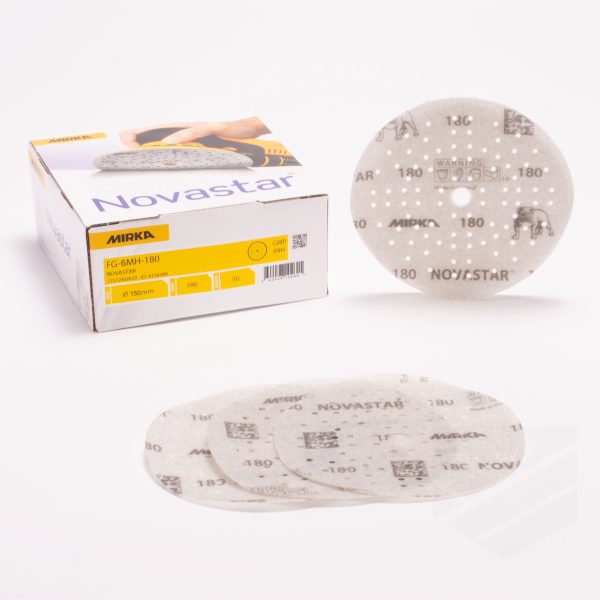 Novastar
Novastar tackles demanding surfaces with unexpected ease. The remarkable cut of Novastar in coarse grits and outstanding surface finish of fine grits gets the job done faster in fewer steps. Made with state-of-the-art technology, this tough film abrasive is made to last and keeps sanding longer. The new non-stick coating practically repels dust, so there is no clogging. Dust extraction is efficient and convenient with Mirka's new multihole (121 holes) pattern. Just place and go. Novastar is ideal for hard surfaces where a robust abrasive is needed. When sanding feels like a challenge, let Novastar surpass your expectations.
Features: Aggressive initial cut in coarse grits for heavy duty applications. Long lasting disc life means excellent performance using fewer discs. Consistent scratch pattern provides the desired finish. Effective multihole pattern delivers outstanding performance without clogging. Premium film backing offers outstanding edgewear resistance, flexibility and grain adhesion.
*For more information regarding this product see Information Sheet.
Description

Size

Attachment

# Holes

Grit

Package

Abrasive/Grain

Backing

Brand

Product #

Price

Quantity

Action

Novastar

Size

6"

Attachment

Hook & Loop

# Holes

121-Hole

Grit

80

Package

50/box

Abrasive/Grain

Ceramic/Aluminum Oxide

Backing

Polyester Film

Brand

Mirka

MRKFG6MH-80

Call for Price

Novastar

Size

6"

Attachment

Hook & Loop

# Holes

121-Hole

Grit

120

Package

50/box

Abrasive/Grain

Ceramic/Aluminum Oxide

Backing

Polyester Film

Brand

Mirka

MRKFG6MH-120

Call for Price

Novastar

Size

6"

Attachment

Hook & Loop

# Holes

121-Hole

Grit

150

Package

50/box

Abrasive/Grain

Ceramic/Aluminum Oxide

Backing

Polyester Film

Brand

Mirka

MRKFG6MH-150

Call for Price

Novastar

Size

6"

Attachment

Hook & Loop

# Holes

121-Hole

Grit

180

Package

50/box

Abrasive/Grain

Ceramic/Aluminum Oxide

Backing

Polyester Film

Brand

Mirka

MRKFG6MH-180

Call for Price

Novastar

Size

6"

Attachment

Hook & Loop

# Holes

121-Hole

Grit

240

Package

50/box

Abrasive/Grain

Ceramic/Aluminum Oxide

Backing

Polyester Film

Brand

Mirka

MRKFG6MH-240

Call for Price

Novastar

Size

6"

Attachment

Hook & Loop

# Holes

121-Hole

Grit

320

Package

50/box

Abrasive/Grain

Ceramic/Aluminum Oxide

Backing

Polyester Film

Brand

Mirka

MRKFG6MH-320

Call for Price

Novastar (special order)

Size

6"

Attachment

Hook & Loop

# Holes

121-Hole

Grit

400

Package

50/box

Abrasive/Grain

Ceramic/Aluminum Oxide

Backing

Polyester Film

Brand

Mirka

MRKFG6MH-400

Call for Price

Novastar (special order)

Size

6"

Attachment

Hook & Loop

# Holes

121-Hole

Grit

500

Package

50/box

Abrasive/Grain

Ceramic/Aluminum Oxide

Backing

Polyester Film

Brand

Mirka

MRKFG6MH-500

Call for Price

Novastar (special order)

Size

6"

Attachment

Hook & Loop

# Holes

121-Hole

Grit

600

Package

50/box

Abrasive/Grain

Ceramic/Aluminum Oxide

Backing

Polyester Film

Brand

Mirka

MRKFG6MH-600

Call for Price