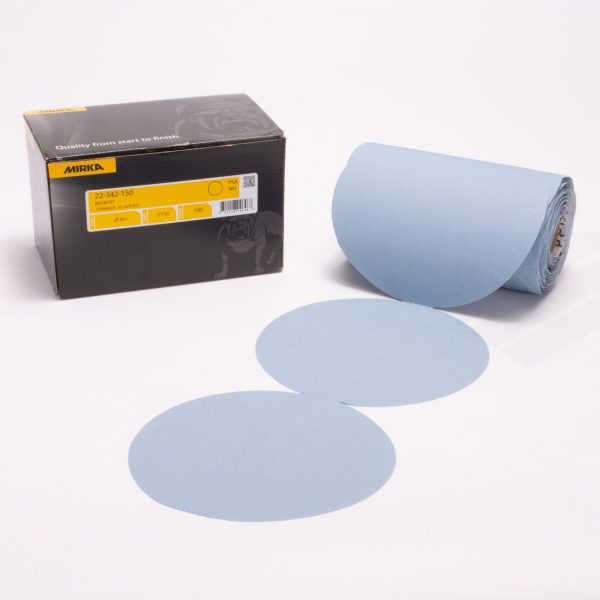 Basecut 22- Series- Linkrol
Mirka Basecut paper-backed abrasives are durable and well suited for high speed sanding in a multitude of applications. Aggressive initial cut. Stearate coated to prevent clogging and loading which allows for the optimal sanding result. Economical option.
*For more information regarding this product see Information Sheet.
Description

Size

Attachment

# Holes

Grit

Package

Abrasive/Grain

Backing

Brand

Product #

Price

Quantity

Action

Basecut-22 Series-Linkrol

Size

6"

Attachment

PSA

# Holes

No Holes

Grit

80

Package

100/box

Abrasive/Grain

Aluminum Oxide

Backing

D wt Paper

Brand

Mirka

MRK22-342-80

Call for Price

Basecut-22 Series-Linkrol

Size

6"

Attachment

PSA

# Holes

No Holes

Grit

100

Package

100/box

Abrasive/Grain

Aluminum Oxide

Backing

C wt Paper

Brand

Mirka

MRK22-342-100

Call for Price

Basecut-22 Series-Linkrol

Size

6"

Attachment

PSA

# Holes

No Holes

Grit

120

Package

100/box

Abrasive/Grain

Aluminum Oxide

Backing

C wt Paper

Brand

Mirka

MRK22-342-120

Call for Price

Basecut-22 Series-Linkrol

Size

6"

Attachment

PSA

# Holes

No Holes

Grit

150

Package

100/box

Abrasive/Grain

Aluminum Oxide

Backing

C wt Paper

Brand

Mirka

MRK22-342-150

Call for Price

Basecut-22 Series-Linkrol

Size

6"

Attachment

PSA

# Holes

No Holes

Grit

180

Package

100/box

Abrasive/Grain

Aluminum Oxide

Backing

C wt Paper

Brand

Mirka

MRK22-342-180

Call for Price

Basecut-22 Series-Linkrol

Size

6"

Attachment

PSA

# Holes

No Holes

Grit

220

Package

100/box

Abrasive/Grain

Aluminum Oxide

Backing

C wt Paper

Brand

Mirka

MRK22-342-220

Call for Price

Basecut-22 Series-Linkrol

Size

6"

Attachment

PSA

# Holes

No Holes

Grit

320

Package

100/box

Abrasive/Grain

Aluminum Oxide

Backing

C wt Paper

Brand

Mirka

MRK22-342-320

Call for Price

Basecut-22 Series-Linkrol (special order)

Size

6"

Attachment

PSA

# Holes

No Holes

Grit

400

Package

100/box

Abrasive/Grain

Aluminum Oxide

Backing

C wt Paper

Brand

Mirka

MRK22-342-400

Call for Price

Basecut-22 Series-Linkrol (special order)

Size

6"

Attachment

PSA

# Holes

No Holes

Grit

500

Package

100/box

Abrasive/Grain

Aluminum Oxide

Backing

C wt Paper

Brand

Mirka

MRK22-342-500

Call for Price