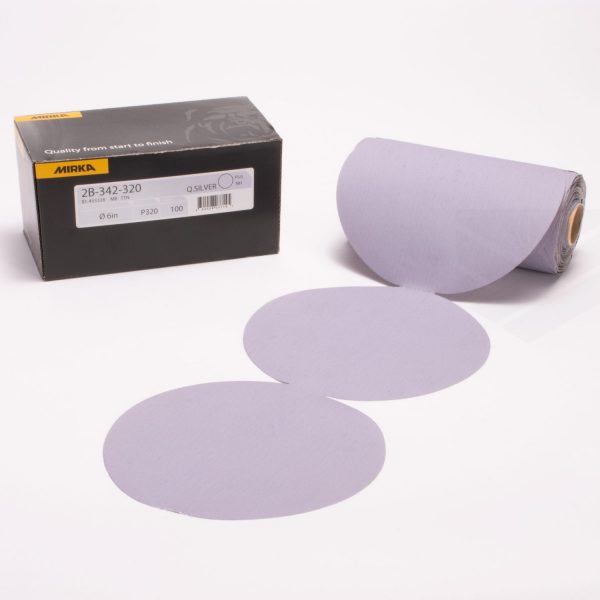 Q.Silver-2B Series- Linkrol
Mirka's paper backed abrasives are durable and well suited for high speed sanding in a multitude of applications. The excellent, uniform grain distribution provides an enhanced surface producing a more consistent scratch pattern. Q.Silver has a special self-sacrificing stearate coating to reduce clogging and loading. Semi-open coat design provides fast finishing. Resin bonding provides superior grain support.
*For more information regarding this product see Information Sheet.
Description

Size

Attachment

# Holes

Grit

Package

Abrasive/Grain

Backing

Brand

Product #

Price

Quantity

Action

Q.Silver-2B Series-Linkrol

Size

6"

Attachment

PSA

# Holes

No Holes

Grit

80

Package

50/box

Abrasive/Grain

Aluminum Oxide

Backing

D wt Paper

Brand

Mirka

MRK2B-342-80

Call for Price

Q.Silver-2B Series-Linkrol

Size

6"

Attachment

PSA

# Holes

No Holes

Grit

120

Package

50/box

Abrasive/Grain

Aluminum Oxide

Backing

D wt Paper

Brand

Mirka

MRK2B-342-120

Call for Price

Q.Silver-2B Series-Linkrol

Size

6"

Attachment

PSA

# Holes

No Holes

Grit

150

Package

50/box

Abrasive/Grain

Aluminum Oxide

Backing

D wt Paper

Brand

Mirka

MRK2B-342-150

Call for Price

Q.Silver-2B Series-Linkrol

Size

6"

Attachment

PSA

# Holes

No Holes

Grit

180

Package

50/box

Abrasive/Grain

Aluminum Oxide

Backing

C wt Paper

Brand

Mirka

MRK2B-342-180

Call for Price

Q.Silver-2B Series-Linkrol

Size

6"

Attachment

PSA

# Holes

No Holes

Grit

220

Package

50/box

Abrasive/Grain

Aluminum Oxide

Backing

C wt Paper

Brand

Mirka

MRK2B-342-220

Call for Price

Q.Silver-2B Series-Linkrol (special order)

Size

6"

Attachment

PSA

# Holes

No Holes

Grit

240

Package

50/box

Abrasive/Grain

Aluminum Oxide

Backing

C wt Paper

Brand

Mirka

MRK2B-342-240

Call for Price

Q.Silver-2B Series-Linkrol

Size

6"

Attachment

PSA

# Holes

No Holes

Grit

320

Package

50/box

Abrasive/Grain

Aluminum Oxide

Backing

C wt Paper

Brand

Mirka

MRK2B-342-320

Call for Price

Q.Silver-2B Series-Linkrol (special order)

Size

6"

Attachment

PSA

# Holes

No Holes

Grit

400

Package

50/box

Abrasive/Grain

Aluminum Oxide

Backing

C wt Paper

Brand

Mirka

MRK2B-342-400

Call for Price

Q.Silver-2B Series-Linkrol (special order)

Size

6"

Attachment

PSA

# Holes

No Holes

Grit

500

Package

50/box

Abrasive/Grain

Aluminum Oxide

Backing

C wt Paper

Brand

Mirka

MRK2B-342-500

Call for Price