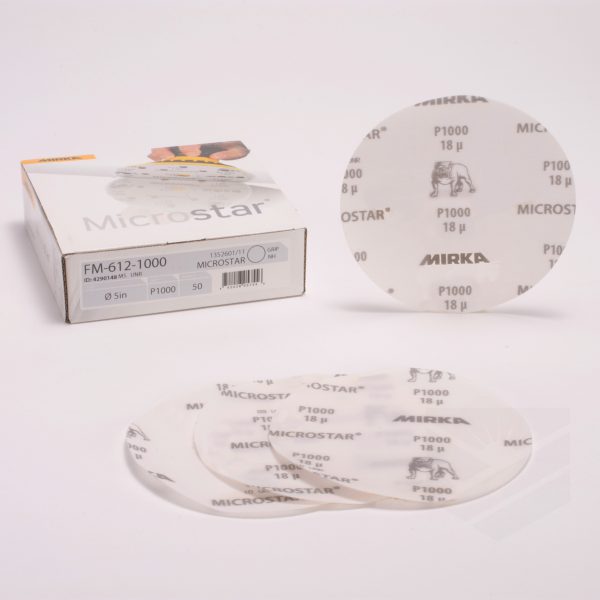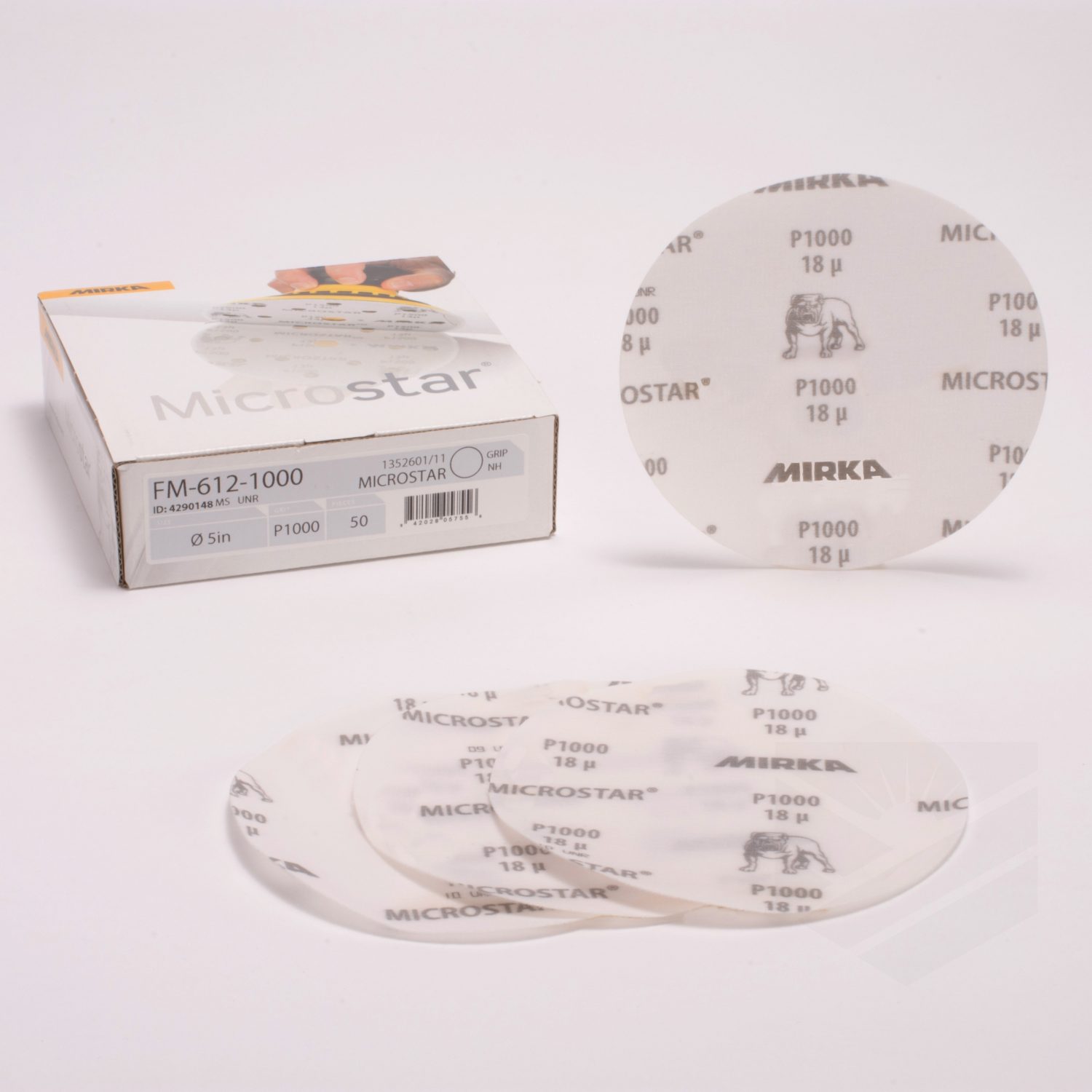 Microstar-FM Series (5″)
Mirka's film backing material creates a flexible and smooth abrasive surface, compared to paper backing. Ideal for removal of runs, dust nibs and excess orange peel from topcoat finishes before repainting or buffing. Resists loading for longer disc life. Ideal for sanding fresh or soft clearcoat. Leaves an even scratch pattern, which buffs out quickly. Film-backed discs have full resin bonded aluminum oxide grain.
*For more information regarding this product see Information Sheet.
Description

Size

Attachment

# Holes

Grit

Package

Abrasive/Grain

Backing

Brand

Product #

Price

Quantity

Action

Description

Microstar-FM Series

Size

5"

Attachment

Hook & Loop

# Holes

Film Backed

Grit

800

Package

50/box

Abrasive/Grain

Aluminum Oxide

Backing

Polyester Film

Brand

Mirka

Product #

MRKFM-612-800

Price

Call for Price

Description

Microstar-FM Series

Size

5"

Attachment

Hook & Loop

# Holes

Film Backed

Grit

1000

Package

50/box

Abrasive/Grain

Aluminum Oxide

Backing

Polyester Film

Brand

Mirka

Product #

MRKFM-612-1000

Price

Call for Price

Description

Microstar-FM Series

Size

5"

Attachment

Hook & Loop

# Holes

Film Backed

Grit

1200

Package

50/box

Abrasive/Grain

Aluminum Oxide

Backing

Polyester Film

Brand

Mirka

Product #

MRKFM-612-1200

Price

Call for Price

Description

Microstar-FM Series

Size

5"

Attachment

Hook & Loop

# Holes

Film Backed

Grit

1500

Package

50/box

Abrasive/Grain

Aluminum Oxide

Backing

Polyester Film

Brand

Mirka

Product #

MRKFM-612-1500

Price

Call for Price

Description

Microstar-FM Series

Size

5"

Attachment

Hook & Loop

# Holes

Film Backed

Grit

2000

Package

50/box

Abrasive/Grain

Aluminum Oxide

Backing

Polyester Film

Brand

Mirka

Product #

MRKFM-612-2000

Price

Call for Price

Description

Microstar-FM Series

Size

5"

Attachment

Hook & Loop

# Holes

Film Backed

Grit

2500

Package

50/box

Abrasive/Grain

Aluminum Oxide

Backing

Polyester Film

Brand

Mirka

Product #

MRKFM-612-2500

Price

Call for Price