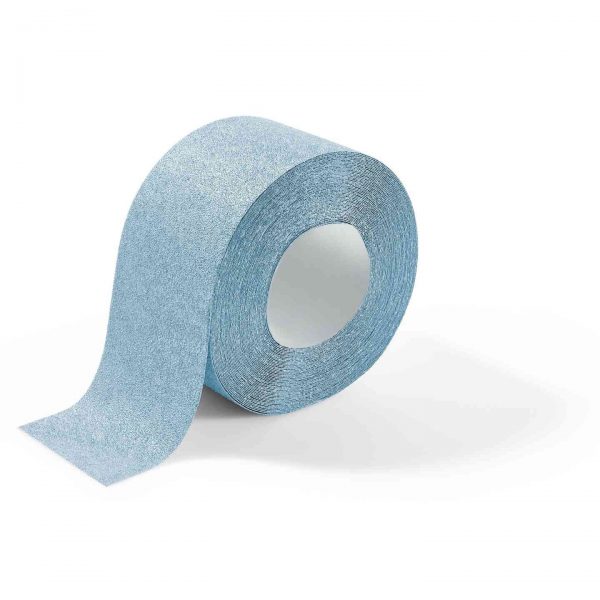 Granat Roll Abrasives (115mm x 25m)
Over 82' of 4-1/2"-wide continuous roll abrasive can be cut to length as needed. Available in grits P40 – P240. Can be used with 1/2 sheet sanders like the RS 2 E. Whether for those difficult-to-reach spots or for carrying out minor corrections, the new GRANAT premium hand sanding abrasives ensure you will achieve the desired sanding results quickly and efficiently, even for hand sanding. Long lasting, high-performance abrasives are resistant to tearing and are durable and washable. The synthetic resin bonding provides a tenacious grip for long lasting cutting power without grooves or scratches. Specially formed sponges provide unique profiles tackle hard-to-solve hand sanding problems, and sheets and rolls, tackle common sanding needs.
Helps achieve an outstanding final finish. Abrasives have excellent surface quality. No wrinkles or kinking for optimal protection of the surface. High material removal. Less grit break-out. Easy cleaning for a longer life time. Outstanding adaptation due to foam backing material. Manual hand sanding abrasives for any application. Flexible, universal hand abrasive for paints, repair compounds, fillers, clear coats (especially VOC clear coat and hard undercoats). In a bag.
Description

Size

Grit

# Discs/Bx

Product #

Price

Quantity

Action

Granat Roll Abrasives – P40 (special order)

Size

115 mm x 25 m

Grit

P40

# Discs/Bx

Roll

201103

Call for Price

Granat Roll Abrasives – P60 (special order)

Size

115 mm x 25 m

Grit

P60

# Discs/Bx

Roll

201104

Call for Price

Granat Roll Abrasives – P80

Size

115 mm x 25 m

Grit

P80

# Discs/Bx

Roll

201105

Call for Price

Granat Roll Abrasives – P100

Size

115 mm x 25 m

Grit

P100

# Discs/Bx

Roll

201106

Call for Price

Granat Roll Abrasives – P120

Size

115 mm x 25 m

Grit

P120

# Discs/Bx

Roll

201107

Call for Price

Granat Roll Abrasives – P150

Size

115 mm x 25 m

Grit

P150

# Discs/Bx

Roll

201108

Call for Price

Granat Roll Abrasives – P180

Size

115 mm x 25 m

Grit

P180

# Discs/Bx

Roll

201109

Call for Price

Granat Roll Abrasives – P220

Size

115 mm x 25 m

Grit

P220

# Discs/Bx

Roll

201110

Call for Price

Granat Roll Abrasives – P240 (special order)

Size

115 mm x 25 m

Grit

P240

# Discs/Bx

Roll

201111

Call for Price