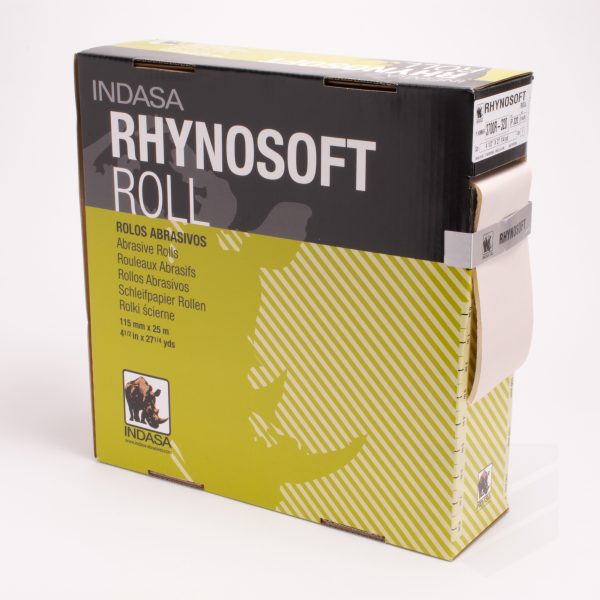 4.5 in x 27.25 yd-Rhynosoft Roll
This 4.5″ wide, 27 yds long roll of highly flexible foam backed abrasive can be cut to any length your job may require. It is tear resistant and thus ideal for hand sanding hard to access areas. Application is good for heavy duty sanding, sanding preparation, fine sanding, sanding for blending, micro-finishing & rectifying, and scuffing & key paint work. Works well on the following substrates: Old paint, fillers, primers, top coats, clear coats, fiberglass, gel coat, soft and resinous wood, hard wood and wood coatings.
*For more information regarding this product see Information Sheet.
Description

Size

Grit

Package

Abrasive/Grain

Backing

Brand

Product #

Price

Quantity

Action

4.5 in x 27.25 yd-Rhynosoft Roll (special order)

Size

4.5" x 27.25yd

Grit

80

Package

1 roll

Abrasive/Grain

Aluminum Oxide

Backing

C wt Latex Paper

Brand

Indasa

INA3700R-80

Call for Price

4.5 in x 27.25 yd-Rhynosoft Roll (special order)

Size

4.5" x 27.25yd

Grit

100

Package

1 roll

Abrasive/Grain

Aluminum Oxide

Backing

C wt Latex Paper

Brand

Indasa

INA3700R-100

Call for Price

4.5 in x 27.25 yd-Rhynosoft Roll (special order)

Size

4.5" x 27.25yd

Grit

120

Package

1 roll

Abrasive/Grain

Aluminum Oxide

Backing

C wt Latex Paper

Brand

Indasa

INA3700R-120

Call for Price

4.5 in x 27.25 yd-Rhynosoft Roll

Size

4.5" x 27.25yd

Grit

150

Package

1 roll

Abrasive/Grain

Aluminum Oxide

Backing

B Wt Latex Paper

Brand

Indasa

INA3700R-150

Call for Price

4.5 in x 27.25 yd-Rhynosoft Roll

Size

4.5" x 27.25yd

Grit

180

Package

1 roll

Abrasive/Grain

Aluminum Oxide

Backing

B Wt Latex Paper

Brand

Indasa

INA3700R-180

Call for Price

4.5 in x 27.25 yd-Rhynosoft Roll

Size

4.5" x 27.25yd

Grit

240

Package

1 roll

Abrasive/Grain

Aluminum Oxide

Backing

B Wt Latex Paper

Brand

Indasa

INA3700R-240

Call for Price

4.5 in x 27.25 yd-Rhynosoft Roll

Size

4.5" x 27.25yd

Grit

320

Package

1 roll

Abrasive/Grain

Aluminum Oxide

Backing

B Wt Latex Paper

Brand

Indasa

INA3700R-320

Call for Price

4.5 in x 27.25 yd-Rhynosoft Roll

Size

4.5" x 27.25yd

Grit

400

Package

1 roll

Abrasive/Grain

Aluminum Oxide

Backing

B Wt Latex Paper

Brand

Indasa

INA3700R-400

Call for Price