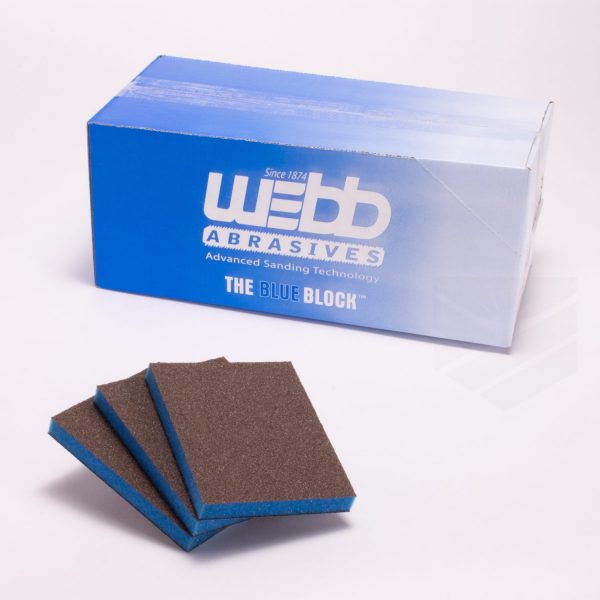 Hand Pad- Webb Abrasives
The Hand Pad, with its extra soft backing material, adapts perfectly to all profiled and rounded workpieces and exhibits a very low clogging tendency in applications with varnish, filler and paint. These characteristics ensure an even and perfect abrasive scratch pattern without scratching. The abrasive sponge can be used when moist for special applications.
Specifications: Dimensions: 3 3/4″x4 3/4″x1/2″. Coating: 2 sided grit. Grit: Brown aluminum oxide. Backing Material: PU Blue Foam (polyurethane), solvent free. Foam Hardness: Extra soft, for maximum adaptability.
Description

Size

Attachment

# Holes

Grit

Package

Abrasive/Grain

Backing

Brand

Product #

Price

Quantity

Action

Hand Pad-60 Grit-Medium

Size

3 3/4" x 4 3/4" x 1/2"

Attachment

Plain

# Holes

No Holes

Grit

60

Package

24/pkg

Abrasive/Grain

Brown Aluminum Oxide

Backing

PU Blue Foam (polyurethane)

Brand

Webb Abrasives

WEBB100128

Call for Price

Hand Pad-100 Grit-Fine

Size

3 3/4" x 4 3/4" x 1/2"

Attachment

Plain

# Holes

No Holes

Grit

100

Package

24/pkg

Abrasive/Grain

Brown Aluminum Oxide

Backing

PU Blue Foam (polyurethane)

Brand

Webb Abrasives

WEBB100111

Call for Price

Hand Pad-180 Grit-Superfine

Size

3 3/4" x 4 3/4" x 1/2"

Attachment

Plain

# Holes

No Holes

Grit

180

Package

24/pkg

Abrasive/Grain

Brown Aluminum Oxide

Backing

PU Blue Foam (polyurethane)

Brand

Webb Abrasives

WEBB100142

Call for Price