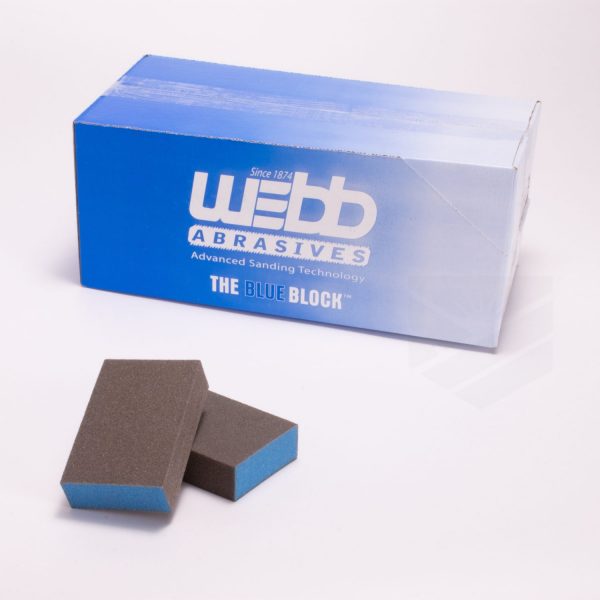 Standard Block- Webb Abrasives
The universally applicable Standard Block for the painter and carpenter is distinguished by a perfect combination of high removal capacity and good surface quality. The Standard Block adapts to all surfaces, edges and profiles in an optimum way thanks to its four sided grit coating. In addition, the Standard Block can be cleaned easily with compressed air or water, allowing it to be used several times.
Specifications: Dimensions: Combo 2 5/8″x3 7/8″x1″. Coating: 4 sided grit. Grit: Brown aluminum oxide. Backing Material: PU Blue Foam (polyurethane), solvent free. Foam Hardness: Firm, for high removal capacity.
Description

Size

Attachment

# Holes

Grit

Package

Abrasive/Grain

Backing

Brand

Product #

Price

Quantity

Action

Standard Block-Fine

Size

2 5/8" x 3 7/8" x 1"

Attachment

Plain

# Holes

No Holes

Grit

100

Package

24/pkg

Abrasive/Grain

Brown Aluminum Oxide

Backing

PU Blue Foam (polyurethane)

Brand

Webb Abrasives

WEBB100012

Call for Price

Standard Block-Medium

Size

2 5/8" x 3 7/8" x 1"

Attachment

Plain

# Holes

No Holes

Grit

60

Package

24/pkg

Abrasive/Grain

Brown Aluminum Oxide

Backing

PU Blue Foam (polyurethane)

Brand

Webb Abrasives

WEBB100029

Call for Price