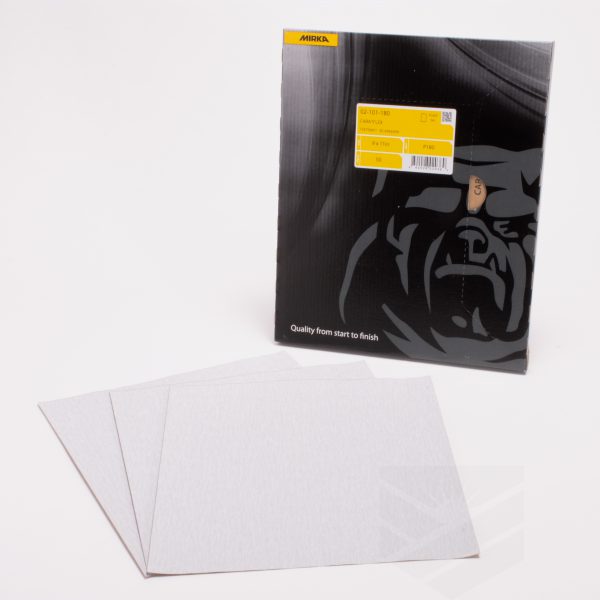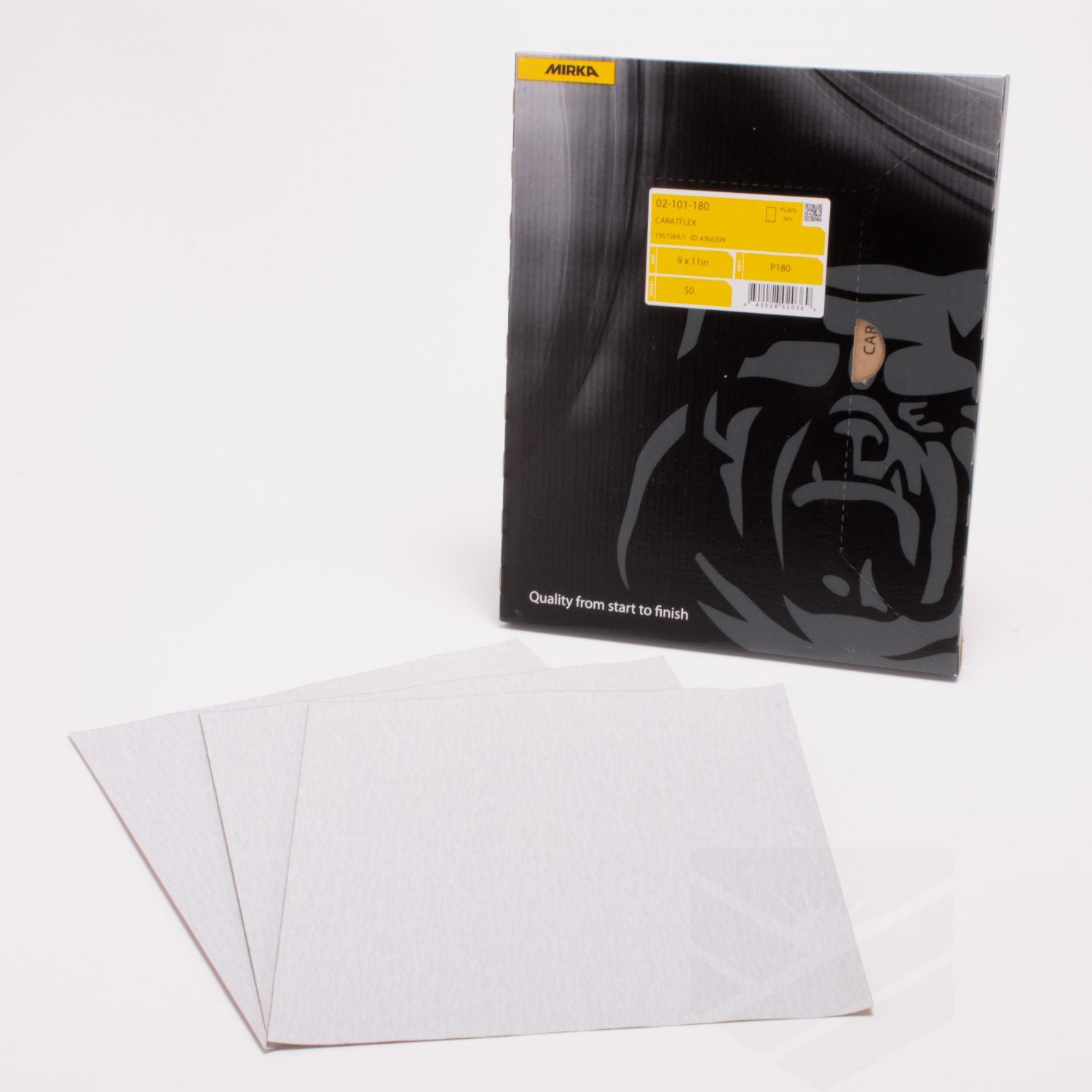 CaratFlex-02 Series (Mirka)
CaratFlex is designed for hand sanding of wood, sealers, paint & lacquers. The latex impregnated paper backing is highly flexible and ideal for profile sanding. An advanced stearate coating is used to resist loading. The resin bonding improves the grain adherence and product life. The silicon carbide grain delivers an exceptionally sharp smooth cut.
*For more information regarding this product see Information Sheet.
Description

Size

Grit

Package

Abrasive/Grain

Backing

Brand

Product #

Price

Quantity

Action

CaratFlex Finishing Sheet

Size

9" x 11"

Grit

80

Package

25/pkg

Abrasive/Grain

Silicone Carbide

Backing

B Wt Paper

Brand

Mirka

MRK02-101-80

Call for Price

CaratFlex Finishing Sheet

Size

9" x 11"

Grit

100

Package

50/pkg

Abrasive/Grain

Silicone Carbide

Backing

B Wt Paper

Brand

Mirka

MRK02-101-100

Call for Price

CaratFlex Finishing Sheet

Size

9" x 11"

Grit

120

Package

50/pkg

Abrasive/Grain

Silicone Carbide

Backing

B Wt Paper

Brand

Mirka

MRK02-101-120

Call for Price

CaratFlex Finishing Sheet

Size

9" x 11"

Grit

150

Package

50/pkg

Abrasive/Grain

Silicone Carbide

Backing

A Wt Paper

Brand

Mirka

MRK02-101-150

Call for Price

CaratFlex Finishing Sheet

Size

9" x 11"

Grit

180

Package

50/pkg

Abrasive/Grain

Silicone Carbide

Backing

A Wt Paper

Brand

Mirka

MRK02-101-180

Call for Price

CaratFlex Finishing Sheet

Size

9" x 11"

Grit

220

Package

50/pkg

Abrasive/Grain

Silicone Carbide

Backing

A Wt Paper

Brand

Mirka

MRK02-101-220

Call for Price

CaratFlex Finishing Sheet

Size

9" x 11"

Grit

240

Package

50/pkg

Abrasive/Grain

Silicone Carbide

Backing

A Wt Paper

Brand

Mirka

MRK02-101-240

Call for Price

CaratFlex Finishing Sheet

Size

9" x 11"

Grit

280

Package

50/pkg

Abrasive/Grain

Silicone Carbide

Backing

A Wt Paper

Brand

Mirka

MRK02-101-280

Call for Price

CaratFlex Finishing Sheet

Size

9" x 11"

Grit

320

Package

50/pkg

Abrasive/Grain

Silicone Carbide

Backing

A Wt Paper

Brand

Mirka

MRK02-101-320

Call for Price

CaratFlex Finishing Sheet

Size

9" x 11"

Grit

400

Package

50/pkg

Abrasive/Grain

Silicone Carbide

Backing

A Wt Paper

Brand

Mirka

MRK02-101-400

Call for Price