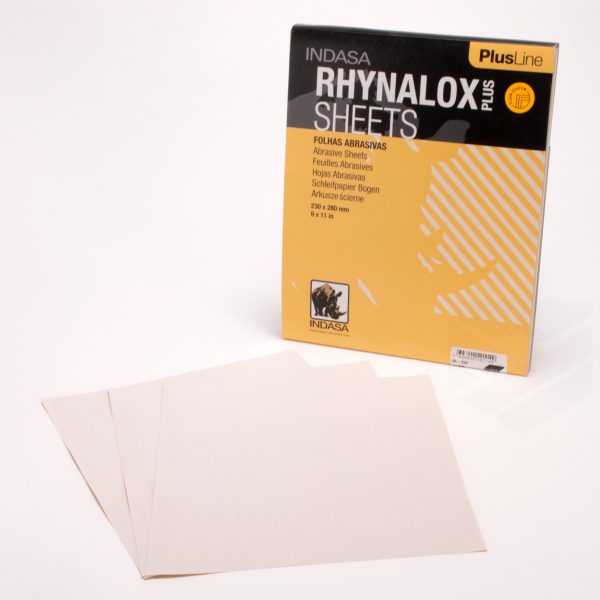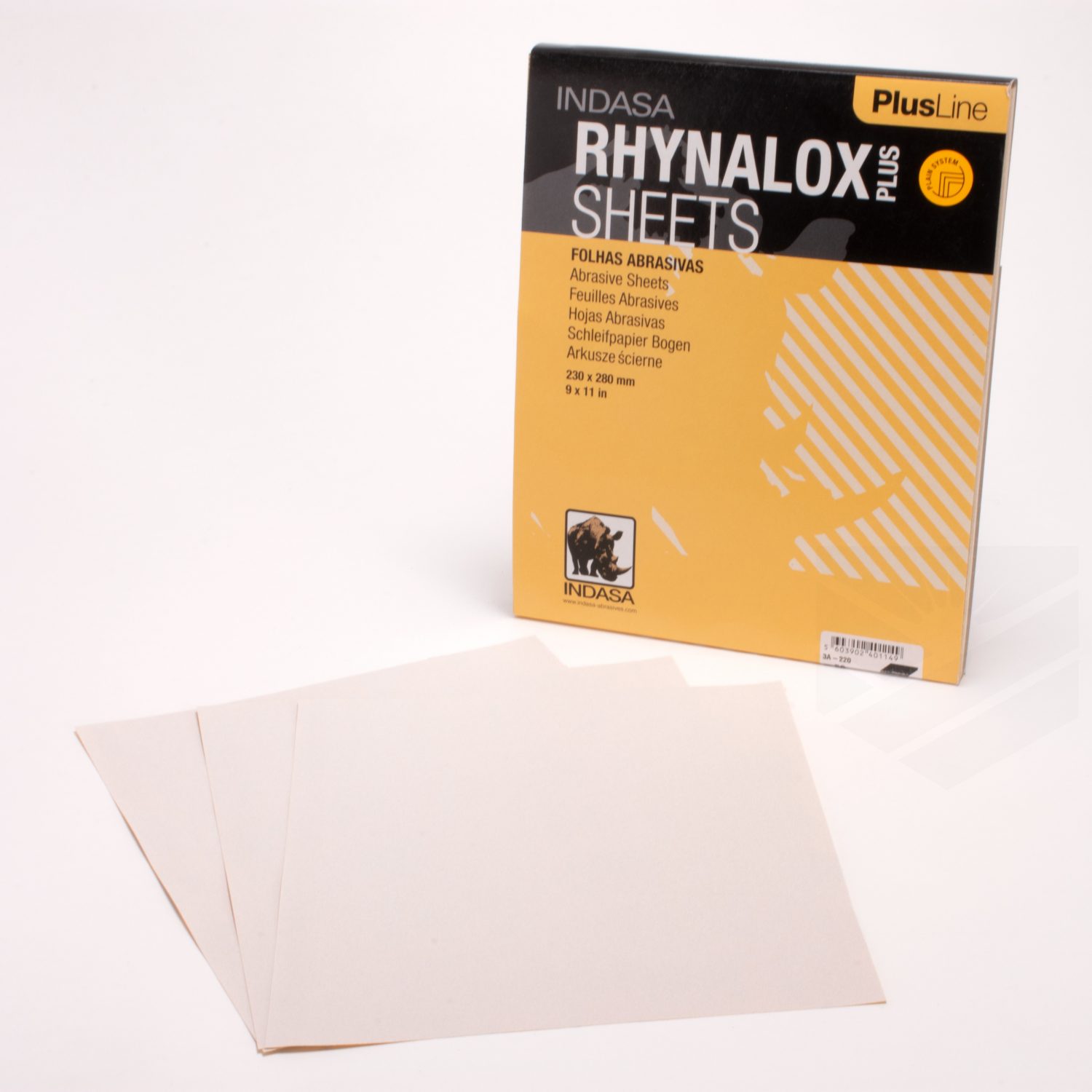 Rhynolox Plus (Indasa)
Rhynolox Plus line sandpaper is good for heavy duty as well as fine sanding. Its high flexibility adapts to curves and contour surfaces. Its uniformity of scratch pattern produces optimal substrate preparation. Its clog-resistant coating means long lasting sanding. Good for sanding wood coatings, fillers, primers, top coats, fiberglass, gel coats, soft & resinous woods and old paint.
*For more information regarding this product see Information Sheet.
Description

Size

Grit

Package

Abrasive/Grain

Backing

Brand

Product #

Price

Quantity

Action

Rhynolox Plus Finishing Sheet (special order)

Size

9" x 11"

Grit

40

Package

50/pkg

Abrasive/Grain

Aluminum Oxide

Backing

D wt Paper

Brand

Mirka

INA3A-40

Call for Price

Rhynolox Plus Finishing Sheet

Size

9" x 11"

Grit

60

Package

50/pkg

Abrasive/Grain

Aluminum Oxide

Backing

D wt Paper

Brand

Mirka

INA3A-60

Call for Price

Rhynolox Plus Finishing Sheet

Size

9" x 11"

Grit

80

Package

50/pkg

Abrasive/Grain

Aluminum Oxide

Backing

C wt Paper

Brand

Mirka

INA3A-80

Call for Price

Rhynolox Plus Finishing Sheet

Size

9" x 11"

Grit

100

Package

50/pkg

Abrasive/Grain

Aluminum Oxide

Backing

C wt Paper

Brand

Mirka

INA3A-100

Call for Price

Rhynolox Plus Finishing Sheet

Size

9" x 11"

Grit

120

Package

50/pkg

Abrasive/Grain

Aluminum Oxide

Backing

C wt Paper

Brand

Mirka

INA3A-120

Call for Price

Rhynolox Plus Finishing Sheet

Size

9" x 11"

Grit

150

Package

50/pkg

Abrasive/Grain

Aluminum Oxide

Backing

B Wt Paper

Brand

Mirka

INA3A-150

Call for Price

Rhynolox Plus Finishing Sheet

Size

9" x 11"

Grit

180

Package

50/pkg

Abrasive/Grain

Aluminum Oxide

Backing

B Wt Paper

Brand

Mirka

INA3A-180

Call for Price

Rhynolox Plus Finishing Sheet

Size

9" x 11"

Grit

220

Package

50/pkg

Abrasive/Grain

Aluminum Oxide

Backing

B Wt Paper

Brand

Mirka

INA3A-220

Call for Price

Rhynolox Plus Finishing Sheet

Size

9" x 11"

Grit

240

Package

50/pkg

Abrasive/Grain

Aluminum Oxide

Backing

B Wt Paper

Brand

Mirka

INA3A-240

Call for Price

Rhynolox Plus Finishing Sheet

Size

9" x 11"

Grit

280

Package

50/pkg

Abrasive/Grain

Aluminum Oxide

Backing

B Wt Paper

Brand

Mirka

INA3A-280

Call for Price

Rhynolox Plus Finishing Sheet

Size

9" x 11"

Grit

320

Package

50/pkg

Abrasive/Grain

Aluminum Oxide

Backing

B Wt Paper

Brand

Mirka

INA3A-320

Call for Price

Rhynolox Plus Finishing Sheet

Size

9" x 11"

Grit

360

Package

50/pkg

Abrasive/Grain

Aluminum Oxide

Backing

B Wt Paper

Brand

Mirka

INA3A-360

Call for Price

Rhynolox Plus Finishing Sheet

Size

9" x 11"

Grit

400

Package

50/pkg

Abrasive/Grain

Aluminum Oxide

Backing

B Wt Paper

Brand

Mirka

INA3A-400

Call for Price

Rhynolox Plus Finishing Sheet (special order)

Size

9" x 11"

Grit

500

Package

50/pkg

Abrasive/Grain

Aluminum Oxide

Backing

B Wt Paper

Brand

Mirka

INA3A-500

Call for Price