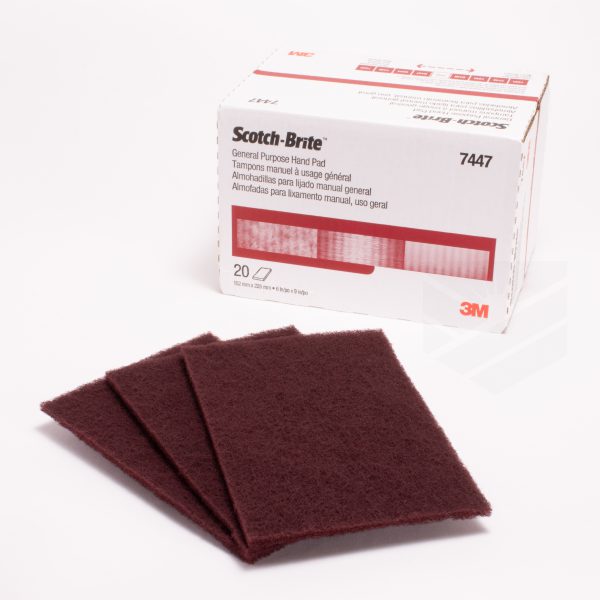 3M Red Scotch-Brite 7447
Scotch-Brite™ General Purpose Hand Pad 7447 (maroon) combines flexibility with effective cutting action and precise hand control to accomplish tough cleaning jobs or produce fine finishing results, use after use. Very fine grade aluminum oxide abrasives cut fast, denib, defuzz and leave a smooth, finished surface. Suitable for use on a wide variety of materials and for many different tasks. Superior alternative to steel wool, wire brushes, sandpaper, and other nonwoven products for cleaning or finishing. Suitable for use on wood, metal, plastics, ceramics, porcelain, glass, rubber, or composites. Reusable pad resists tearing, splintering, shredding, loading and will never rust, providing a long, useful life. Can be folded, stacked, or rolled for effective cleaning or conditioning on flat, irregular, or contoured surfaces.
*For more information regarding this product see Information Sheet.
Description

Size

Package

Grade

Product #

Price

Quantity

Action

3M Red Scotch-Brite 7447

Size

6" x 9"

Package

20 pads

Grade

Very Fine

MMM7447

Call for Price