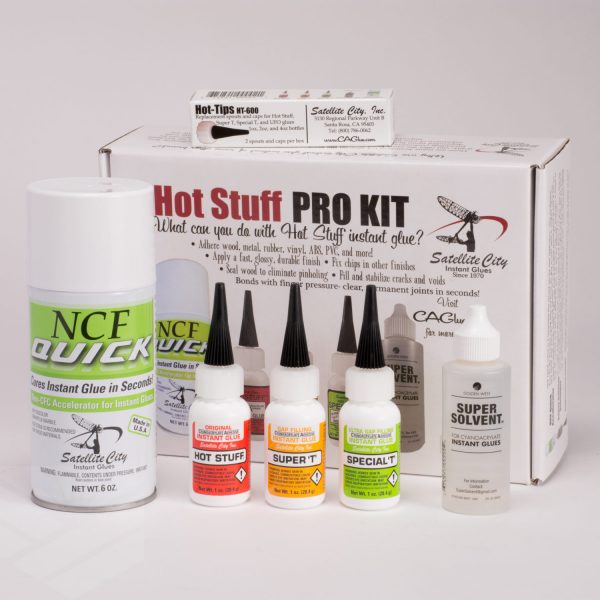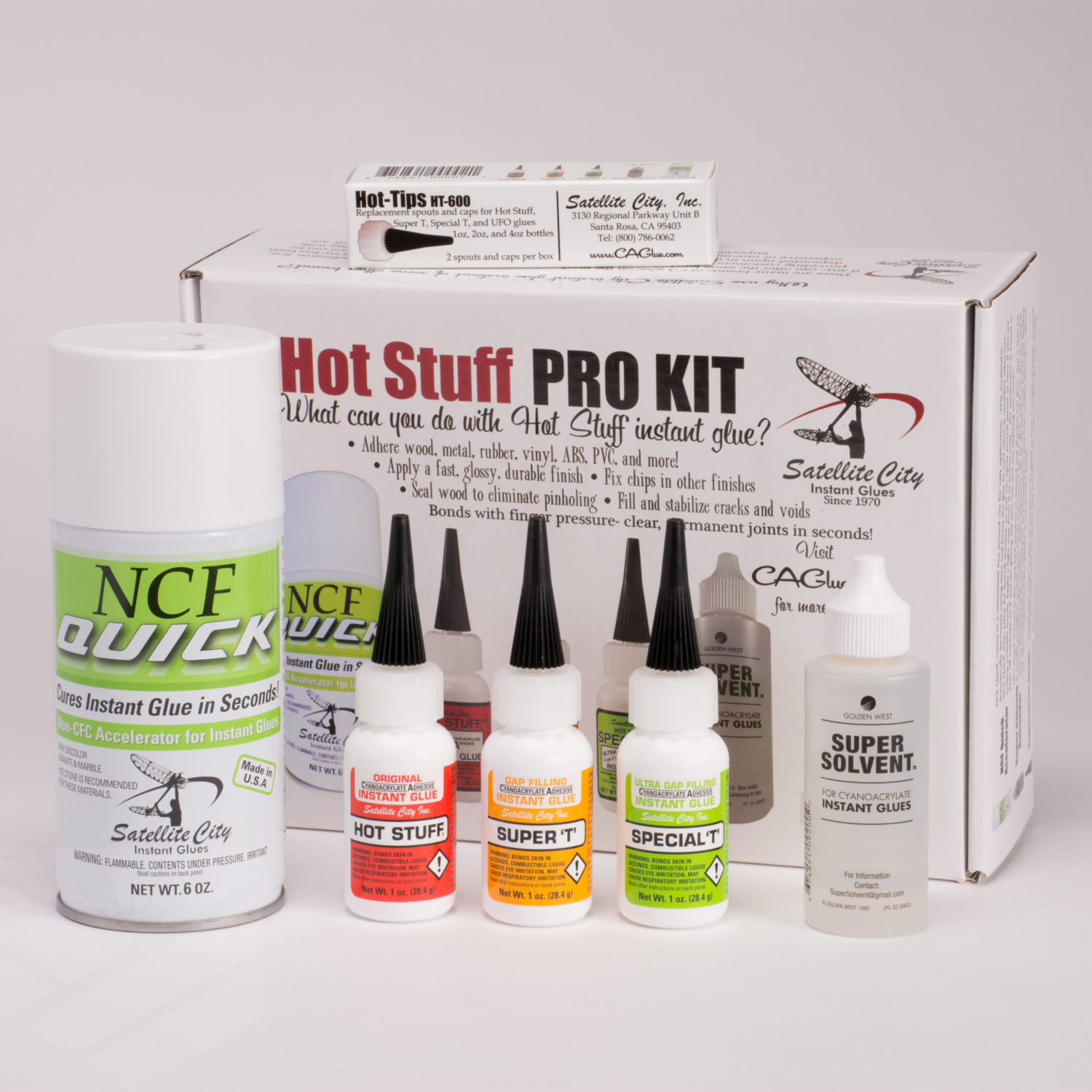 Satellite City Cyanoacrylates
If you want to bond wood, metal, stone, plastic, rubber, or just about anything else (excluding polyethylene, polypropylene, glass, and Teflon), and you need a powerful adhesive that hardens immediately, you have come to the right place. You can get away with using a discount CA glue from the hobby shop or bargain-priced superglue from the drug store when the materials are light and there will be little stress, but if you need a reliable instant glue for high-strength, permanent bonds, don't waste your time with cheap substitutes. There's a reason we have been selling the same CA glue, virtually unchanged for over 40 years!
The Hot Stuff Pro Kit is perfect when you don't need a lot of glue but you do need the ability to make different types of bonds. Kit Includes: one 1oz bottle of Hot Stuff, Super T, and Special T as well as a 6oz NCF Quick aerosol accelerator, a 2oz bottle of debonder, and two extra spouts and overcaps.
Description

Color

Size

Product #

Price

Quantity

Action

CA Glue Kit (see above for contents)

Color

Clear

Size

Kit

STLHK-1

Call for Price

CA Glue (red label – thin)

Color

Clear

Size

2 oz

STLHS-4

Call for Price

CA Glue (yellow/orange label – medium)

Color

Clear

Size

2 oz

STLHST-4

Call for Price

CA Glue (green label – thick)

Color

Clear

Size

2 oz

STLHST-4T

Call for Price
Activator
Description

Size

Product #

Price

Quantity

Action

Description

CA Glue Accelerator (Aerosol)

Size

6 oz

Product #

STLNCFQUICK

Price

Call for Price
Debonder
Description

Size

Product #

Price

Quantity

Action

Description

CA Glue Super Solvent Debonder

Size

2 oz

Product #

STLUS-1

Price

Call for Price
Tips
Description

Size

Product #

Price

Quantity

Action

Description

CA Glue Hot-Tips (2 pack)

Size

2/pack

Product #

STLHT-600

Price

Call for Price