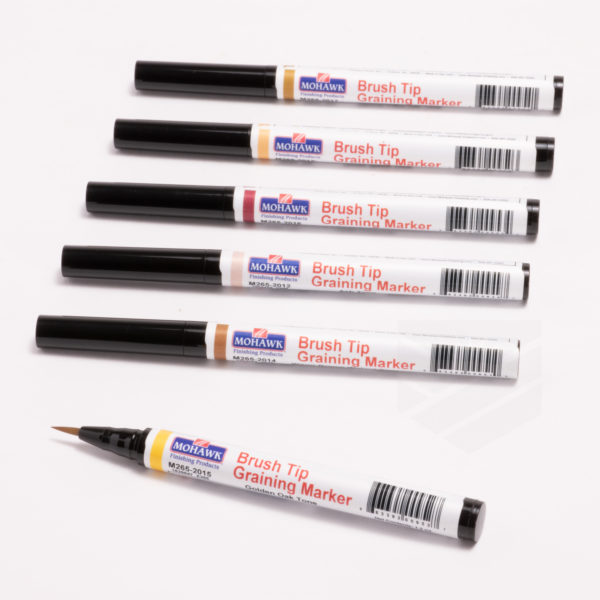 Mohawk Brush Tip Graining Markers
The Brush Tip Marker features a micro brush tip applicator. This revolutionary marker and tip allows you to apply color exactly where it is needed without any messy powders, fluids or odors. This is the perfect color tool for service technicians, shop technicians or factory line technicians. This is simply the easiest marker that you will ever use!
Uses for the Brush Tip Marker: Use to add grain lines or alter the color of a Fil-Stik® Putty Stick, Quick Fill® Burn-In Stick, PlaneStick® Burn-In Stick or E-Z Flow™ Burn-In Stick. Add color to small sand thru areas on the face or edge of wooden parts. Add or alter color in any small defect. Features a micro brush tip applicator. 27 wood tone colors. Clear crisp colors that hold a thin line. Low to no odor. Easy to use, teach and learn. Quick, easy application, no messy powders, extra brushes or liquids. Be sure to see the 5 different Assortments below.
*For Color Chart click on "Stain Chart" button.
Description

Color

Product #

Price

Quantity

Action

Brush Tip Graining Marker Raw Umber

Color

Raw Umber (1)

M265-2000

Call for Price

Brush Tip Graining Marker Dark Cherry

Color

Dark Cherry (1)

M265-2001

Call for Price

Brush Tip Graining Marker Perfect Brown

Color

Perfect Brown (1)

M265-2002

Call for Price

Brush Tip Graining Marker Dark Perfect Brown

Color

Dark Perfect Brown (1)

M265-2003

Call for Price

Brush Tip Graining Honey Spice

Color

Honey Spice (1)

M265-2004

Call for Price

Brush Tip Graining Marker Black

Color

Black (1)

M265-2005

Call for Price

Brush Tip Graining Marker Light Oak

Color

Light Oak (2)

M265-2006

Call for Price

Brush Tip Graining Marker Van Dyke Brown

Color

Van Dyke Brown (2)

M265-2007

Call for Price

Brush Tip Graining Marker Dark Brown Mahogany

Color

Dark Brown Mahogany (2)

M265-2008

Call for Price

Brush Tip Graining Marker Burnt Umber

Color

Burnt Umber (2)

M265-2009

Call for Price

Brush Tip Graining Marker Burnt Sienna

Color

Dark Brown Mahogany (2)

M265-2010

Call for Price

Brush Tip Graining Marker Deep Brown Mahogany

Color

Dark Brown Mahogany (2)

M265-2011

Call for Price

Brush Tip Graining Marker Ash Tone

Color

Ash Tone (3)

M265-2012

Call for Price

Brush Tip Graining Marker Honey Maple Tone

Color

Honey Maple Tone (3)

M265-2013

Call for Price

Brush Tip Graining Marker Warm Brown Walnut Tone

Color

Warm Brown Walnut Tone (3)

M265-2014

Call for Price

Brush Tip Graining Marker Golden Oak Tone

Color

Golden Oak Tone (3)

M265-2015

Call for Price

Brush Tip Graining Marker Deep Cordovan

Color

Deep Cordovan (3)

M265-2016

Call for Price

Brush Tip Graining Marker Natural Light Oak Tone

Color

Natural Light Oak Tone (3)

M265-2017

Call for Price

Brush Tip Graining Marker Warm Oak Tone

Color

Warm Oak Tone (4)

M265-2018

Call for Price

Brush Tip Graining Marker Maple Glaze Tone

Color

Maple Glaze Tone (4)

M265-2019

Call for Price

Brush Tip Graining Marker Medium Dark Oak Tone

Color

Medium Dark Oak Tone (4)

M265-2020

Call for Price

Brush Tip Graining Marker Light Golden Oak Tone

Color

Golden Oak Tone (3)

M265-2021

Call for Price

Brush Tip Graining Marker Nutmeg Tone

Color

Nutmeg Tone (4)

M265-2022

Call for Price

Brush Tip Graining Marker Antique Maple Tone

Color

Antique Maple Tone (4)

M265-2023

Call for Price

Brush Tip Graining Marker Light Grey

Color

Light Grey (5)

M265-2024

Call for Price

Brush Tip Graining Marker Medium Grey

Color

Medium Grey (5)

M265-2025

Call for Price

Brush Tip Graining Marker Warm Grey

Color

Dark Brown Mahogany (2)

M265-2026

Call for Price
Description

Color

Product #

Price

Quantity

Action

Description

Brush Tip Graining Markers-6 Pack Assortment #1 (1)

Color

6 Pack Assortment #1 (1)

Product #

M265-2201

Price

Call for Price

Description

Brush Tip Graining Markers-6 Pack Assortment #2 (2)

Color

6 Pack Assortment #2 (2)

Product #

M265-2202

Price

Call for Price

Description

Brush Tip Graining Markers-6 Pack Assortment #3 (3)

Color

6 Pack Assortment #3 (3)

Product #

M265-1203

Price

Call for Price

Description

Brush Tip Graining Markers-6 Pack Assortment #4 (4)

Color

6 Pack Assortment #4 (4)

Product #

M265-1204

Price

Call for Price
Description

Product #

Price

Quantity

Action

Description

Assortment Greys – 6 Pack (includes 2024-2026)

Product #

M265-2203

Price

Call for Price
Description

Product #

Price

Quantity

Action

Description

Full Set of all 27 Wood Tone Colors (includes 2000-2026)

Product #

M265-FS

Price

Call for Price