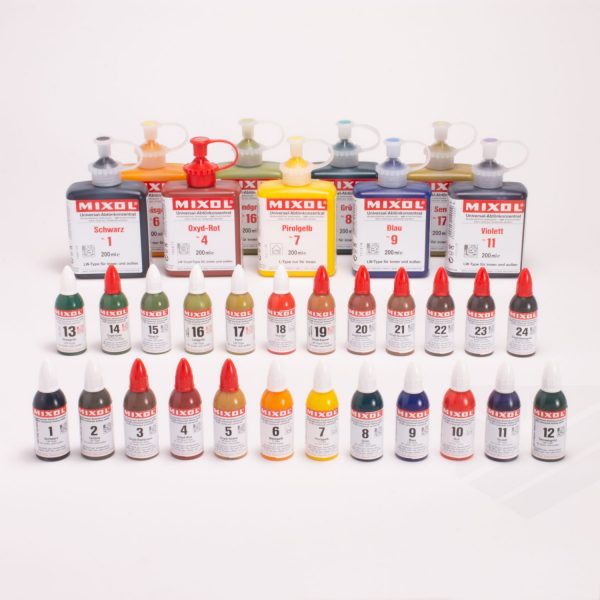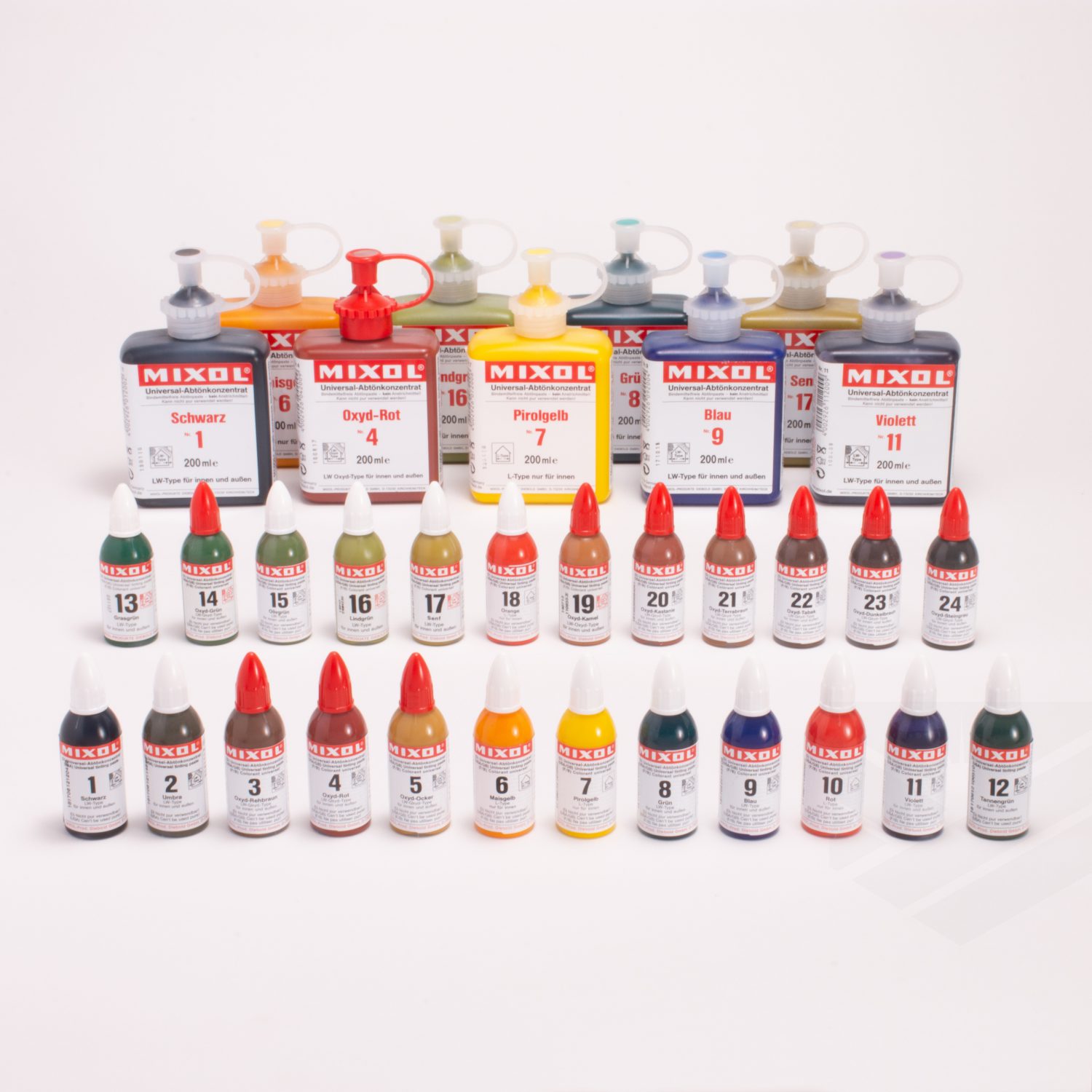 Mixol Multi-Purpose Tinting Paste
With our Mixol Oxide Tints our product offers a number of inorganic pigments of outstanding quality and color fastness that meet the highest demands. Mixol is a binder-free multi-purpose tinting paste (not a ready-made paint). Shake thoroughly before use and close firmly after use, so MIXOL will not dry out and form lumps or skim. See MIXOL Graduation Color Chart under Information Sheet.
*Kit/Assortment consists of colors 1-12 (black, umber, oxide brown, oxide red, oxide yellow, maize yellow, canary yellow, green, blue, red, violet and fir green).
*For a color chart of these products see Stain Chart.
Description

Size

Product #

Price

Quantity

Action

Black Mixol Tint (#1)*

Size

20ml

SPPS/01

Call for Price

Umber Mixol Tint (#2)*

Size

20ml

SPPS/02

Call for Price

Oxide Brown Mixol Tinit (#3)*

Size

20ml

SPPS/03

Call for Price

Oxide Red Mixol Tint (#4)*

Size

20ml

SPPS/04

Call for Price

Oxide Yellow Mixol Tint (#5)*

Size

20ml

SPPS/05

Call for Price

Maize Yellow Mixol Tint (#6)*

Size

20ml

SPPS/06

Call for Price

Canary Yellow Mixol Tint (#7)*

Size

20ml

SPPS/07

Call for Price

Green Mixol Tint (#8)*

Size

20ml

SPPS/08

Call for Price

Blue Mixol Tint (#9)*

Size

20ml

SPPS/09

Call for Price

Red Mixol Tint (#10)*

Size

20ml

SPPS/10

Call for Price

Violet Mixol Tint (#11)*

Size

20ml

SPPS/11

Call for Price

Fir Green Mixol Tint (#12)*

Size

20ml

SPPS/12

Call for Price

Grass Green Mixol Tint (#13)

Size

20ml

SPPS/13

Call for Price

Oxide Green Mixol Tinit (#14)

Size

20ml

SPPS/14

Call for Price

Olive Green Mixol Tint (#15)

Size

20ml

SPPS/15

Call for Price

Lime Green Mixol Tint (#16)

Size

20ml

SPPS/16

Call for Price

Mustard Mixol Tint (#17)

Size

20ml

SPPS/17

Call for Price

Orange Mixol Tint (#18)

Size

20ml

SPPS/18

Call for Price

Camel Mixol Tint (#19)

Size

20ml

SPPS/19

Call for Price

Chestnut Mixol Tint (#20)

Size

20ml

SPPS/20

Call for Price

Terra Brown Mixol Tint (#21)

Size

20ml

SPPS/21

Call for Price

Tobacco Brown Mixol Tint (#22)

Size

20ml

SPPS/22

Call for Price

Dark Brown Mixol Tint (#23)

Size

20ml

SPPS/23

Call for Price

Stone Grey Mixol Tint (#24)

Size

20ml

SPPS/24

Call for Price

White Mixol Tint (#25)

Size

20ml

SPPS/25

Call for Price

Fast Yellow Mixol Tint (#26)

Size

20ml

SPPS/26

Call for Price

Fast Red Mixol Tint (#27)

Size

20ml

SPPS/27

Call for Price

Brilliant Black Mixol Tint (#29)

Size

20ml

SPPS/29

Call for Price

Brilliant Yellow Mixol Tint (#30)

Size

20ml

SPPS/30

Call for Price

Brilliant Green Mixol Tint (#31)

Size

20ml

SPPS/31

Call for Price

Brilliant Blue Mixol Tint (#32)

Size

20ml

SPPS/32

Call for Price
Description

Size

Product #

Price

Quantity

Action

Description

Black Mixol Tint (#1)

Size

200ml

Product #

SPPG/01

Price

Call for Price

Description

Umber Mixol Tint (#2)

Size

200ml

Product #

SPPG/02

Price

Call for Price

Description

Brown Mixol Tinit (#3)

Size

200ml

Product #

SPPG/03

Price

Call for Price

Description

Oxide Red Mixol Tint (#4)

Size

200ml

Product #

SPPG/04

Price

Call for Price

Description

Oxide Yellow Mixol Tint (#5)

Size

200ml

Product #

SPPG/05

Price

Call for Price

Description

Maize Yellow Mixol Tint (#6)

Size

200ml

Product #

SPPG/06

Price

Call for Price

Description

Canary Yellow Mixol Tint (#7)

Size

200ml

Product #

SPPG/07

Price

Call for Price

Description

Green Mixol Tint (#8)

Size

200ml

Product #

SPPG/08

Price

Call for Price

Description

Blue Mixol Tint (#9)

Size

200ml

Product #

SPPG/09

Price

Call for Price

Description

Red Mixol Tint (#10)

Size

200ml

Product #

SPPG/10

Price

Call for Price

Description

Violet Mixol Tint (#11)

Size

200ml

Product #

SPPG/11

Price

Call for Price

Description

Fir Green Mixol Tint (#12)

Size

200ml

Product #

SPPG/12

Price

Call for Price

Description

Grass Green Mixol Tint (#13)

Size

200ml

Product #

SPPG/13

Price

Call for Price

Description

Oxide Green Mixol Tinit (#14)

Size

200ml

Product #

SPPG/14

Price

Call for Price

Description

Olive Green Mixol Tint (#15)

Size

200ml

Product #

SPPG/15

Price

Call for Price

Description

Lime Green Mixol Tint (#16) (special order)

Size

200ml

Product #

SPPG/16

Price

Call for Price

Description

Mustard Mixol Tint (#17)

Size

200ml

Product #

SPPG/17

Price

Call for Price

Description

Orange Mixol Tint (#18) (special order)

Size

200ml

Product #

SPPG/18

Price

Call for Price

Description

Camel Mixol Tint (#19)

Size

200ml

Product #

SPPG/19

Price

Call for Price

Description

Chestnut Mixol Tint (#20)

Size

200ml

Product #

SPPG/20

Price

Call for Price

Description

Terra Brown Mixol Tint (#21)

Size

200ml

Product #

SPPG/21

Price

Call for Price

Description

Tobacco Brown Mixol Tint (#22)

Size

200ml

Product #

SPPG/22

Price

Call for Price

Description

Dark Brown Mixol Tint (#23)

Size

200ml

Product #

SPPG/23

Price

Call for Price

Description

Stone Grey Mixol Tint (#24)

Size

200ml

Product #

SPPG/24

Price

Call for Price

Description

White Mixol Tint (#25)

Size

200ml

Product #

SPPG/25

Price

Call for Price

Description

Fast Yellow Mixol Tint (#26) (special order)

Size

200ml

Product #

SPPG/26

Price

Call for Price

Description

Fast Red Mixol Tint (#27) (special order)

Size

200ml

Product #

SPPG/27

Price

Call for Price
Description

Size

Product #

Price

Quantity

Action

Description

*Kit/Assortment of #1-12

Size

20ml

Product #

SPPMIXOL/01-12

Price

Call for Price