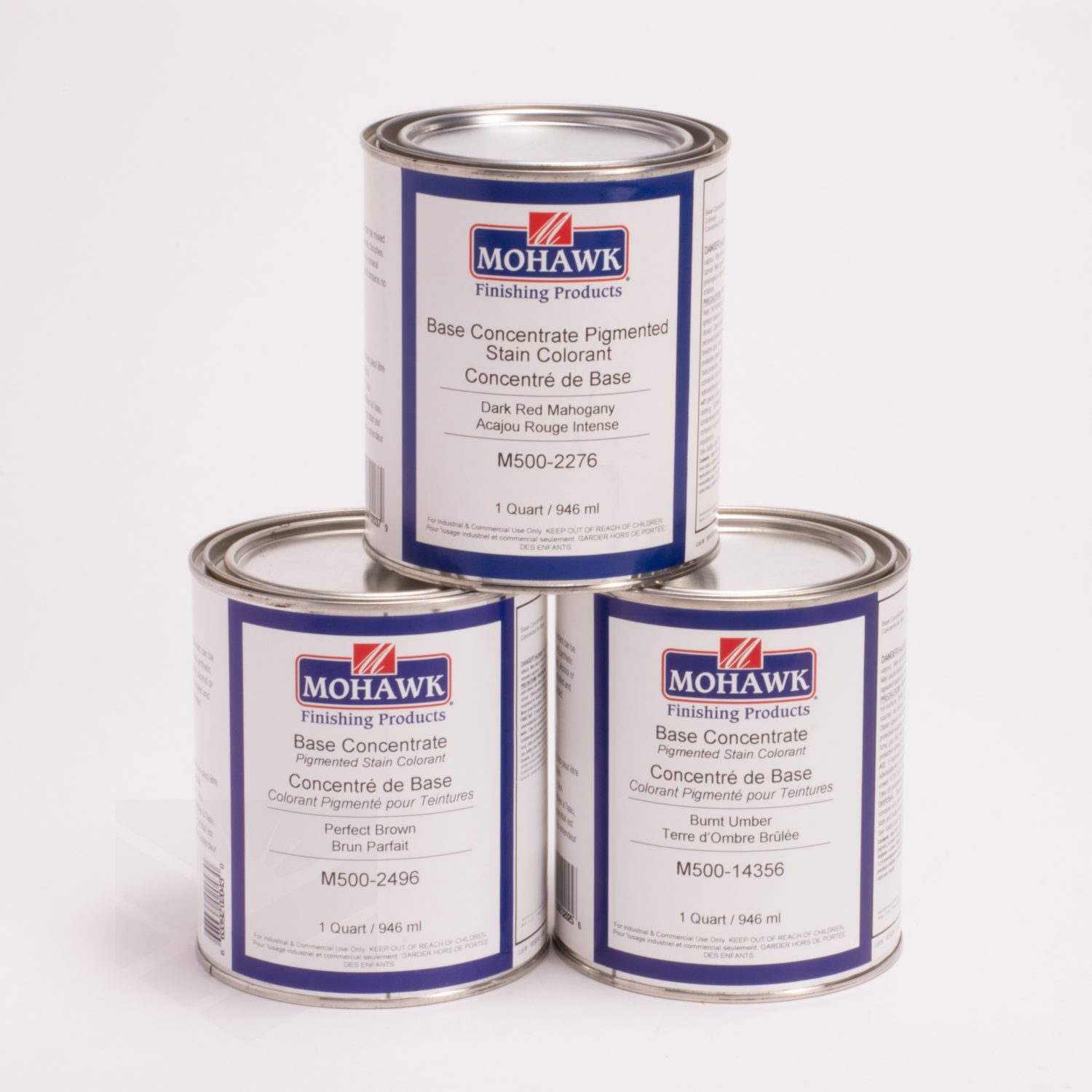 Mohawk Base Concentrate
Pigmented Stain Colorant: A finely ground pigment in a high viscosity liquid form, free of fillers and extenders. Recommended for making Wiping Wood Stains, Heavy Body Glazing Stain, Shading Lacquer and Tinting Lacquers. This pigmented colorant will mix with lacquer thinner, lacquer, glaze, lacquer sealers and synthetic finishes. Not recommended for water reducible, shellac, alcohol or mineral spirits based coatings. Custom match colors are available. Minimum order is 5 gallons per color.
Recommended Reducing Proportions: Wiping Stains – 20% Colorant and 80% Reducer S15. Glazing Stains – 20% Colorant and 80% Clear Heavy Body Glaze. Shading & Tinting Lacquers – Add 1 to 3 oz. color per gallon of lacquer.
*For more information regarding these products see Information-Technical Sheet.
Description

Color

Size

Product #

Price

Quantity

Action

Mohawk Base Concentrate-Raw Umber

Color

Raw Umber

Size

1 quart

M500-01436

Call for Price

Mohawk Base Concentrate-Medium Walnut (special order)

Color

Medium Walnut

Size

1 quart

M500-02056

Call for Price

Mohawk Base Concentrate-Light Yellow (special order)

Color

Light Yellow

Size

1 quart

M500-0586

Call for Price

Mohawk Base Concentrate-Burnt Umber

Color

Burnt Umber

Size

1 quart

M500-14356

Call for Price

Mohawk Base Concentrate-Van Dyke Brown

Color

Van Dyke Brown

Size

1 quart

M500-14786

Call for Price

Mohawk Base Concentrate-White (special order)

Color

White

Size

1 quart

M500-2026

Call for Price

Mohawk Base Concentrate-Medium Brown Walnut (special order)

Color

Medium Brown Walnut

Size

1 quart

M500-2076

Call for Price

Mohawk Base Concentrate-Extra Dark Walnut (special order)

Color

Extra Dark Walnut

Size

1 quart

M500-2096

Call for Price

Mohawk Base Concentrate-Light Red Mahogany (special order)

Color

Light Red Mahogany

Size

1 quart

M500-2186

Call for Price

Mohawk Base Concentrate-Black (special order)

Color

Black

Size

1 quart

M500-2246

Call for Price

Mohawk Base Concentrate-Dark Red Mahogany

Color

Dark Red Mahogany

Size

1 quart

M500-2276

Call for Price

Mohawk Base Concentrate-Brown Mahogany (special order)

Color

Brown Mahogany

Size

1 quart

M500-2296

Call for Price

Mohawk Base Concentrate-Medium Dark Walnut

Color

Medium Dark Walnut

Size

1 quart

M500-2346

Call for Price

Mohawk Base Concentrate-Red (special order)

Color

Red

Size

1 quart

M500-2426

Call for Price

Mohawk Base Concentrate-Perfect Brown

Color

Perfect Brown

Size

1 quart

M500-2496

Call for Price

Mohawk Base Concentrate-Cherry (special order)

Color

Cherry

Size

1 quart

M500-4086

Call for Price

Mohawk Base Concentrate-Blue (special order)

Color

Blue

Size

1 quart

M500-4146

Call for Price

Mohawk Base Concentrate-Light Golden Oak

Color

Light Golden Oak

Size

1 quart

M500-4156

Call for Price

Mohawk Base Concentrate-Burnt Sienna (special order)

Color

Burnt Sienna

Size

1 quart

M500-4766

Call for Price

Mohawk Base Concentrate-Raw Sienna (special order)

Color

Raw Sienna

Size

1 quart

M500-4776

Call for Price

Mohawk Base Concentrate-Yellow Ochre (special order)

Color

Yellow Ochre

Size

1 quart

M500-6106

Call for Price