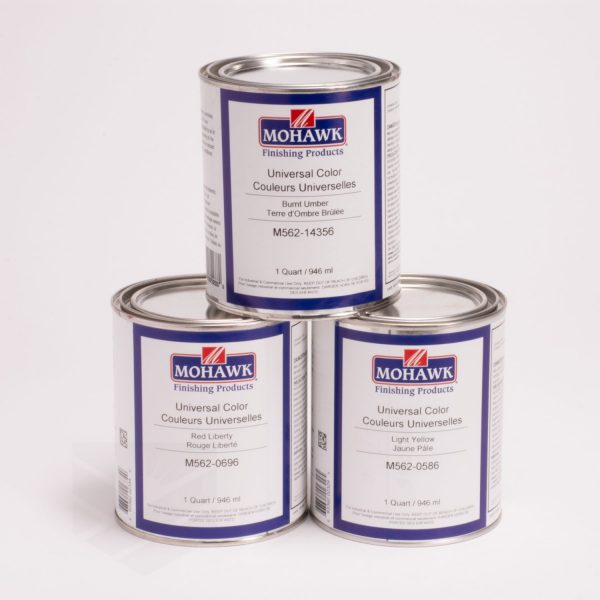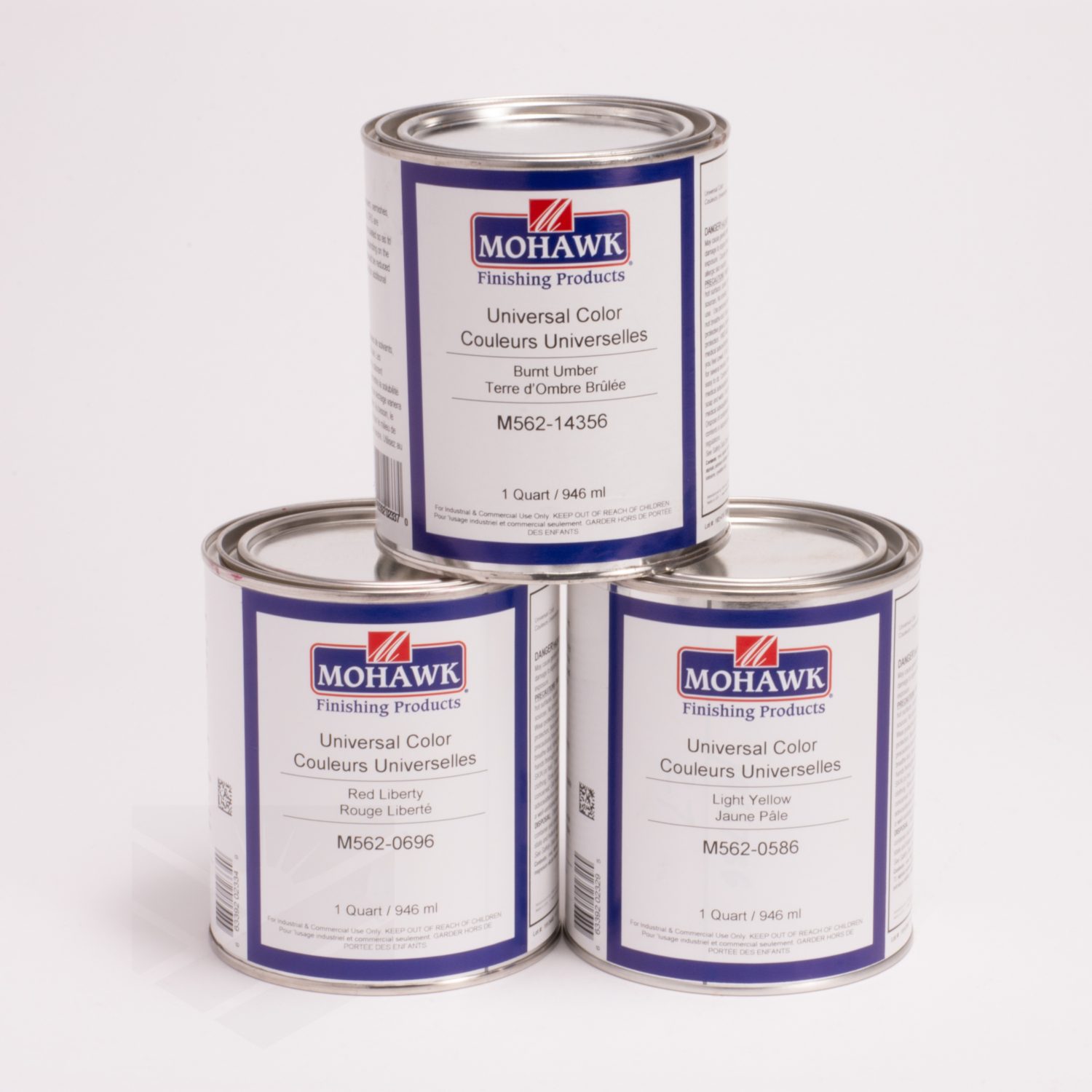 Mohawk Universal Colorant
Formulated to use for tinting in most types of solvent-thinned lacquers, varnishes, acrylics, alkyds and mineral spirit based products. A concentrated pigmented semi-paste. Designed to use for tinting purposes only and will affect drying properties if used in excess. Not for use in water, alcohol or spirit varnish systems. Fineness of grind gives optimum color value and gloss development. High pigment loading for maximum color intensity. Clean bright colors with no fillers added to "muddy" tones. Always test for compatibility and desired effect before using.
*For more information regarding these products see Information-Technical Sheet.
Description

Size

Product #

Price

Quantity

Action

Universal Color Kit (4oz jars; 8 colors): Colors with * below are included in Kit

Size

Kit

M562-0800

Call for Price
Description

Color

Size

Product #

Price

Quantity

Action

Description

Raw Umber

Color

Raw Umber

Size

1 quart

Product #

M562-01436

Price

Call for Price

Description

French Yellow Ochre (special order)

Color

French Yellow Ochre

Size

1 quart

Product #

M562-0416

Price

Call for Price

Description

Light Yellow (special order)*

Color

Light Yellow

Size

1 quart

Product #

M562-0586

Price

Call for Price

Description

Medium Yellow (special order)

Color

Medium Yellow

Size

1 quart

Product #

M562-0596

Price

Call for Price

Description

Orange Yellow*

Color

Orange Yellow

Size

1 quart

Product #

M562-0606

Price

Call for Price

Description

Red Liberty*

Color

Red Liberty

Size

1 quart

Product #

M562-0696

Price

Call for Price

Description

Burnt Umber*

Color

Burnt Umber

Size

1 quart

Product #

M562-14356

Price

Call for Price

Description

Van Dyke Brown*

Color

Van Dyke Brown

Size

1 quart

Product #

M562-14786

Price

Call for Price

Description

White Flake (special order)*

Color

White Flake

Size

1 quart

Product #

M562-2026

Price

Call for Price

Description

Black*

Color

Black

Size

1 quart

Product #

M562-2246

Price

Call for Price

Description

Red Bullentin (special order)

Color

Red Bullentin

Size

1 quart

Product #

M562-2426

Price

Call for Price

Description

Cobalt Blue (special order)*

Color

Cobalt Blue

Size

1 quart

Product #

M562-4146

Price

Call for Price

Description

Burnt Sienna (special order)

Color

Burnt Sienna

Size

1 quart

Product #

M562-4766

Price

Call for Price

Description

Raw Sienna

Color

Raw Sienna

Size

1 quart

Product #

M562-4776

Price

Call for Price