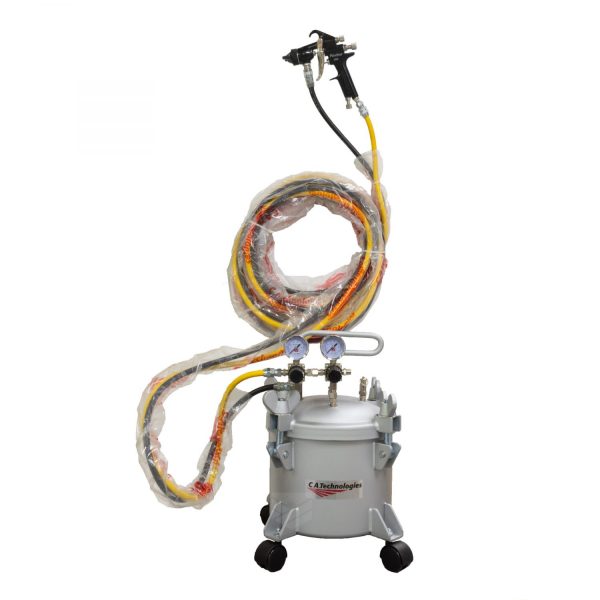 2.5 Gal Pressure Pot Adhesive System
This teflon coated Panther Laminator is the highest quality adhesive gun on the market and is matched with the CAT 2.5G double regulated pressure pot. The complete system includes: spray gun, 2.5G pressure pot, 25ft set of fluid and air hoses with hose protectors along with all connections, and a pot liner; which are all assembled as our most popular adhesive system. For non-chlorinated adhesives.
Spray Gun: The Panther is a high quality spray gun designed for glue/adhesive applications of all types. The body and air cap are teflon coated for easy clean-up and longer life. Enhanced with all stainless steel fluid passages.  Guns feature self-adjusting needle packings, inexpensive nozzle replacement and rugged construction. Heavy duty needle and spring to prevent leakage.
Pressure Pot: This 2.5 gallon non-ASME tank from C.A.T. is constructed of heavy gauge steel. Dual regulated tank for independent control of your air and fluid pressures. The tank has wheels for maneuverability or optional stationary feet. All 2.5 gallon tanks come with a rigid liner.
*To get more information on this Gun & Pot see Information Sheet.
*For parts schematic on the Gun & Pot see Technical Data Sheet.
*For CA Technologies Pressure Pots Catalog see Info from Pro Woods.
Description

Product #

Price

Quantity

Action

System includes: Panther Spray Gun, 2.5G Pressure Pot with 2 Regulators, Pot Liner, and all hoses & connections with hose protector

51-202/P100G

Call for Price