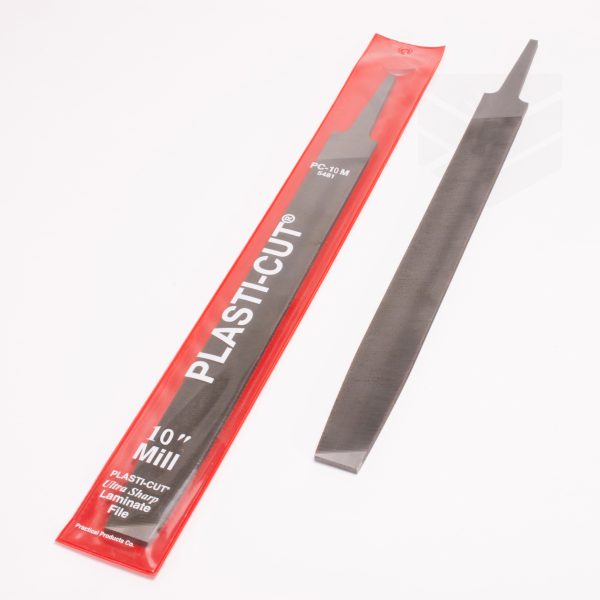 Plasti-Cut 10M Mill File
PLASTI-CUT® FILES Designed and manufactured specifically for maximum performance on decorative laminates. Also excellent for edge finishing other plastics. PLASTI-CUT files save time, effort, and money by cutting faster and easier, and by lasting longer than ordinary files. Extra sharpness and hardness provide a long life of clean, fast filing. Select the MILL for smoothest finish, the FAST® for a more coarse file. PLASTI-CUT DUPLEX® FILES These combine the best features of all laminate files into one versatile tool. FAST® cut one side, MILL cut other side to meet any filing situation. Wide body with straight sides gives about 10% more filing area and is best for filing into corners. One edge has no teeth for safe corner filing. The rounded tang design is safer to use and it eliminates the need for a separate handle. All PLASTI-CUT files are supplied in individual vinyl sleeves for protection in handling and to facilitate pegboard display. To prolong file life, keep the file in the sleeve when not in use. 8" & 10" are packed 10 pcs/box, 12" & 14" are packed 5 pcs/box.
*For more information regarding this product see Information Sheet.
Description

Product #

Price

Quantity

Action

Plasti-Cut 10M Mill File

PRAPC-10M

Call for Price