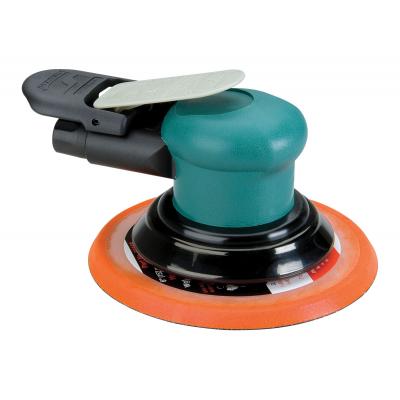 Dynabrade 6" Sander
For general sanding use Dynabride's lightest Random Orbital Sander. It is ideal for vertical and contoured applications. New improvements include distinctive look, ergonomic tool grip for added comfort, increased vacuum efficiency and new muffler design. For light-to-medium duty users who demand the Dynabrade Difference!
6″ (152 mm) Dia. Non-Vacuum Dynorbital-Spirit Random Orbital Sander .25 hp, 12,000 RPM, 3/16″ (5 mm) Dia. Orbit, Rear Exhaust. 5/16″-24 female spindle.
*To get more information on this Sander see Information Sheet.
*For technical information on this Sander see Technical Data Sheet.
*For the Dynabrade Catalog see Info from Pro Wood.
Description

Size

Product #

Price

Quantity

Action

Description

6″ Sander with Vinyl-Face Pad (special order)

Size

6"

Product #

DYN59025

Price

Call for Price

Description

6″ Vinyl-Face Pad (only) -no holes (special order)

Size

6"

Product #

DYN56107

Price

Call for Price

Description

6″ Sander with Hook-Face Pad (special order)

Size

6"

Product #

DYN59025-HOOK

Price

Call for Price

Description

6″ Hook-Face Pad (only) – 52 holes (special order)

Size

6"

Product #

DYN56321

Price

Call for Price