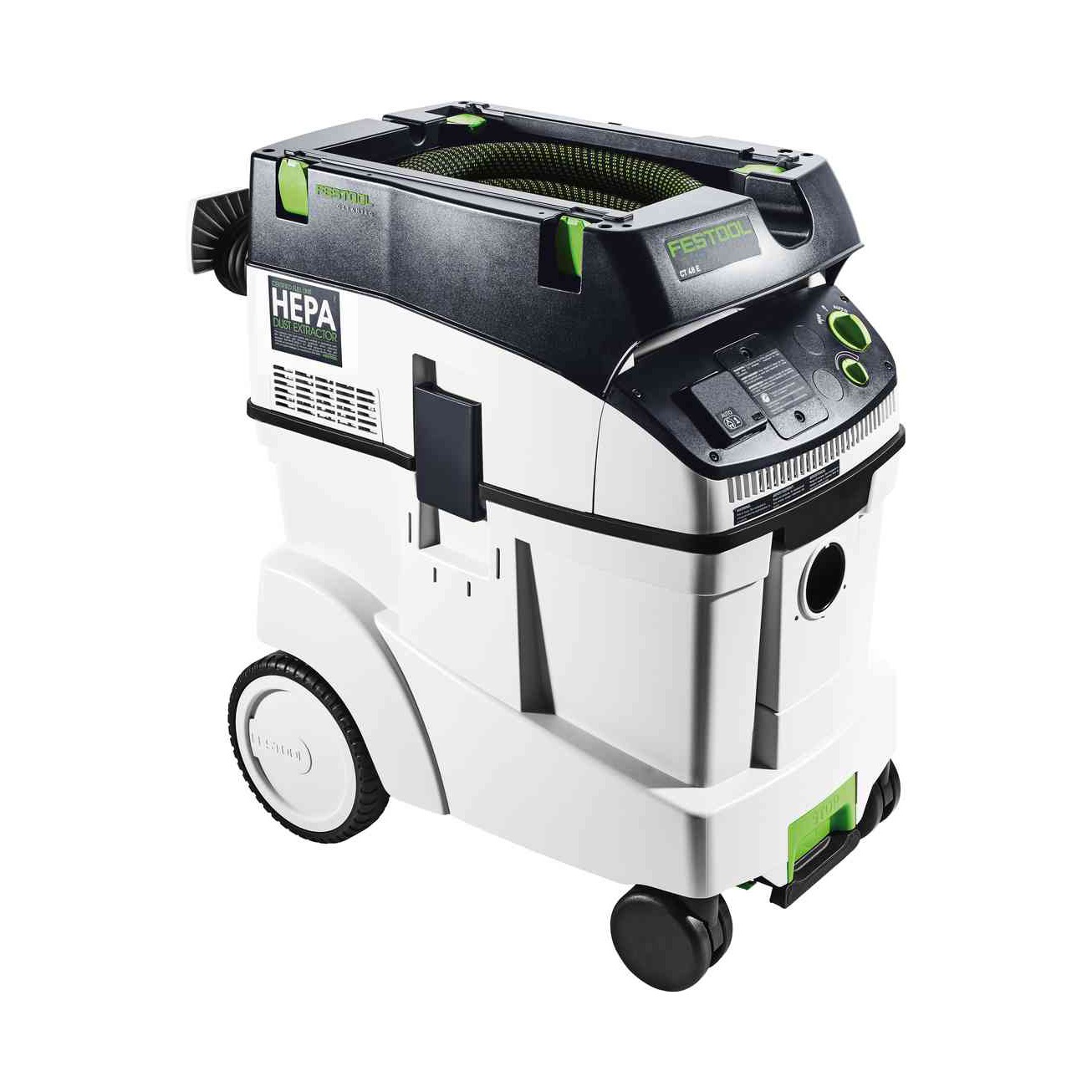 Mobile Dust Extractor 12.7 Gal Capacity
The CT 48 is one of Festool's most capable and versatile mobile Dust Extractors. These units can easily negotiate obstacles in the shop or on the worksite. Unit carries Full Unit HEPA Certification. Dust control is an integral part of the Festool system and design philosophy. That is why the CT 48 is equipped with tool-triggered auto start functionality so that when you plug your tool into the supplied outlet socket, the vacuum cycles with the tool. This represents greater efficiency in dust extraction, noise reduction, and with less energy consumption versus a constant-on unit. Variable suction force allows you to regulate the suction based on your tasks. A small detail sander may not require the full 137 CFM of this unit, but a router may require it.
Supplied with 11-1/2 foot long anti-static hose that is flexible and kink-resistant and will minimize shock hazards as well as reduce static cling. Sys-dock and hose garage feature allows for the storage and transport of Festool Systainers (not included) on the top of the flat, low-profile unit. Large wheels, low center of gravity, and ergonomically balanced design allows you to move the CT effortlessly around the jobsite. Equipped with one HEPA main filter that is flat and are positioned over the collection area for maximum capacity with a compact design. Container/filter bag capacity 48/46 l.
*To get more information on this System see Information Sheet.
*For technical information on this product see Technical Data Sheet.
Description

Product #

Price

Quantity

Action

Description

CT 48 E-Mobile Dust Extractor 12.7 Gal Capacity (special order)

Product #

574938

Price

Call for Price
Accessories:
Description

Product #

Price

Quantity

Action

Description

Anti-Static Hose for CT 26 E/CT 36 E/CT 48 E/CT 36 AC (1-1/16 in x 11.5 ft)

Product #

452878

Price

Call for Price

Description

Self-Clean Filter Bag for CT 48 E (special order)

Product #

497539

Price

Call for Price

Description

HEPA Main Filter for CT 26 E/CT 36 E/CT 48 E/CT 36 AC

Product #

498994

Price

Call for Price