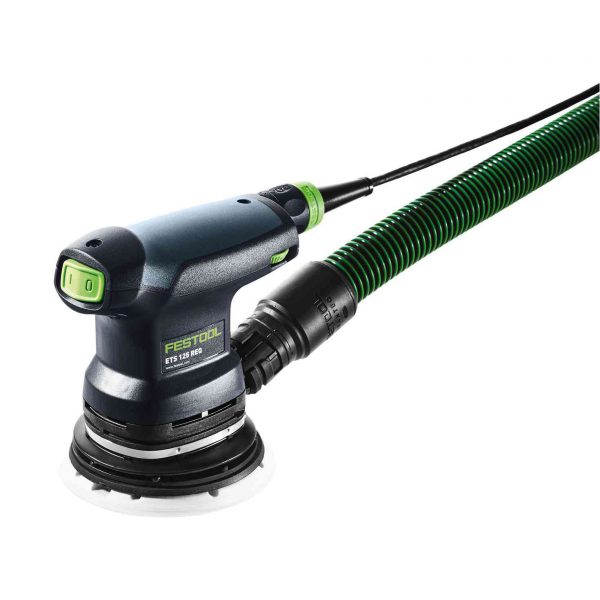 5″ ETS Finish Sander 2mm Stroke
Perform near-flawless finishes with the new ETS 125 REQ random orbit sander. Equipped with a powerful 250 watt motor and MMC Electronics for optimum performance, the ETS 125 REQ provides smooth performance and solid results with a 5./64″ (2.0MM) sanding stroke. Reduce fatigue through improved ergonomics with a rubberized grip and over-sized power switch.
*To get more information on this Sander see Information Sheet.
*For technical information on this Sander see Technical Data Sheet.
Description

Size

Product #

Price

Quantity

Action

Description

5″ ETS 125 REQ Finish Sander 2mm Stroke

Size

5 in

Product #

574993

Price

Call for Price
Accessories:
Description

Size

Product #

Price

Quantity

Action

Description

Sander Backing Pad for ETSC 125/ETS 125 REQ 5″ – Medium

Size

5 in

Product #

492280

Price

Call for Price

Description

Turbo Dust Bag for ETSC 125/ETS 125 REQ 5″

Size

5/pack

Product #

489128

Price

Call for Price

Description

Turbo Dust Bag for ETSC 125/ETS 125 REQ 5″

Size

25/pack

Product #

489127

Price

Call for Price
Abrasive Discs:
Description

Size

Grit

# Discs/Bx

Product #

Price

Quantity

Action

Description

5″ Granat Discs – P40

Size

5 in

Grit

P40

# Discs/Bx

50

Product #

497165

Price

Call for Price

Description

5″ Granat Discs – P60

Size

5 in

Grit

P60

# Discs/Bx

50

Product #

497166

Price

Call for Price

Description

5″ Granat Discs – P80

Size

5 in

Grit

P80

# Discs/Bx

50

Product #

497167

Price

Call for Price

Description

5″ Granat Discs – P100

Size

5 in

Grit

P100

# Discs/Bx

100

Product #

497168

Price

Call for Price

Description

5″ Granat Discs – P120

Size

5 in

Grit

P120

# Discs/Bx

100

Product #

497169

Price

Call for Price

Description

5″ Granat Discs – P150

Size

5 in

Grit

P150

# Discs/Bx

100

Product #

497170

Price

Call for Price

Description

5″ Granat Discs – P180

Size

5 in

Grit

P180

# Discs/Bx

100

Product #

497171

Price

Call for Price

Description

5″ Granat Discs – P220

Size

5 in

Grit

P220

# Discs/Bx

100

Product #

497172

Price

Call for Price

Description

5″ Granat Discs – P240

Size

5 in

Grit

P240

# Discs/Bx

100

Product #

497173

Price

Call for Price

Description

5″ Granat Discs – P280

Size

5 in

Grit

P280

# Discs/Bx

100

Product #

497174

Price

Call for Price

Description

5″ Granat Discs – P320

Size

5 in

Grit

P320

# Discs/Bx

100

Product #

497175

Price

Call for Price

Description

5″ Granat Discs – P360 (special order)

Size

5 in

Grit

P360

# Discs/Bx

100

Product #

497176

Price

Call for Price

Description

5″ Granat Discs – P400

Size

5 in

Grit

P400

# Discs/Bx

100

Product #

497177

Price

Call for Price

Description

5″ Granat Discs – P500 (special order)

Size

5 in

Grit

P500

# Discs/Bx

100

Product #

497178

Price

Call for Price

Description

5″ Granat Discs – P800 (special order)

Size

5 in

Grit

P800

# Discs/Bx

50

Product #

497179

Price

Call for Price

Description

5″ Granat Discs – P1000 (special order)

Size

5 in

Grit

P1000

# Discs/Bx

50

Product #

497180

Price

Call for Price

Description

5″ Granat Discs – P1200 (special order)

Size

5 in

Grit

P1200

# Discs/Bx

50

Product #

497181

Price

Call for Price

Description

5″ Granat Discs – P1500 (special order)

Size

5 in

Grit

P1500

# Discs/Bx

50

Product #

497182

Price

Call for Price