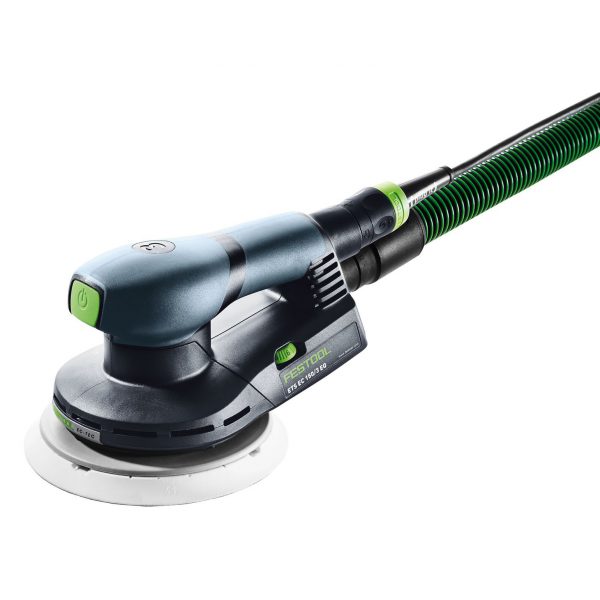 6″ ETS EC Finish Sander 3mm Stroke Brushless
Equipped with the EC-TEC® Brushless Motor, these low-profile, long-life and low-vibration sanders can run all day with multiple shifts. Available in a fine 1/8" (3mm) stroke, these sanders use a larger 6" pad and offer the performance of an air sander without the bulk of an air system. Not to mention, their compact design and ergonomic grip save time and allow for less fatigue – making them the ultimate high-demand sanding tools. Ergonomic and comfortable: Compact design and ergonomic grip for greater flexibility in all sanding tasks with less user fatigue. Effective and long-lasting: Power through the toughest demands with EC TEC brushless motors delivering a constant powerful stream of performance. Efficient and productive: Designed with dust extraction efficiency in mind the new ETS EC 150/3 EQ sanders integrate seamlessly into the Festool sanding solutions system. For fine sanding.
*To get more information on this Sander see Information Sheet.
*For technical information on this Sander see Technical Data Sheet.
Description

Size

Product #

Price

Quantity

Action

Description

6″ ETS EC 150/3 EQ Finish Sander 3mm Stroke Brushless

Size

6 in

Product #

575039

Price

Call for Price
Accessories:
Description

Size

Product #

Price

Quantity

Action

Description

Sander Backing Pad for ETS EC 150/3 & 150/5 + ETS 150/3 & 150/5 6″ dia. – Medium

Size

Product #

498987

Price

Call for Price
Abrasive Discs:
Description

Size

Grit

# Discs/Bx

Product #

Price

Quantity

Action

Description

6″ Granat Discs – P40

Size

6 in

Grit

P40

# Discs/Bx

50

Product #

496975

Price

Call for Price

Description

6″ Granat Discs – P60

Size

6 in

Grit

P60

# Discs/Bx

50

Product #

496976

Price

Call for Price

Description

6″ Granat Discs – P80

Size

6 in

Grit

P80

# Discs/Bx

50

Product #

496977

Price

Call for Price

Description

6″ Granat Discs – P100

Size

6 in

Grit

P100

# Discs/Bx

100

Product #

496978

Price

Call for Price

Description

6″ Granat Discs – P120

Size

6 in

Grit

P120

# Discs/Bx

100

Product #

496979

Price

Call for Price

Description

6″ Granat Discs – P150

Size

6 in

Grit

P150

# Discs/Bx

100

Product #

496980

Price

Call for Price

Description

6″ Granat Discs – P180

Size

6 in

Grit

P180

# Discs/Bx

100

Product #

496981

Price

Call for Price

Description

6″ Granat Discs – P220

Size

6 in

Grit

P220

# Discs/Bx

100

Product #

496982

Price

Call for Price

Description

6″ Granat Discs – P240

Size

6 in

Grit

P240

# Discs/Bx

100

Product #

496983

Price

Call for Price

Description

6″ Granat Discs – P280

Size

6 in

Grit

P280

# Discs/Bx

100

Product #

496984

Price

Call for Price

Description

6″ Granat Discs – P320

Size

6 in

Grit

P320

# Discs/Bx

100

Product #

496985

Price

Call for Price

Description

6″ Granat Discs – P360 (special order)

Size

6 in

Grit

P360

# Discs/Bx

100

Product #

496986

Price

Call for Price

Description

6″ Granat Discs – P400

Size

6 in

Grit

P400

# Discs/Bx

100

Product #

496987

Price

Call for Price

Description

6″ Granat Discs – P500 (special order)

Size

6 in

Grit

P500

# Discs/Bx

100

Product #

496988

Price

Call for Price

Description

6″ Granat Discs – P800 (special order)

Size

6 in

Grit

P800

# Discs/Bx

50

Product #

496989

Price

Call for Price

Description

6″ Granat Discs – P1000 (special order)

Size

6 in

Grit

P1000

# Discs/Bx

50

Product #

496990

Price

Call for Price

Description

6″ Granat Discs – P1200 (special order)

Size

6 in

Grit

P1200

# Discs/Bx

50

Product #

496991

Price

Call for Price

Description

6″ Granat Discs – P1500 (special order)

Size

6 in

Grit

P1500

# Discs/Bx

50

Product #

496992

Price

Call for Price