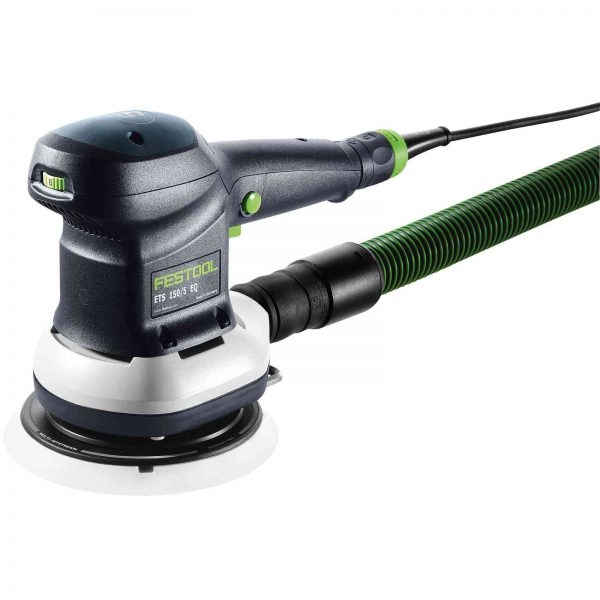 6″ ETS Sander 5mm Stroke
The ETS 150/3 is a favorite for fine sanding and extra-fine sanding, producing an excellent surface finish with a short 1/8″ (3.0 mm) stroke. The ETS 150/5, with a 3/16″ (5.0 mm) stroke, is perfect for light sanding or intermediate sanding. Both feature a rubberized top grip, ergonomic handle, finger tip switch and vibration-stop balancing to reduce the discomfort normally associated with sanding. Jetstream dust extraction improves the surface finish by removing dust particles as they are generated, while at the same time, prolonging pad and abrasive life. With soft-start, step-less speed controls, and constant speed under load, these sanders perform on a level that you are not likely to have experienced. Multi-Jetstream. Replaces product 571541. Multi-Jetstream dust extraction for cleaner work piece and work environment and up to 30% longer abrasive life. Ergonomically formed to fit your hand for one or two handed operation, with rubberized top grip. MMC electronic controls deliver soft-start, step-less variable speed control, and constant speed under load. StickFix fast and easy abrasive removal with resilient pad hooks and hard-wearing fabric backing, leading to longer abrasive and pad life. For coarse and intermediate sanding.
*To get more information on this Sander see Information Sheet.
*For technical information on this Sander see Technical Data Sheet.
Description

Size

Product #

Price

Quantity

Action

Description

6″ ETS 150/5 EQ Sander 5mm Stroke

Size

6 in

Product #

575060

Price

Call for Price
Accessories:
Description

Size

Product #

Price

Quantity

Action

Description

Sander Backing Pad for ETS EC 150/3 & 150/5 + ETS 150/3 & 150/5 6″ dia. – Medium

Size

Product #

498987

Price

Call for Price

Description

Turbo Dust Bag for ETS 150/3 & 150/5 6″

Size

5/pack

Product #

487779

Price

Call for Price

Description

Turbo Dust Bag for ETS 150/3 & 150/5 6″

Size

25/pack

Product #

487871

Price

Call for Price
Abrasive Discs:
Description

Size

Grit

# Discs/Bx

Product #

Price

Quantity

Action

Description

6″ Granat Discs – P40

Size

6 in

Grit

P40

# Discs/Bx

50

Product #

496975

Price

Call for Price

Description

6″ Granat Discs – P60

Size

6 in

Grit

P60

# Discs/Bx

50

Product #

496976

Price

Call for Price

Description

6″ Granat Discs – P80

Size

6 in

Grit

P80

# Discs/Bx

50

Product #

496977

Price

Call for Price

Description

6″ Granat Discs – P100

Size

6 in

Grit

P100

# Discs/Bx

100

Product #

496978

Price

Call for Price

Description

6″ Granat Discs – P120

Size

6 in

Grit

P120

# Discs/Bx

100

Product #

496979

Price

Call for Price

Description

6″ Granat Discs – P150

Size

6 in

Grit

P150

# Discs/Bx

100

Product #

496980

Price

Call for Price

Description

6″ Granat Discs – P180

Size

6 in

Grit

P180

# Discs/Bx

100

Product #

496981

Price

Call for Price

Description

6″ Granat Discs – P220

Size

6 in

Grit

P220

# Discs/Bx

100

Product #

496982

Price

Call for Price

Description

6″ Granat Discs – P240

Size

6 in

Grit

P240

# Discs/Bx

100

Product #

496983

Price

Call for Price

Description

6″ Granat Discs – P280

Size

6 in

Grit

P280

# Discs/Bx

100

Product #

496984

Price

Call for Price

Description

6″ Granat Discs – P320

Size

6 in

Grit

P320

# Discs/Bx

100

Product #

496985

Price

Call for Price

Description

6″ Granat Discs – P360 (special order)

Size

6 in

Grit

P360

# Discs/Bx

100

Product #

496986

Price

Call for Price

Description

6″ Granat Discs – P400

Size

6 in

Grit

P400

# Discs/Bx

100

Product #

496987

Price

Call for Price

Description

6″ Granat Discs – P500 (special order)

Size

6 in

Grit

P500

# Discs/Bx

100

Product #

496988

Price

Call for Price

Description

6″ Granat Discs – P800 (special order)

Size

6 in

Grit

P800

# Discs/Bx

50

Product #

496989

Price

Call for Price

Description

6″ Granat Discs – P1000 (special order)

Size

6 in

Grit

P1000

# Discs/Bx

50

Product #

496990

Price

Call for Price

Description

6″ Granat Discs – P1200 (special order)

Size

6 in

Grit

P1200

# Discs/Bx

50

Product #

496991

Price

Call for Price

Description

6″ Granat Discs – P1500 (special order)

Size

6 in

Grit

P1500

# Discs/Bx

50

Product #

496992

Price

Call for Price