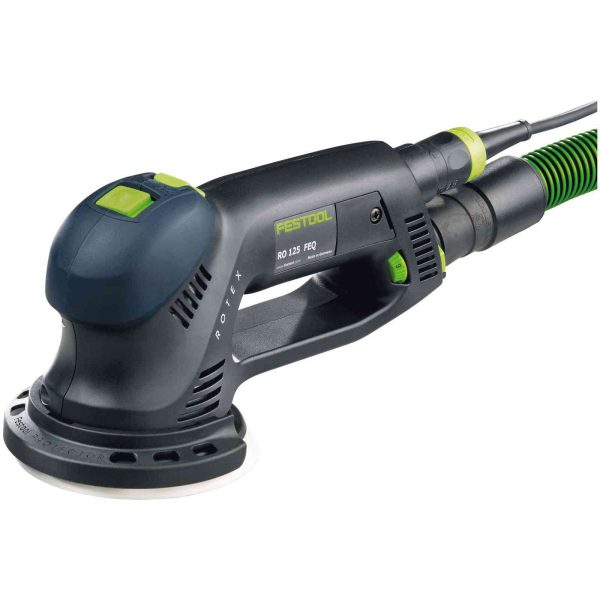 6″ Rotex Dual Mode Sander 5mm Stroke
Never before has such a powerful sander been so refined. The Rotex RO 150 changes effortlessly from coarse sanding, to fine sanding, to polishing. Changing sanding pads is simple, and requires no extra tools. 720 Watts of power means the RO 150 can take on any job. Yet its 5 lb. frame, minimal vibration and superior ergonomic design make it so easy to work with. The gear box is completely enclosed and impervious to dust, making the RO 150 extremely reliable, even in the most demanding environments. Multi-Jetstream. Replaces product 571760. Dual-Mode Sanding with a gear-driven, aggressive mode for rapid stock removal or polishing and random orbital mode for fine sanding. Jetstream dust extraction design delivers highly efficient dust removal, resulting in cleaner air, better finishes, and longer abrasive and pad life. FastFix tool-free backing pad changing system allows the sander to adapt to different surfaces and tasks with appropriate pads. Compact Size with a compact form and a 6″ pad, the RO 150 delivers performance to even the tightest of places.
*To get more information on this Sander see Information Sheet.
*For technical information on this Sander see Technical Data Sheet.
Description

Size

Product #

Price

Quantity

Action

Description

6″ Rotex RO 150 FEQ Dual Mode Sander 5mm Stroke

Size

6 in

Product #

575074

Price

Call for Price
Accessories:
Description

Size

Product #

Price

Quantity

Action

Description

FastFix Sander Backing Pad for RO 150 FEQ 6″ – Medium

Size

6 in

Product #

496147

Price

Call for Price
Abrasive Discs:
Description

Size

Grit

# Discs/Bx

Product #

Price

Quantity

Action

Description

6″ Granat Discs – P40

Size

6 in

Grit

P40

# Discs/Bx

50

Product #

496975

Price

Call for Price

Description

6″ Granat Discs – P60

Size

6 in

Grit

P60

# Discs/Bx

50

Product #

496976

Price

Call for Price

Description

6″ Granat Discs – P80

Size

6 in

Grit

P80

# Discs/Bx

50

Product #

496977

Price

Call for Price

Description

6″ Granat Discs – P100

Size

6 in

Grit

P100

# Discs/Bx

100

Product #

496978

Price

Call for Price

Description

6″ Granat Discs – P120

Size

6 in

Grit

P120

# Discs/Bx

100

Product #

496979

Price

Call for Price

Description

6″ Granat Discs – P150

Size

6 in

Grit

P150

# Discs/Bx

100

Product #

496980

Price

Call for Price

Description

6″ Granat Discs – P180

Size

6 in

Grit

P180

# Discs/Bx

100

Product #

496981

Price

Call for Price

Description

6″ Granat Discs – P220

Size

6 in

Grit

P220

# Discs/Bx

100

Product #

496982

Price

Call for Price

Description

6″ Granat Discs – P240

Size

6 in

Grit

P240

# Discs/Bx

100

Product #

496983

Price

Call for Price

Description

6″ Granat Discs – P280

Size

6 in

Grit

P280

# Discs/Bx

100

Product #

496984

Price

Call for Price

Description

6″ Granat Discs – P320

Size

6 in

Grit

P320

# Discs/Bx

100

Product #

496985

Price

Call for Price

Description

6″ Granat Discs – P360 (special order)

Size

6 in

Grit

P360

# Discs/Bx

100

Product #

496986

Price

Call for Price

Description

6″ Granat Discs – P400

Size

6 in

Grit

P400

# Discs/Bx

100

Product #

496987

Price

Call for Price

Description

6″ Granat Discs – P500 (special order)

Size

6 in

Grit

P500

# Discs/Bx

100

Product #

496988

Price

Call for Price

Description

6″ Granat Discs – P800 (special order)

Size

6 in

Grit

P800

# Discs/Bx

50

Product #

496989

Price

Call for Price

Description

6″ Granat Discs – P1000 (special order)

Size

6 in

Grit

P1000

# Discs/Bx

50

Product #

496990

Price

Call for Price

Description

6″ Granat Discs – P1200 (special order)

Size

6 in

Grit

P1200

# Discs/Bx

50

Product #

496991

Price

Call for Price

Description

6″ Granat Discs – P1500 (special order)

Size

6 in

Grit

P1500

# Discs/Bx

50

Product #

496992

Price

Call for Price