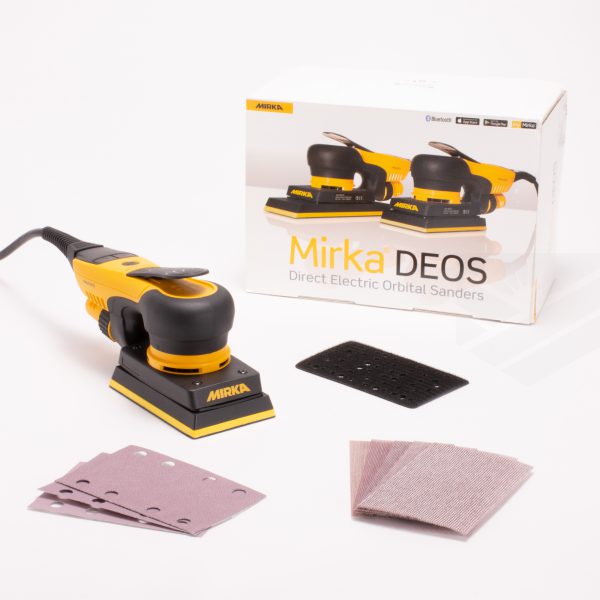 DEOS 3.2 x 5.2 in Electric Sander
Fast, efficient and dust-free sanding performance. Low profile allows for easy maneuverability. Comparable power of pneumatic tools, but lighter. Ideal for tight and low profile spaces. Ideal for sealer, filler and primer sanding applications. Max OPM can be adjusted from 5,000-10,000 opm. Optimized ergonomics for a comfortable grip. Separate on/off switch for easy and safe handling. 3.2″ x 5.2″. Electric Orbital Sander with 3mm orbit. Bluetooth connectivity pairs with myMirka App.
*To get more information on this Sander see Information Sheet.
*For information on this product see p. 33 in the Mirka Catalog under Info from Pro Wood.
Description

Size

Product #

Price

Quantity

Action

DEOS 3.2″ x 5.2″ in Electric Sander

Size

3.2" x 5.2"

MID3530201US

Call for Price

3.2″ x 5.2″ Multi-hole Grip Back-up Pad

Size

3.2" x 5.2"

MRK935GV

Call for Price
Screen Sheets:
Description

Size

Attachment

# Holes

Grit

Package

Abrasive/Grain

Backing

Brand

Product #

Price

Quantity

Action

Description

Abranet-9A Series

Size

3" x 5"

Attachment

Hook & Loop

# Holes

Mesh Net

Grit

80

Package

50/box

Abrasive/Grain

Aluminum Oxide

Backing

Polyamide Fabric

Brand

Mirka

Product #

MRK9A-178-80

Price

Call for Price

Description

Abranet-9A Series

Size

3" x 5"

Attachment

Hook & Loop

# Holes

Mesh Net

Grit

100

Package

50/box

Abrasive/Grain

Aluminum Oxide

Backing

Polyamide Fabric

Brand

Mirka

Product #

MRK9A-178-100

Price

Call for Price

Description

Abranet-9A Series

Size

3" x 5"

Attachment

Hook & Loop

# Holes

Mesh Net

Grit

120

Package

50/box

Abrasive/Grain

Aluminum Oxide

Backing

Polyamide Fabric

Brand

Mirka

Product #

MRK9A-178-120

Price

Call for Price

Description

Abranet-9A Series

Size

3" x 5"

Attachment

Hook & Loop

# Holes

Mesh Net

Grit

150

Package

50/box

Abrasive/Grain

Aluminum Oxide

Backing

Polyamide Fabric

Brand

Mirka

Product #

MRK9A-178-150

Price

Call for Price

Description

Abranet-9A Series

Size

3" x 5"

Attachment

Hook & Loop

# Holes

Mesh Net

Grit

180

Package

50/box

Abrasive/Grain

Aluminum Oxide

Backing

Polyamide Fabric

Brand

Mirka

Product #

MRK9A-178-180

Price

Call for Price

Description

Abranet-9A Series

Size

3" x 5"

Attachment

Hook & Loop

# Holes

Mesh Net

Grit

220

Package

50/box

Abrasive/Grain

Aluminum Oxide

Backing

Polyamide Fabric

Brand

Mirka

Product #

MRK9A-178-220

Price

Call for Price

Description

Abranet-9A Series

Size

3" x 5"

Attachment

Hook & Loop

# Holes

Mesh Net

Grit

240

Package

50/box

Abrasive/Grain

Aluminum Oxide

Backing

Polyamide Fabric

Brand

Mirka

Product #

MRK9A-178-240

Price

Call for Price

Description

Abranet-9A Series

Size

3" x 5"

Attachment

Hook & Loop

# Holes

Mesh Net

Grit

320

Package

50/box

Abrasive/Grain

Aluminum Oxide

Backing

Polyamide Fabric

Brand

Mirka

Product #

MRK9A-178-320

Price

Call for Price

Description

Abranet-9A Series

Size

3" x 5"

Attachment

Hook & Loop

# Holes

Mesh Net

Grit

400

Package

50/box

Abrasive/Grain

Aluminum Oxide

Backing

Polyamide Fabric

Brand

Mirka

Product #

MRK9A-178-400

Price

Call for Price

Description

Abranet-9A Series (special order)

Size

3" x 5"

Attachment

Hook & Loop

# Holes

Mesh Net

Grit

600

Package

50/box

Abrasive/Grain

Aluminum Oxide

Backing

Polyamide Fabric

Brand

Mirka

Product #

MRK9A-178-600

Price

Call for Price
Bulldog Gold Grip Sheets:
Description

Size

Grit

Product #

Price

Quantity

Action

Description

3.2″ x 5.2″ Bulldog Gold Grip Sheets – 80

Size

3.2" x 5.2"

Grit

80

Product #

MRK23-688-080

Price

Call for Price

Description

3.2″ x 5.2″ Bulldog Gold Grip Sheets – 100

Size

3.2" x 5.2"

Grit

100

Product #

MRK23-688-100

Price

Call for Price

Description

3.2″ x 5.2″ Bulldog Gold Grip Sheets – 120

Size

3.2" x 5.2"

Grit

120

Product #

MRK23-688-120

Price

Call for Price

Description

3.2″ x 5.2″ Bulldog Gold Grip Sheets – 150

Size

3.2" x 5.2"

Grit

150

Product #

MRK23-688-150

Price

Call for Price

Description

3.2″ x 5.2″ Bulldog Gold Grip Sheets – 180

Size

3.2" x 5.2"

Grit

180

Product #

MRK23-688-180

Price

Call for Price

Description

3.2″ x 5.2″ Bulldog Gold Grip Sheets- 220

Size

3.2" x 5.2"

Grit

220

Product #

MRK23-688-220

Price

Call for Price

Description

3.2″ x 5.2″ Bulldog Gold Grip Sheets- 240

Size

3.2" x 5.2"

Grit

240

Product #

MRK23-688-240

Price

Call for Price

Description

3.2″ x 5.2″ Bulldog Gold Grip Sheets- 280

Size

3.2" x 5.2"

Grit

280

Product #

MRK23-688-280

Price

Call for Price

Description

3.2″ x 5.2″ Bulldog Gold Grip Sheets – 320

Size

3.2" x 5.2"

Grit

320

Product #

MRK23-688-320

Price

Call for Price