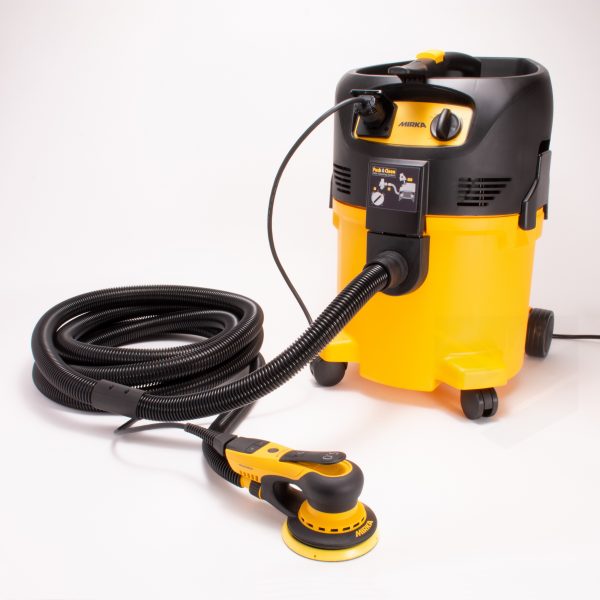 5″ Deros Mobile Finish Sanding System
Performance unequaled by any competitive electric tool can now be found within reach of any standard 110V outlet. Mirka DEROS is the first random orbital electric sander using advanced brushless DC motor technology. This Sander system works well with stock removal as well as finish sanding. The Mirka DEROS Sander & Vacuum system allows for powerful direct drive electric sanding at a very refined finish sanding level.
Finish Sander: Direct electric random orbital sander developed for effective and dust-free sanding of all kind of surfaces. The mains voltage is 100V – 120V and sold in North and South America.The smallest and most ergonomic sander on the market is equipped with a brushless motor, which maintains constant speed even under heavy load. With the lowest vibration values in its class and the unique symmetrical design guarantees that the tool can be used for long periods without fatique. This model has a 125 mm (5") pad and 5.0 mm oscillation. Mirka DEROS 550X CV is delivered in a high quality plastic case.
Dust Extractor: The Mirka MV-912 Vacuum Dust Extractor is designed for dust-free sanding in combination with electrical and pneumatic sander and hand sanding blocks. The MV-912 holds 30 liters and features include an automatic electrical start, adjustable suction and a grounded hose connection to eliminate static.
For information regarding the Finish Sander, see Information Sheet.
For technical information, see Technical Data Sheet.
For information regarding the Dust Extractor, see Info from Pro Wood.
Description

Size

Product #

Price

Quantity

Action

5″ Deros Random Orbit Sander & Mirka Portable Dust Extractor

Size

5 in

MID550-912-5

Call for Price
Accessories:
Description

Size

Product #

Price

Quantity

Action

Description

5″ Multi-hole Back-up Pad

Size

5 in

Product #

915GV28

Price

Call for Price
Screen Disks:
Description

Size

Attachment

# Holes

Grit

Package

Abrasive/Grain

Backing

Brand

Product #

Price

Quantity

Action

Description

5″ Abranet Screen Disk 80

Size

5"

Attachment

Hook & Loop

# Holes

Mesh Net

Grit

80

Package

50/box

Abrasive/Grain

Aluminum Oxide

Backing

Polyamide Fabric

Brand

Mirka

Product #

MRK9A-232-80

Price

Call for Price

Description

5″ Abranet Screen Disk 100

Size

5"

Attachment

Hook & Loop

# Holes

Mesh Net

Grit

100

Package

50/box

Abrasive/Grain

Aluminum Oxide

Backing

Polyamide Fabric

Brand

Mirka

Product #

MRK9A-232-100

Price

Call for Price

Description

5″ Abranet Screen Disk 120

Size

5"

Attachment

Hook & Loop

# Holes

Mesh Net

Grit

120

Package

50/box

Abrasive/Grain

Aluminum Oxide

Backing

Polyamide Fabric

Brand

Mirka

Product #

MRK9A-232-120

Price

Call for Price

Description

5″ Abranet Screen Disk 150

Size

5"

Attachment

Hook & Loop

# Holes

Mesh Net

Grit

150

Package

50/box

Abrasive/Grain

Aluminum Oxide

Backing

Polyamide Fabric

Brand

Mirka

Product #

MRK9A-232-150

Price

Call for Price

Description

5″ Abranet Screen Disk 180

Size

5"

Attachment

Hook & Loop

# Holes

Mesh Net

Grit

180

Package

50/box

Abrasive/Grain

Aluminum Oxide

Backing

Polyamide Fabric

Brand

Mirka

Product #

MRK9A-232-180

Price

Call for Price

Description

5″ Abranet Screen Disk 220

Size

5"

Attachment

Hook & Loop

# Holes

Mesh Net

Grit

220

Package

50/box

Abrasive/Grain

Aluminum Oxide

Backing

Polyamide Fabric

Brand

Mirka

Product #

MRK9A-232-220

Price

Call for Price

Description

5″ Abranet Screen Disk 240

Size

5"

Attachment

Hook & Loop

# Holes

Mesh Net

Grit

240

Package

50/box

Abrasive/Grain

Aluminum Oxide

Backing

Polyamide Fabric

Brand

Mirka

Product #

MRK9A-232-240

Price

Call for Price

Description

5″ Abranet Screen Disk 320

Size

5"

Attachment

Hook & Loop

# Holes

Mesh Net

Grit

320

Package

50/box

Abrasive/Grain

Aluminum Oxide

Backing

Polyamide Fabric

Brand

Mirka

Product #

MRK9A-232-320

Price

Call for Price

Description

5″ Abranet Screen Disk 400

Size

5"

Attachment

Hook & Loop

# Holes

Mesh Net

Grit

400

Package

50/box

Abrasive/Grain

Aluminum Oxide

Backing

Polyamide Fabric

Brand

Mirka

Product #

MRK9A-232-400

Price

Call for Price

Description

5″ Abranet Screen Disk 500

Size

5"

Attachment

Hook & Loop

# Holes

Mesh Net

Grit

500

Package

50/box

Abrasive/Grain

Aluminum Oxide

Backing

Polyamide Fabric

Brand

Mirka

Product #

MRK9A-232-500

Price

Call for Price

Description

5″ Abranet Screen Disk 600

Size

5"

Attachment

Hook & Loop

# Holes

Mesh Net

Grit

600

Package

50/box

Abrasive/Grain

Aluminum Oxide

Backing

Polyamide Fabric

Brand

Mirka

Product #

MRK9A-232-600

Price

Call for Price

Description

5″ Abranet Screen Disk 800

Size

5"

Attachment

Hook & Loop

# Holes

Mesh Net

Grit

800

Package

50/box

Abrasive/Grain

Aluminum Oxide

Backing

Polyamide Fabric

Brand

Mirka

Product #

MRK9A-232-800

Price

Call for Price

Description

5″ Abranet Screen Disk 1000

Size

5"

Attachment

Hook & Loop

# Holes

Mesh Net

Grit

1000

Package

50/box

Abrasive/Grain

Aluminum Oxide

Backing

Polyamide Fabric

Brand

Mirka

Product #

MRK9A-232-1000

Price

Call for Price
Description

Size

Attachment

# Holes

Grit

Package

Abrasive/Grain

Backing

Brand

Product #

Price

Quantity

Action

Description

5″ Autonet Screen Disk – 80

Size

5"

Attachment

Hook & Loop

# Holes

Mesh Net

Grit

80

Package

50/box

Abrasive/Grain

Aluminum Oxide

Backing

Polyamide Fabric

Brand

Mirka

Product #

MRKAE23205-080

Price

Call for Price

Description

5″ Autonet Screen Disk – 120

Size

5"

Attachment

Hook & Loop

# Holes

Mesh Net

Grit

120

Package

50/box

Abrasive/Grain

Aluminum Oxide

Backing

Polyamide Fabric

Brand

Mirka

Product #

MRKAE23205-012

Price

Call for Price

Description

5″ Autonet Screen Disk – 150

Size

5"

Attachment

Hook & Loop

# Holes

Mesh Net

Grit

150

Package

50/box

Abrasive/Grain

Aluminum Oxide

Backing

Polyamide Fabric

Brand

Mirka

Product #

MRKAE23205-015

Price

Call for Price

Description

5″ Autonet Screen Disk – 180

Size

5"

Attachment

Hook & Loop

# Holes

Mesh Net

Grit

180

Package

50/box

Abrasive/Grain

Aluminum Oxide

Backing

Polyamide Fabric

Brand

Mirka

Product #

MRKAE23205-018

Price

Call for Price

Description

5″ Autonet Screen Disk – 240

Size

5"

Attachment

Hook & Loop

# Holes

Mesh Net

Grit

240

Package

50/box

Abrasive/Grain

Aluminum Oxide

Backing

Polyamide Fabric

Brand

Mirka

Product #

MRKAE23205-025

Price

Call for Price

Description

5″ Autonet Screen Disk – 320

Size

5"

Attachment

Hook & Loop

# Holes

Mesh Net

Grit

320

Package

50/box

Abrasive/Grain

Aluminum Oxide

Backing

Polyamide Fabric

Brand

Mirka

Product #

MRKAE23205-032

Price

Call for Price

Description

5″ Autonet Screen Disk – 400

Size

5"

Attachment

Hook & Loop

# Holes

Mesh Net

Grit

400

Package

50/box

Abrasive/Grain

Aluminum Oxide

Backing

Polyamide Fabric

Brand

Mirka

Product #

MRKAE23205-041

Price

Call for Price

Description

5″ Autonet Screen Disk – 500

Size

5"

Attachment

Hook & Loop

# Holes

Mesh Net

Grit

500

Package

50/box

Abrasive/Grain

Aluminum Oxide

Backing

Polyamide Fabric

Brand

Mirka

Product #

MRKAE23205-051

Price

Call for Price

Description

5″ Autonet Screen Disk – 600

Size

5"

Attachment

Hook & Loop

# Holes

Mesh Net

Grit

600

Package

50/box

Abrasive/Grain

Aluminum Oxide

Backing

Polyamide Fabric

Brand

Mirka

Product #

MRKAE23205-061

Price

Call for Price

Description

5″ Autonet Screen Disk – 800 (special order)

Size

5"

Attachment

Hook & Loop

# Holes

Mesh Net

Grit

800

Package

50/box

Abrasive/Grain

Aluminum Oxide

Backing

Polyamide Fabric

Brand

Mirka

Product #

MRKAE23205-081

Price

Call for Price