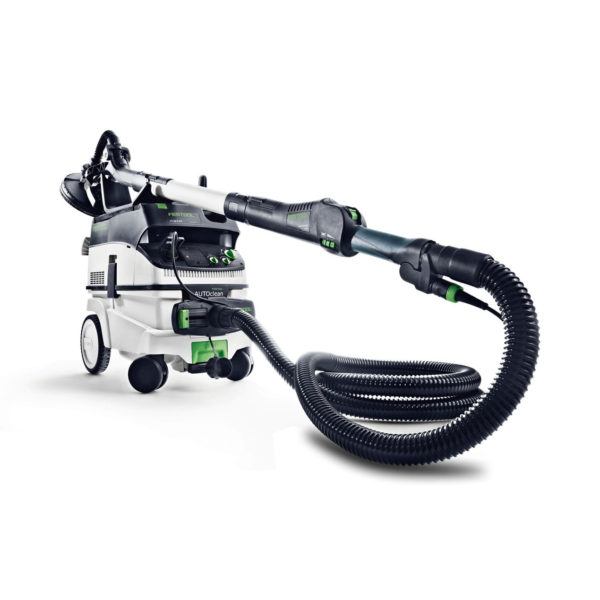 Ultimate Dustless Drywall Sanding System
The PLANEX Easy is FESTOOL's answer to dustless drywall sanding in occupied spaces where dust control is important.
Sander: Simplify the drywall sanding experience with the Planex easy Drywall Sander. This single-piece machine features easy plug-in and go design this is both easy to set up and easy to use. Intuitive controls combine with exceptional balance and low weight to make the task of drywall sanding easier than ever. Enjoy greater freedom-of-movement and longevity with the direct-drive EC TEC brushless motor with its motor-over-pad design and flexible head joint. There are no flexible drive cables and no carbon brushes on the motor which need replaced. Removable top section allows for up-close sanding to abutting surfaces such as inside edges. Reduce jobsite clean-up while working in a cleaner environment thanks to the integrated dust extraction design that captures dust at the surface (when attached to an appropriate dust extractor). Fully compatible with existing Planex abrasives.
Simple set-up and intuitive controls let you focus on results. Low weight and perfect balance reduce fatigue. Direct-drive EC TEC brushless motor provides power to the surface without a flexible cable for less downtime with less weight. Flexible head design allows greater freedom-of-movement for easier sanding. Covered by Festool exclusive 3-year Service All-Inclusive warranty. Uses same Granat abrasives as the classic Planex Drywall Sander.
Dust Extractor: Designed for the toughest, high volume dust environments, the CT 36 AC is built to capture the mess before it becomes an issue—for you or your client. With automatic start, variable suction force, large casters and German-build quality, the CT 36 AC is jobsite tough and jobsite smart.
Automatic filter cleaning technology ensures maximum suction when used with Planex Drywall Sander, 1 micron high-performance filter. Automatic Tool Start & adjustable suction with tool triggered or manual on-off switch and infinitely variable suction force, can be used wet or dry. Supplied with lightweight 11-1/2 foot long anti-static hose that is flexible and kink-resistant and will minimize shock hazards as well as reduce static cling. Container/filter bag capacity 36/34 l. With AUTOCLEAN function.
For information regarding the Sander, see Information Sheet.
For technical information on both products, see Technical Data Sheet.
For information regarding the Dust Extractor, see Info from Pro Wood.
Description

Size

Product #

Price

Quantity

Action

Description

8″ Planex LHS-E 225 EQ Drywall Sander #575219 & CT 36 AC-Mobile Dust Extractor 9.5 Gal Capacity HP Filter #574933 (special order)

Size

8 in

Product #

575219/574933

Price

Call for Price
Accessories
Description

Size

Product #

Price

Quantity

Action

Description

Anti-Static Hose for CT 26 E/CT 36 E/CT 48 E/CT 36 AC (1-1/16 in x 11.5 ft)

Size

Each

Product #

452878

Price

Call for Price

Description

HEPA Main Filter for CT 26 E/CT 36 E/CT 48 E/CT 36 AC

Size

Each

Product #

498994

Price

Call for Price

Description

Sander Backing Pad for LHS-225 EQ (special order)

Size

8 1/2 in

Product #

202546

Price

Call for Price

Description

Long-life Filter Bag for CT 36 E & CT 36 AC (special order)

Size

Each

Product #

496121

Price

Call for Price

Description

Bag LHS-E 225 – Storage & Transportation Bag (special order)

Size

Each

Product #

202477

Price

Call for Price
Granat Abrasive Discs:
Description

Size

Grit

# Discs/Bx

Product #

Price

Quantity

Action

Description

Granat D225 Abrasives – P40 (special order)

Size

9 in

Grit

P40

# Discs/Bx

25

Product #

499634

Price

Call for Price

Description

Granat D225 Abrasives – P60 (special order)

Size

9 in

Grit

P60

# Discs/Bx

25

Product #

499635

Price

Call for Price

Description

Granat D225 Abrasives – P80 (special order)

Size

9 in

Grit

P80

# Discs/Bx

25

Product #

499636

Price

Call for Price

Description

Granat D225 Abrasives – P100 (special order)

Size

9 in

Grit

P100

# Discs/Bx

25

Product #

499637

Price

Call for Price

Description

Granat D225 Abrasives – P120 (special order)

Size

9 in

Grit

P120

# Discs/Bx

25

Product #

499638

Price

Call for Price

Description

Granat D225 Abrasives- P150 (special order)

Size

9 in

Grit

P150

# Discs/Bx

25

Product #

499639

Price

Call for Price

Description

Granat D225 Abrasives- P180 (special order)

Size

9 in

Grit

P180

# Discs/Bx

25

Product #

499640

Price

Call for Price

Description

Granat D225 Abrasives – P220 (special order)

Size

9 in

Grit

P220

# Discs/Bx

25

Product #

499641

Price

Call for Price

Description

Granat D225 Abrasives – P240 (special order)

Size

9 in

Grit

P240

# Discs/Bx

25

Product #

499642

Price

Call for Price

Description

Granat D225 Abrasives – P320 (special order)

Size

9 in

Grit

P320

# Discs/Bx

25

Product #

499643

Price

Call for Price