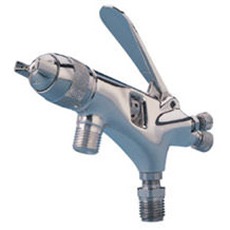 DeVilbiss EGA Touch Up Gun
The original gun of choice for touch-up, shading, edging and detail decorating, EGA touch-up guns provide precise control for any type of delicate spray finishing applications. The guns feature a forefinger trigger to enhance operator control, and a long needle taper to make detail work easy. Equipped with stainless steel tip and needle. Knurled knobs allow fine spray adjustments for fluid 
and pattern control. Fluid delivery by attached suction feed or remote pressure feed cup. Ideal for hours of fatigue-free precision painting.
*To get more information on this Gun see Information-Technical Sheet.
Description

Product #

Price

Quantity

Action

DeVilbiss EGA Touch Up Gun (gun only) (special order)

EGA-503-390F

Call for Price

8oz. Plastic Cup (special order)

TGS-503

Call for Price