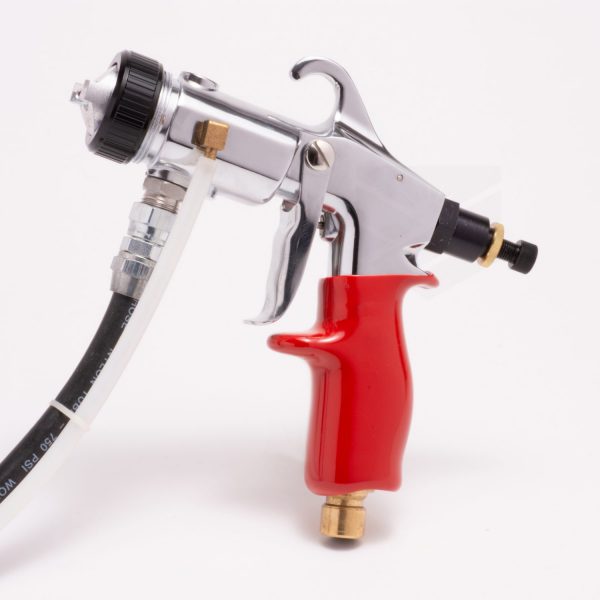 American Turbine Remote Gun Only
Professional spray gun features: easily adjustable spray patterns; rapid spray pattern change from large to small. Non-bleed for less shop dust-ups and provides excellent atomization for controlled results. The universal air inlet fitting makes this spray gun an easy replacement to use for all units. We have a full range of needle nozzle combinations from 0.5mm to 2.8mm. Turbine style Pressure Gun used with 2 qt. or paint tank.
*To get more information on this Gun see Information Sheet.
*For parts schematic on the Gun see Technical Data Sheet p. 14.
Description

Product #

Price

Quantity

Action

Turbine Gun (1.2 x 1.2 x .07 Multi-hole Air Cap)

223XX

Call for Price
Accessories:
Description

Product #

Price

Quantity

Action

Description

5-Piece Needle Packing (Ref #5)

Product #

22005

Price

Call for Price

Description

Spring for Detent Plate (Ref #15)

Product #

22015

Price

Call for Price

Description

Detent Plate (Ref #16)

Product #

22016

Price

Call for Price

Description

Pattern Control Ring (Ref #17)

Product #

22017

Price

Call for Price

Description

Hose Quick Disconnect (Female – garden hose style)

Product #

22711

Price

Call for Price

Description

Air Inlet Adjusting Ball Valve

Product #

22710

Price

Call for Price

Description

20 ft Blue Air Hose

Product #

41020

Price

Call for Price

Description

25 ft Blue Air Hose

Product #

41025

Price

Call for Price
Filters:
Description

Product #

Price

Quantity

Action

Description

Main Turbine Filter for 950/953 units (each)

Product #

30099

Price

Call for Price

Description

Pre-Filters for 950/953 units (pkg of 10)

Product #

30098

Price

Call for Price

Description

Main Turbine Filter for 1000/1000+/3000/4000 units (each)

Product #

51030

Price

Call for Price

Description

Pre-Filters for 1000/1000+/3000/4000 units

Product #

51031-1

Price

Call for Price
Fluid Nozzles:
Description

Product #

Price

Quantity

Action

Description

0.5mm

Product #

22115

Price

Call for Price

Description

0.7mm

Product #

22116

Price

Call for Price

Description

1.0mm

Product #

22117

Price

Call for Price

Description

1.2mm

Product #

22118

Price

Call for Price

Description

1.4mm

Product #

22119

Price

Call for Price

Description

1.6mm

Product #

22120

Price

Call for Price

Description

1.8mm

Product #

22121

Price

Call for Price

Description

2.0mm

Product #

22122

Price

Call for Price

Description

2.4mm

Product #

22123

Price

Call for Price

Description

2.8mm

Product #

22124

Price

Call for Price
Fluid Needles:
Description

Product #

Price

Quantity

Action

Description

0.5mm

Product #

22101

Price

Call for Price

Description

0.7mm

Product #

22102

Price

Call for Price

Description

1.0mm

Product #

22103

Price

Call for Price

Description

1.2mm

Product #

22104

Price

Call for Price

Description

1.4mm

Product #

22105

Price

Call for Price

Description

1.6mm

Product #

22106

Price

Call for Price

Description

1.8mm

Product #

22107

Price

Call for Price

Description

2.0mm

Product #

22108

Price

Call for Price

Description

2.4mm

Product #

22109

Price

Call for Price

Description

2.8mm

Product #

22110

Price

Call for Price
Air Caps:
Description

Product #

Price

Quantity

Action

Description

0.5mm (multi-hole)

Product #

22140

Price

Call for Price

Description

0.7mm (multi-hole)

Product #

22141

Price

Call for Price

Description

1.0mm (multi-hole)

Product #

22142

Price

Call for Price

Description

1.2mm

Product #

22131

Price

Call for Price

Description

1.4mm

Product #

22132

Price

Call for Price

Description

1.6mm

Product #

22133

Price

Call for Price

Description

1.8mm

Product #

22134

Price

Call for Price

Description

2.0mm

Product #

22135

Price

Call for Price

Description

2.4mm

Product #

22136

Price

Call for Price

Description

2.8mm

Product #

22137

Price

Call for Price