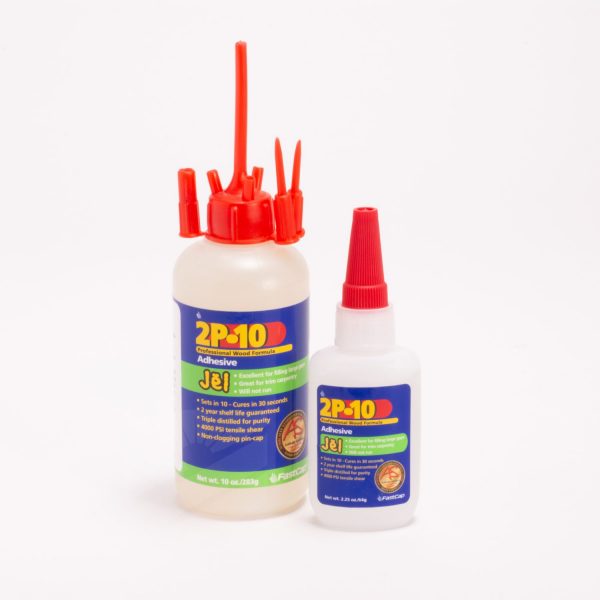 2P-10 Adhesive (Jel)
2P-10 Professional Wood Formula is a two-part, 10-second cyanoacrylate adhesive. The jel viscosity will not run, is great for vertical surfaces and is an all purpose application. Also comes in a rubber toughened viscosity that provides elasticity to joints and is 10% stronger than the standard 2P-10.
Just apply the adhesive, then spray the activator and stick it together for a strong, permanent bond. The 10 oz. bottles are ideal for environments where large quantities of adhesives are necessary. The 2.25 oz. bottles are great for small jobs or as refills for your 2P-10 kit. 2P-10 is triple distilled for purity and has a 2-year shelf life guarantee. Non-clogging pin cap. Available in several viscosities.
*For more information regarding this product see Information Sheet.
*For more information regarding technical aspects of this product see Technical Data Sheet.
Description

Color

Size

Product #

Price

Quantity

Action

Description

2P-10 CA Glue (Jel)

Color

Clear

Size

2.25 oz

Product #

FST2P10JEL-2

Price

Call for Price

Description

2P-10 CA Glue (Jel)

Color

Clear

Size

10 oz

Product #

FST2P10JEL-10

Price

Call for Price

Description

2P-10 CA Glue Rubber Toughened (Jel)

Color

Clear

Size

2.25 oz

Product #

FST2P10RTJEL-2

Price

Call for Price

Description

2P-10 CA Glue Rubber Toughened (Jel)

Color

Clear

Size

10 oz

Product #

FST2P10RTJEL-10

Price

Call for Price
Activators:
Description

Size

Product #

Price

Quantity

Action

Description

2P-10 Activator, Aerosol

Size

12 oz

Product #

FST2P10ACT-12

Price

Call for Price

Description

2P-10 Activator, Liquid Pump Botle

Size

2 oz

Product #

FST2P10-ACT-2

Price

Call for Price
Debonder:
Description

Size

Product #

Price

Quantity

Action

Description

2P-10 Debonder

Size

2 oz

Product #

FST2P10DEBONDR

Price

Call for Price
Pin Caps:
Description

Size

Product #

Price

Quantity

Action

Description

2P-10 Pin Caps (pack of 5)

Size

Pk/5

Product #

FST2P10PINCAP

Price

Call for Price