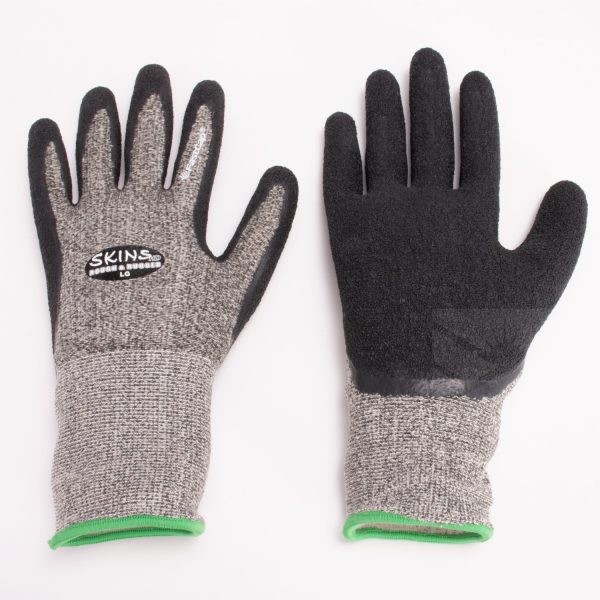 High Performance Skins Gloves
Our Skin Gloves HD are high-performance textured latex gloves that are snag, puncture and abrasion resistant. The latex provides superior grip in oily applications and yet these gloves are machine washable and dry extremely quickly. Great for: General construction; lumber and millwork. Sold individually or in dozens.
*For more information regarding this product see Information Sheet.
Description

Size

Color

Product #

Price

Quantity

Action

Small HD Skins (Blue Cuff)

Size

Each

Color

Blue

SKINS-HD-SM

Call for Price

Medium HD Skins (Yellow Cuff)

Size

Each

Color

Yellow

SKINS-HD-MED

Call for Price

Large HD Skins (Green Cuff)

Size

Each

Color

Green

SKINS-HD-LG

Call for Price

XLarge HD Skins (Red Cuff)

Size

Each

Color

Red

SKINS-HD-XL

Call for Price

XXLarge HD Skins (Orange Cuff)

Size

Each

Color

Orange

SKINS-HD-XXL

Call for Price

12 pack-Small HD Skins (Blue Cuff)

Size

12/pack

Color

Blue

SKINS-HD-12PK-SM

Call for Price

12 pack-Medium HD Skins (Yellow Cuff)

Size

12/pack

Color

Yellow

SKINS-HD-12PK-MED

Call for Price

12 pack-Large HD Skins (Green Cuff)

Size

12/pack

Color

Green

SKINS-HD-12PK-LG

Call for Price

12 pack-XLarge HD Skins (Red Cuff)

Size

12/pack

Color

Red

SKINS-HD-12PK-XL

Call for Price

12 pack-XXLarge HD Skins (Orange Cuff)

Size

12/pack

Color

Orange

SKINS-HD-12PK-XXL

Call for Price