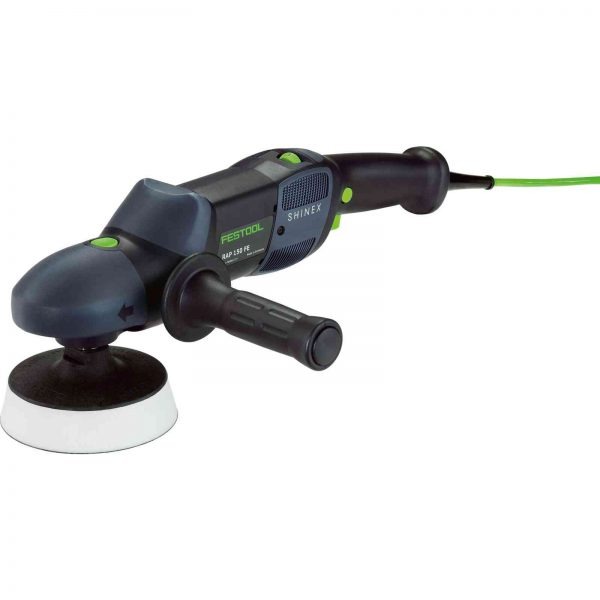 RAP 150-21 FE #571011
With 1200 watts of power, the SHINEX is capable to conquering the most demanding polishing applications with ease. Variable speed settings allow you to dial in the perfect speed for the application at hand between. At only 4.6 pounds, the light weight design prevents fatigue during extended use. A fluff filter, screens contaminants from polishing pads, felts, sheepskins or other environmental debris and protects the motor for longer service life.
This high speed, low torque machine spins up to 2,100 RPM for most common polishing applications and features an improved internal design for longer life and cooler running.
Description

Product #

Price

Quantity

Action

Festool Shinex Polisher (special order)

571011

Call for Price
Accessories:
Description

Product #

Price

Quantity

Action

Description

Backup Polishing Pad (special order)

Product #

488342

Price

Call for Price

Description

Microfiber Cloth (special order)

Product #

493068

Price

Call for Price

Description

Cleaning Cloth (special order)

Product #

498071

Price

Call for Price

Description

Polishing Compound MPA 5010-speed cut (special order)

Product #

202048

Price

Call for Price

Description

Polishing Compound MPA 9010-fine polishing (special order)

Product #

202050

Price

Call for Price

Description

Polishing Compound MPA 11010-high gloss (special order)

Product #

202051

Price

Call for Price

Description

Finish-Cleaner MPA F+ (special order)

Product #

202053

Price

Call for Price

Description

Sealing Spray SV+ (special order)

Product #

202052

Price

Call for Price