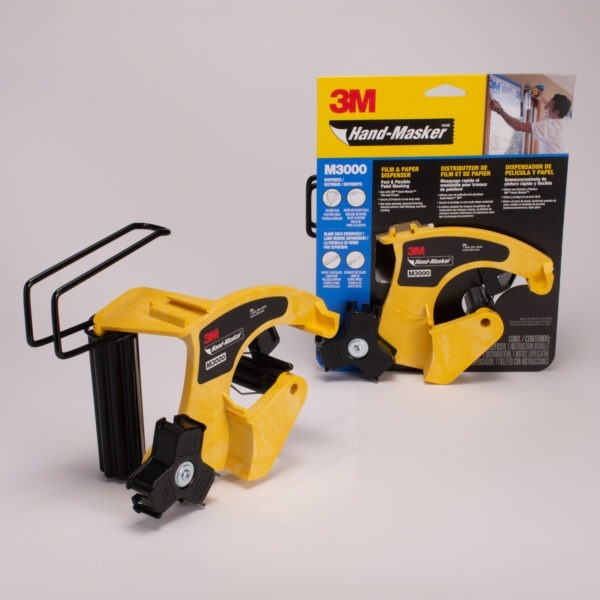 3M Hand-Masker Dispenser & Accessories
Time is money, so paint contractors should mask right the first time with 3M™ Hand-Masker™ Paint Masking Products. 3M™'s innovative technology means exceptional results on the job site and less frustrating re-dos. The crews you're serving will feel and see the difference. The 3M Hand-Masker M3000 Dispenser applies tape to either plastic film or paper in one continuous application. The dispenser is durable, impact resistant, and lightweight. This is the fast and efficient way to apply plastic or paper over surfaces or openings to protect from paint splatter and dust. You will need to choose (1) your plastic film or paper; (2) blade; and (3) size of blue tape.
*For more information regarding this product see Information and Technical Data Sheet.
Description

Product #

Price

Quantity

Action

3M Hand-Masker Dispenser

MMMM3000

Call for Price
Accessories
Description

Size

Actual

Product #

Price

Quantity

Action

Description

3M New Masking Plastic (Paper Replacement)

Size

6"

Actual

Product #

MMMMPL6

Price

Call for Price

Description

3M New Masking Plastic (Paper Replacement)

Size

9"

Actual

Product #

MMMMPL9

Price

Call for Price

Description

3M New Masking Plastic (Paper Replacement)

Size

12"

Actual

Product #

MMMMPL12

Price

Call for Price

Description

3M Masking Plastic Film

Size

24"

Actual

2'x180'

Product #

MMMMF24

Price

Call for Price

Description

3M Masking Plastic Film

Size

48"

Actual

4'x180'

Product #

MMMMF48

Price

Call for Price

Description

3M Masking Plastic Film

Size

72"

Actual

6'x90'

Product #

MMMMF72

Price

Call for Price

Description

3M Masking Plastic Film

Size

99"

Actual

8.25'x90'

Product #

MMMMF99

Price

Call for Price

Description

Green Masking Paper

Size

6"

Actual

6''x180'

Product #

FPRHM6

Price

Call for Price

Description

Green Masking Paper

Size

12"

Actual

12''x180'

Product #

FPRHM12

Price

Call for Price

Description

Brown Masking Paper

Size

12"

Actual

12''x180'

Product #

FVSBP-12

Price

Call for Price

Description

Film Blade

Size

12"

Actual

Product #

MMMFB12

Price

Call for Price

Description

Paper Blade

Size

9"

Actual

Product #

MMMPB9

Price

Call for Price

Description

Paper Blade

Size

12"

Actual

Product #

MMMPB12

Price

Call for Price

Description

3M Blue Tape

Size

3/4"

Actual

2' x 90'

Product #

MMM2090-3/4

Price

Call for Price

Description

3M Blue Tape

Size

1"

Actual

3'x90'

Product #

MMM2090-1

Price

Call for Price

Description

3M Blue Tape

Size

1 1/2"

Actual

4' x 90'

Product #

MMM2090-11/2

Price

Call for Price

Description

3M Blue Tape

Size

2"

Actual

6' x 75'

Product #

MMM2090-2

Price

Call for Price