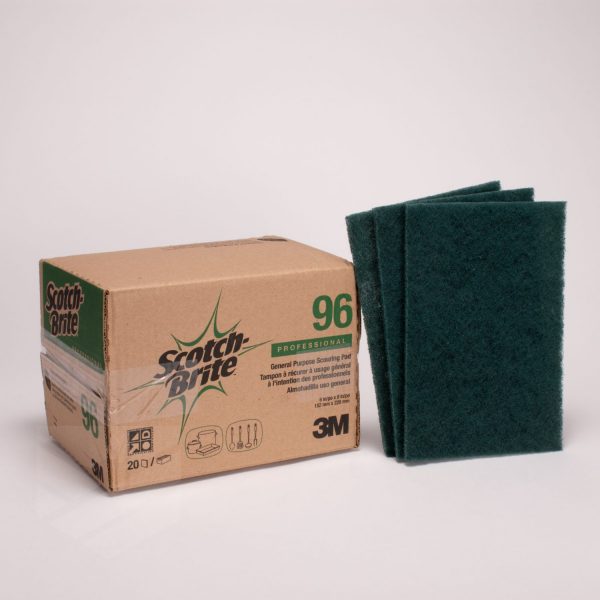 3M Green Scotch Brite Scouring Pads
These general purpose green 3M Scotch Brite Scouring Pads are very popular in stripping and sanding operations. They replace many steel wool and sandpaper grades. No more strands of steel wool in your finish and no sandpaper dust. 6″ x 9″ made of non-woven nylon web. Durable and long-lasting. Aggressive scouring action.
All pads shown below are 6″ x 9″.
Description

Size

Product #

Price

Quantity

Action

3M Green Scotch Brite Scouring Pads (box)

Size

20/box

MMM96

Call for Price

3M Green Scotch Brite Scouring Pads (each)

Size

Each

MMM96-E

Call for Price
Other Pad Options
Description

Size

Package

Grade

Product #

Price

Quantity

Action

Description

3M Red Scotch-Brite 7447

Size

6" x 9"

Package

20 pads

Grade

Very Fine

Product #

MMM7447

Price

Call for Price

Description

3M Red Scotch Brite 7447 (each)

Size

6" x 9"

Package

Each

Grade

Very Fine

Product #

MMM7447-E

Price

Call for Price

Description

3M Gray Scotch-Brite 7448

Size

6" x 9"

Package

20 pads

Grade

Ultra Fine

Product #

MMM7448

Price

Call for Price

Description

3M Gray Scotch-Brite 7448 (each)

Size

6" x 9"

Package

Each

Grade

Ultra Fine

Product #

MMM7448-E

Price

Call for Price

Description

3M White Scotch-Brite 7445

Size

6" x 9"

Package

20 pads

Grade

Super Fine

Product #

MMM7445

Price

Call for Price
Hand Block
Description

Size

Package

Product #

Price

Quantity

Action

Description

3M™ Insta-Lok™ Hand Block

Size

5 3/4" x 3-3/8"

Package

1 each

Product #

MMM952

Price

Call for Price