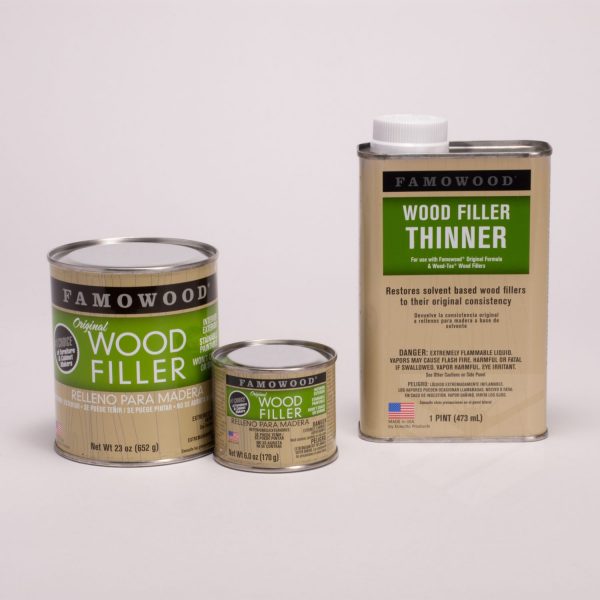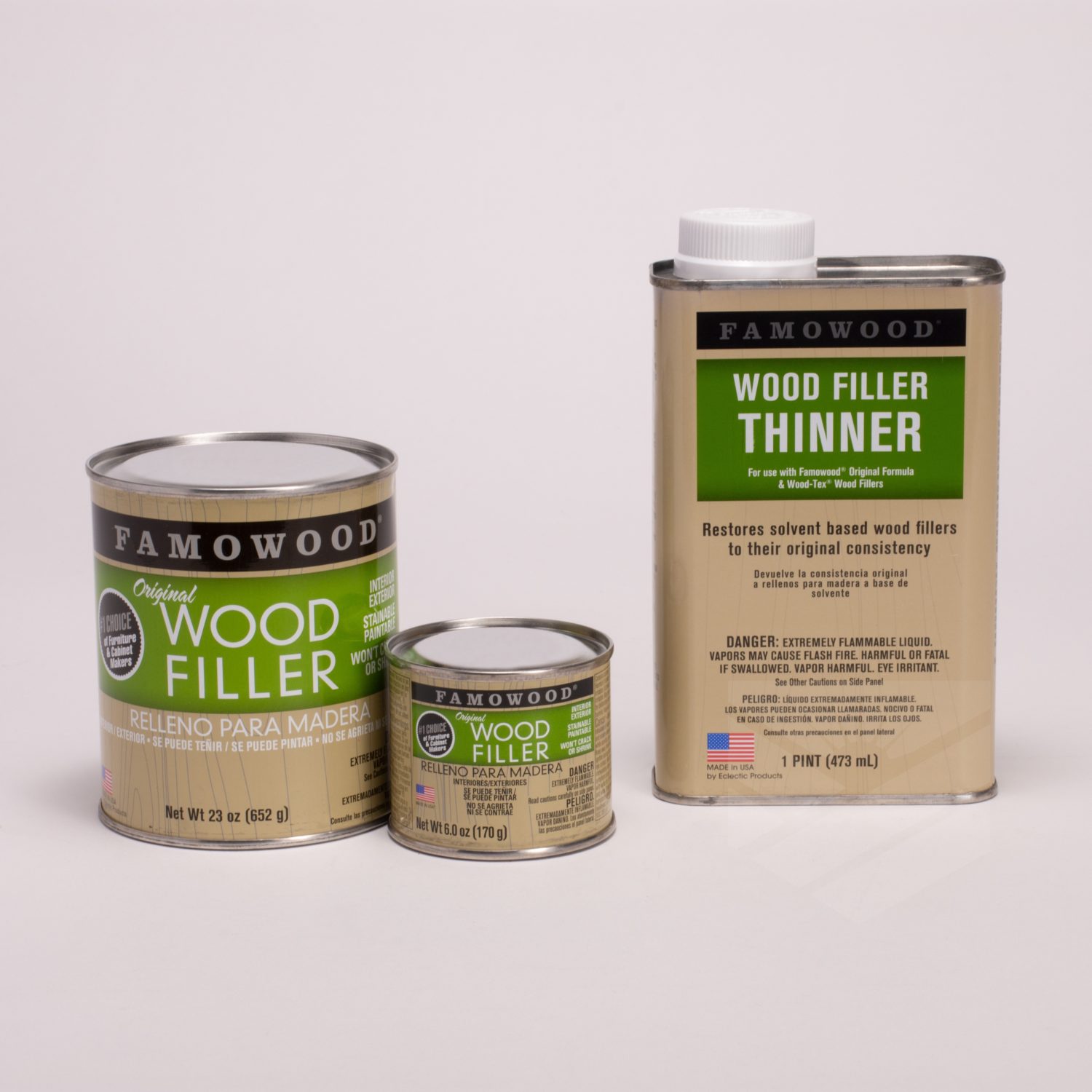 Original Famowood Wood Filler & Thinner
FAMOWOOD Original Wood Filler has been the choice of professional woodworkers for over 70 years! It doesn't matter whether you are masking small or large defects, FAMOWOOD can handle the job. It spreads smoothly into cracks and holes, takes stains and paints evenly and resists cracking. Perfect for any type of custom wood project. Dries in 30 minutes. Won't crack or shrink. Can be sanded, drilled or planed. Stainable and paintable. Interior/exterior use.
*For Color Chart click on "Stain Chart" button.
Description

Size

Product #

Price

Quantity

Action

Famowood-Ash

Size

6 oz

BVRFWAS-6

Call for Price

Famowood-Ash

Size

23 oz

BVRFWAS-23

Call for Price

Famowood-Birch

Size

6 oz

BVRFWBI-6

Call for Price

Famowood-Birch

Size

23 oz

BVRFWBI-23

Call for Price

Famowood-Cherry

Size

6 oz

BVRFWCH-6

Call for Price

Famowood-Cherry

Size

23 oz

BVRFWCH-23

Call for Price

Famowood-Mahogany

Size

6 oz

BVRFWMA-6

Call for Price

Famowood-Mahogany

Size

23 oz

BVRFWMA-23

Call for Price

Famowood-Maple

Size

6 oz

BVRFWMP-6

Call for Price

Famowood-Maple

Size

23 oz

BVRFWOA-23

Call for Price

Famowood-Maple

Size

23 oz

BVRFWMP-23

Call for Price

Famowood-Oak

Size

6 oz

BVRFWOA-6

Call for Price

Famowood-Pine

Size

6 oz

BVRFWPI-6

Call for Price

Famowood-Pine

Size

23 oz

BVRFWPI-23

Call for Price

Famowood-Red Oak

Size

6 oz

BVRFWRO-6

Call for Price

Famowood-Red Oak

Size

23 oz

BVRFWRO-23

Call for Price

Famowood-Walnut

Size

6 oz

BVRFWWA-6

Call for Price

Famowood-Walnut

Size

23 oz

BVRFWWA-23

Call for Price

Famowood-White Pine

Size

6 oz

BVRFWWP-6

Call for Price

Famowood-White Pine

Size

23 oz

BVRFWWP-23

Call for Price

Famowood-White

Size

6 oz

BVRFWWH-6

Call for Price

Famowood-White

Size

23 oz

BVRFWWH-23

Call for Price
Description

Size

Product #

Price

Quantity

Action

Description

Famowood Wood Filler Thinner

Size

1 pint

Product #

BVRFS-P

Price

Call for Price