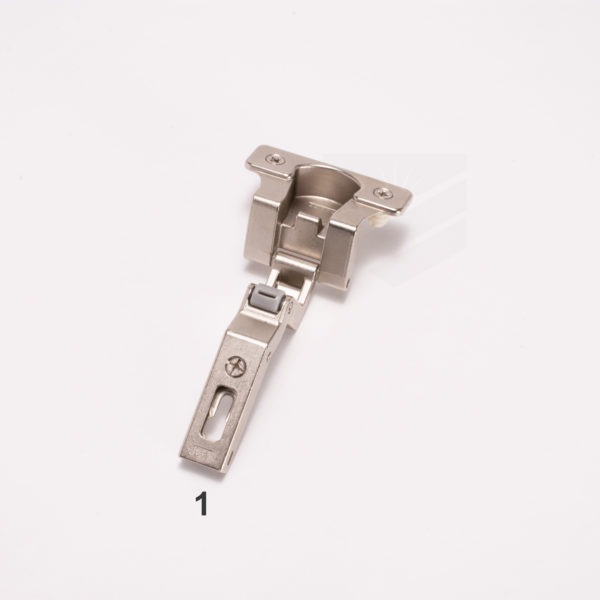 Series M for Standard Doors 270 Degree Institutional Hinge
Bright nickel plated die-cast cup and arm. Sprung hinge (with spring). Ideal for the most critical applications, where high stability, strength and endurance are required. They are certified for applications in public environments in conformity with FIRA Level 5 and ANSI Grade 1 requirements. Adjustments Compensating side adjustment from -3 mm to +3 mm. With mounting plates H=0 the negative side adjustment cannot be used. Height adjustment ±2 mm. Depth adjustment with Series 200 mounting plates +2.8 mm. Depth adjustment with Domi snap-on mounting plates from -0.5 mm to +2.8 mm. Anti-sliding safety stop. Mounting plates Symmetrical and asymmetrical bright nickel plated steel or die-cast Series 200 mounting plates. Snap-on assembly on Domi mounting plates. Positioning with pre-determined stop on traditional Series 200 mounting plates. N.B.: Use POZIDRIVE No. 2 screwdrivers for all screws.
For specific info on these hinges see Information-Technical Sheet.
For overview of Salice hardware, see Salice Catalog located on the Salice Cabinet Hardware Landing Page.
Description

Picture #

Fixing Type

Degree

Closing Type

Finish

Type

Each

Case

Product #

Price

Quantity

Action

Standard Frameless Hinge-Free Swing: 270°

Picture #

1

Fixing Type

Plastic Dowels

Degree

270°

Closing Type

Free Swing

Finish

Nickel

Type

Standard Door

Each

1

Case

300

CMR3A99

Call for Price