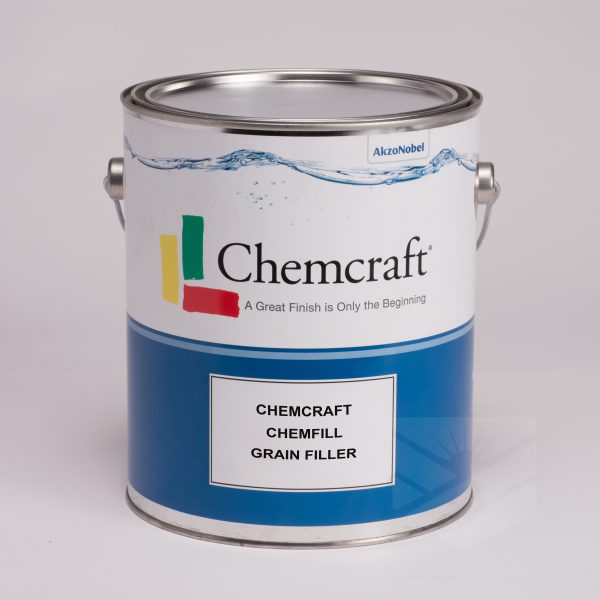 Chemcraft Chemfill Grain Filler
Chemfill Neutral is all-purpose neutral filler for furniture and cabinets. This product should be stirred well due to the heavy concentration of fillers. Applications may be by hand or by spray if reduced to spray viscosity. 825-3503 Chemfill Neutral can be tinted using tinters or dyes to a maximum of 25 – 30%.
*See color chart of the 9 available Chemcraft Chemfill Grain Fillers under Information Sheet and technical information regarding these under Technical Data Sheet.
Description

Color

Size

Product #

Price

Quantity

Action

Chemcraft Chemfill Grain Filler-Black

Color

Black

Size

1 quart

825-3503BL-Q

Call for Price

Chemcraft Chemfill Grain Filler-Black

Color

Black

Size

1 gal

825-3503BL-G

Call for Price

Chemcraft Chemfill Grain Filler-Burnt Umber

Color

Burnt Umber

Size

1 quart

825-3503BU-Q

Call for Price

Chemcraft Chemfill Grain Filler-Burnt Umber

Color

Burnt Umber

Size

1 gal

825-3503BU-G

Call for Price

Chemcraft Chemfill Grain Filler-Cherry

Color

Cherry

Size

1 quart

825-3503CH-Q

Call for Price

Chemcraft Chemfill Grain Filler-Cherry

Color

Cherry

Size

1 gal

825-3503CH-G

Call for Price

Chemcraft Chemfill Grain Filler-Dark Mahogany

Color

Dark Mahogany

Size

1 quart

825-3503DM-Q

Call for Price

Chemcraft Chemfill Grain Filler-Dark Mahogany

Color

Dark Mahogany

Size

1 gal

825-3503DM-G

Call for Price

Chemcraft Chemfill Grain Filler-Dark Walnut

Color

Dark Walnut

Size

1 quart

825-3503DW-Q

Call for Price

Chemcraft Chemfill Grain Filler-Dark Walnut

Color

Dark Walnut

Size

1 gal

825-3503DW-G

Call for Price

Chemcraft Chemfill Grain Filler-Neutral

Color

Neutral

Size

1 quart

825-3503-Q

Call for Price

Chemcraft Chemfill Grain Filler-Neutral

Color

Neutral

Size

1 gal

825-3503-G

Call for Price

Chemcraft Chemfill Grain Filler-Raw Umber

Color

Raw Umber

Size

1 quart

825-3503RU-Q

Call for Price

Chemcraft Chemfill Grain Filler-Raw Umber

Color

Raw Umber

Size

1 gal

825-3503RU-G

Call for Price

Chemcraft Chemfill Grain Filler-Van Dyke Brown

Color

Van Dyke Brown

Size

1 quart

825-3503VDB-Q

Call for Price

Chemcraft Chemfill Grain Filler-Van Dyke Brown

Color

Van Dyke Brown

Size

1 gal

825-3503VDB-G

Call for Price

Chemcraft Chemfill Grain Filler-White

Color

White

Size

1 quart

825-3503WH-Q

Call for Price

Chemcraft Chemfill Grain Filler-White

Color

White

Size

1 gal

825-3503WH-G

Call for Price