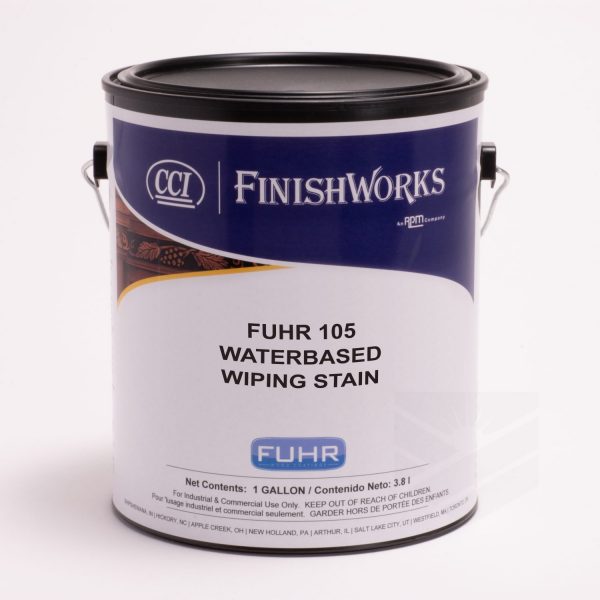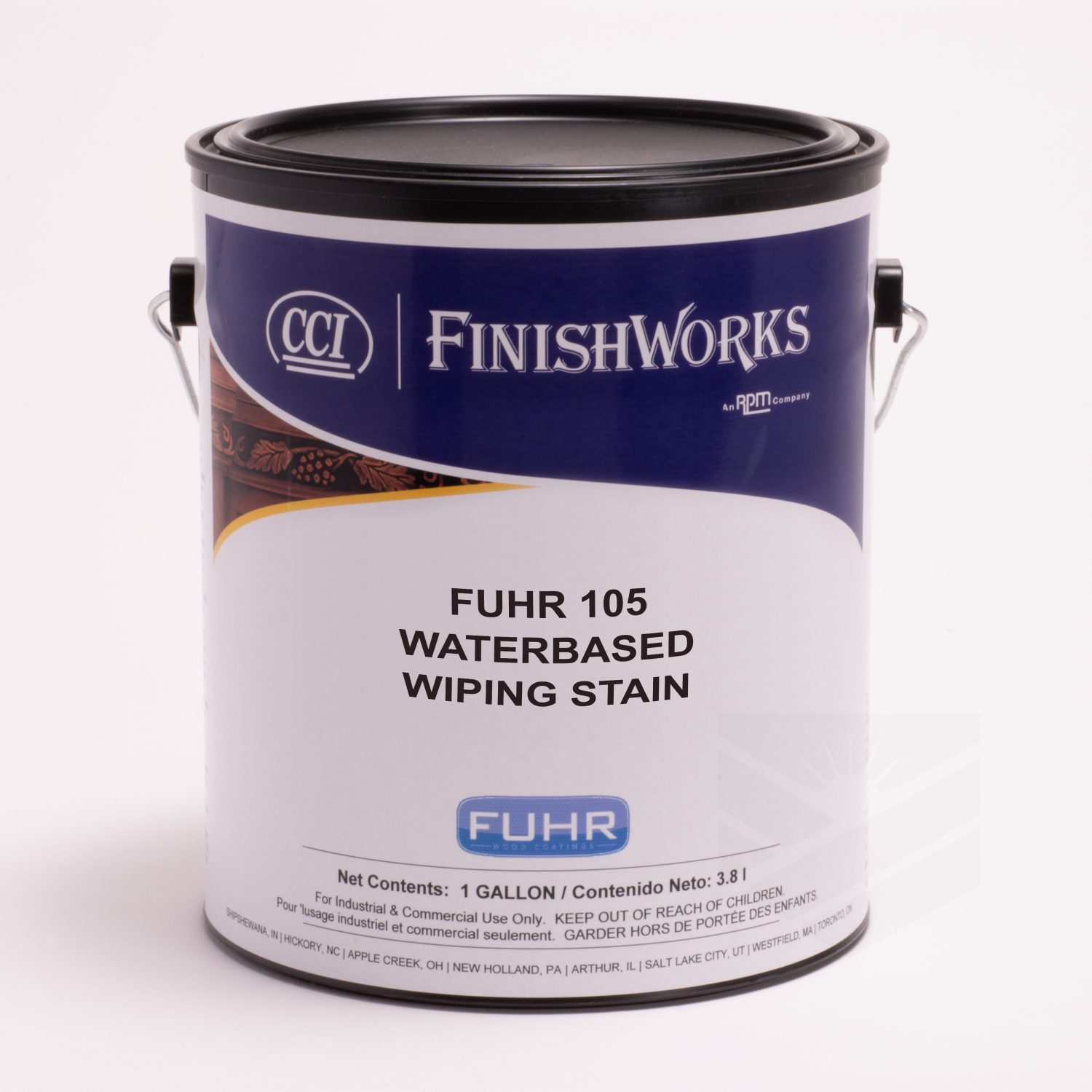 Fuhr 105 Waterbased Wiping Stain
The 105 is your mainstay waterbased wiping stain. It is the easiest of the waterborne stains to control uniformity of color. It is suitable to have pigments or dyes added. It can be applied by rag, brush or spray and then must be wiped back. Extremely low VOC. Little to no grain raising.
*To get more information on these 22 Fuhr 105 Waterbased Spray Stains see Information-Technical Sheet. To see a color chart representing these 22 colors, see Stain Chart.
Description

Color

Size

Product #

Price

Quantity

Action

Fuhr 105 Waterbased Wiping Stain-Golden Pecan

Color

Golden Pecan

Size

1 quart

FHR10501-Q

Call for Price

Fuhr 105 Waterbased Wiping Stain-Golden Pecan

Color

Golden Pecan

Size

1 gal

FHR10501-G

Call for Price

Fuhr 105 Waterbased Wiping Stain-Special Walnut

Color

Special Walnut

Size

1 quart

FHR10502-Q

Call for Price

Fuhr 105 Waterbased Wiping Stain-Special Walnut

Color

Special Walnut

Size

1 gal

FHR10502-G

Call for Price

Fuhr 105 Waterbased Wiping Stain-Red Mahogany

Color

Red Mahogany

Size

1 quart

FHR10503-Q

Call for Price

Fuhr 105 Waterbased Wiping Stain-Red Mahogany

Color

Red Mahogany

Size

1 gal

FHR10503-G

Call for Price

Fuhr 105 Waterbased Wiping Stain-Driftwood

Color

Driftwood

Size

1 quart

FHR10504-Q

Call for Price

Fuhr 105 Waterbased Wiping Stain-Driftwood

Color

Driftwood

Size

1 gal

FHR10504-G

Call for Price

Fuhr 105 Waterbased Wiping Stain-Dark Walnut

Color

Dark Walnut

Size

1 quart

FHR10505-Q

Call for Price

Fuhr 105 Waterbased Wiping Stain-Dark Walnut

Color

Dark Walnut

Size

1 gal

FHR10505-G

Call for Price

Fuhr 105 Waterbased Wiping Stain-Puritan Pine

Color

Puritan Pine

Size

1 quart

FHR10506-Q

Call for Price

Fuhr 105 Waterbased Wiping Stain-Puritan Pine

Color

Puritan Pine

Size

1 gal

FHR10506-G

Call for Price

Fuhr 105 Waterbased Wiping Stain-Early American

Color

Early American

Size

1 quart

FHR10507-Q

Call for Price

Fuhr 105 Waterbased Wiping Stain-Early American

Color

Early American

Size

1 gal

FHR10507-G

Call for Price

Fuhr 105 Waterbased Wiping Stain-Antique Cherry

Color

Antique Cherry

Size

1 quart

FHR10508-Q

Call for Price

Fuhr 105 Waterbased Wiping Stain-Antique Cherry

Color

Antique Cherry

Size

1 gal

FHR10508-G

Call for Price

Fuhr 105 Waterbased Wiping Stain-Provincial

Color

Provincial

Size

1 quart

FHR10509-Q

Call for Price

Fuhr 105 Waterbased Wiping Stain-Provincial

Color

Provincial

Size

1 gal

FHR10509-G

Call for Price

Fuhr 105 Waterbased Wiping Stain-Fruitwood

Color

Fruitwood

Size

1 quart

FHR10510-Q

Call for Price

Fuhr 105 Waterbased Wiping Stain-Fruitwood

Color

Fruitwood

Size

1 gal

FHR10510-G

Call for Price

Fuhr 105 Waterbased Wiping Stain-Colonial Maple

Color

Colonial Maple

Size

1 quart

FHR10511-Q

Call for Price

Fuhr 105 Waterbased Wiping Stain-Colonial Maple

Color

Colonial Maple

Size

1 gal

FHR10511-G

Call for Price

Fuhr 105 Waterbased Wiping Stain-Golden Oak

Color

Golden Oak

Size

1 quart

FHR10512-Q

Call for Price

Fuhr 105 Waterbased Wiping Stain-Golden Oak

Color

Golden Oak

Size

1 gal

FHR10512-G

Call for Price

Fuhr 105 Waterbased Wiping Stain-Jacobean

Color

Jacobean

Size

1 quart

FHR10513-Q

Call for Price

Fuhr 105 Waterbased Wiping Stain-Jacobean

Color

Jacobean

Size

1 gal

FHR10513-G

Call for Price

Fuhr 105 Waterbased Wiping Stain-Ebony

Color

Ebony

Size

1 quart

FHR10514-Q

Call for Price

Fuhr 105 Waterbased Wiping Stain-Ebony

Color

Ebony

Size

1 gal

FHR10514-G

Call for Price

Fuhr 105 Waterbased Wiping Stain-Red Oak

Color

Red Oak

Size

1 quart

FHr10515-Q

Call for Price

Fuhr 105 Waterbased Wiping Stain-Red Oak

Color

Red Oak

Size

1 gal

FHr10515-G

Call for Price

Fuhr 105 Waterbased Wiping Stain-Picked Oak

Color

Picked Oak

Size

1 quart

FHR10516-Q

Call for Price

Fuhr 105 Waterbased Wiping Stain-Picked Oak

Color

Picked Oak

Size

1 gal

FHR10516-G

Call for Price

Fuhr 105 Waterbased Wiping Stain-Ipswich Pine

Color

Ipswich Pine

Size

1 quart

FHR10517-Q

Call for Price

Fuhr 105 Waterbased Wiping Stain-Ipswich Pine

Color

Ipswich Pine

Size

1 gal

FHR10517-G

Call for Price

Fuhr 105 Waterbased Wiping Stain-Cherry

Color

Cherry

Size

1 quart

FHr10518-Q

Call for Price

Fuhr 105 Waterbased Wiping Stain-Cherry

Color

Cherry

Size

1 gal

FHr10518-G

Call for Price

Fuhr 105 Waterbased Wiping Stain-English Chestnut

Color

English Chestnut

Size

1 quart

FHR10519-Q

Call for Price

Fuhr 105 Waterbased Wiping Stain-English Chestnut

Color

English Chestnut

Size

1 gal

FHR10519-G

Call for Price

Fuhr 105 Waterbased Wiping Stain-Light Walnut

Color

Light Walnut

Size

1 quart

FHR10520-Q

Call for Price

Fuhr 105 Waterbased Wiping Stain-Light Walnut

Color

Light Walnut

Size

1 gal

FHR10520-G

Call for Price

Fuhr 105 Waterbased Wiping Stain-Medium Red Mahogany

Color

Medium Red Mahogany

Size

1 quart

FHR10521-Q

Call for Price

Fuhr 105 Waterbased Wiping Stain-Medium Red Mahogany

Color

Medium Red Mahogany

Size

1 gal

FHR10521-G

Call for Price

Fuhr 105 Waterbased Wiping Stain-Nutmeg Brown

Color

Nutmeg Brown

Size

1 quart

FHR10522-Q

Call for Price

Fuhr 105 Waterbased Wiping Stain-Nutmeg Brown

Color

Nutmeg Brown

Size

1 gal

FHR10522-G

Call for Price

Fuhr 105 Waterbased Wiping Stain-Clear Base

Color

Clear Base

Size

1 quart

FHR105-10-Q

Call for Price

Fuhr 105 Waterbased Wiping Stain-Clear Base

Color

Clear Base

Size

1 gal

FHR105-10-G

Call for Price