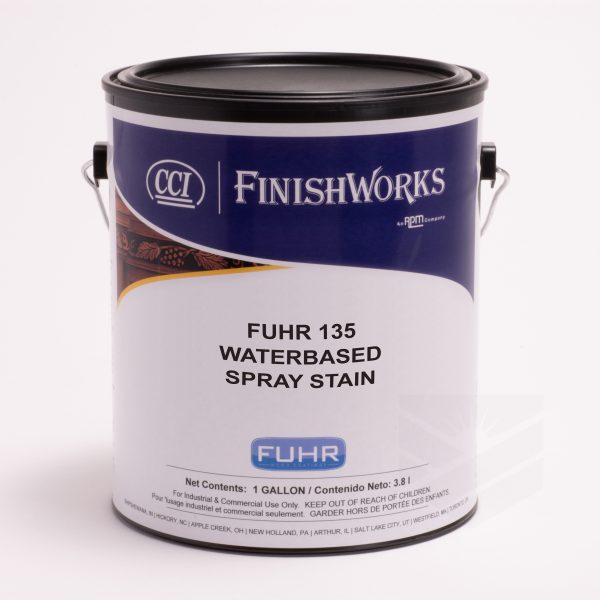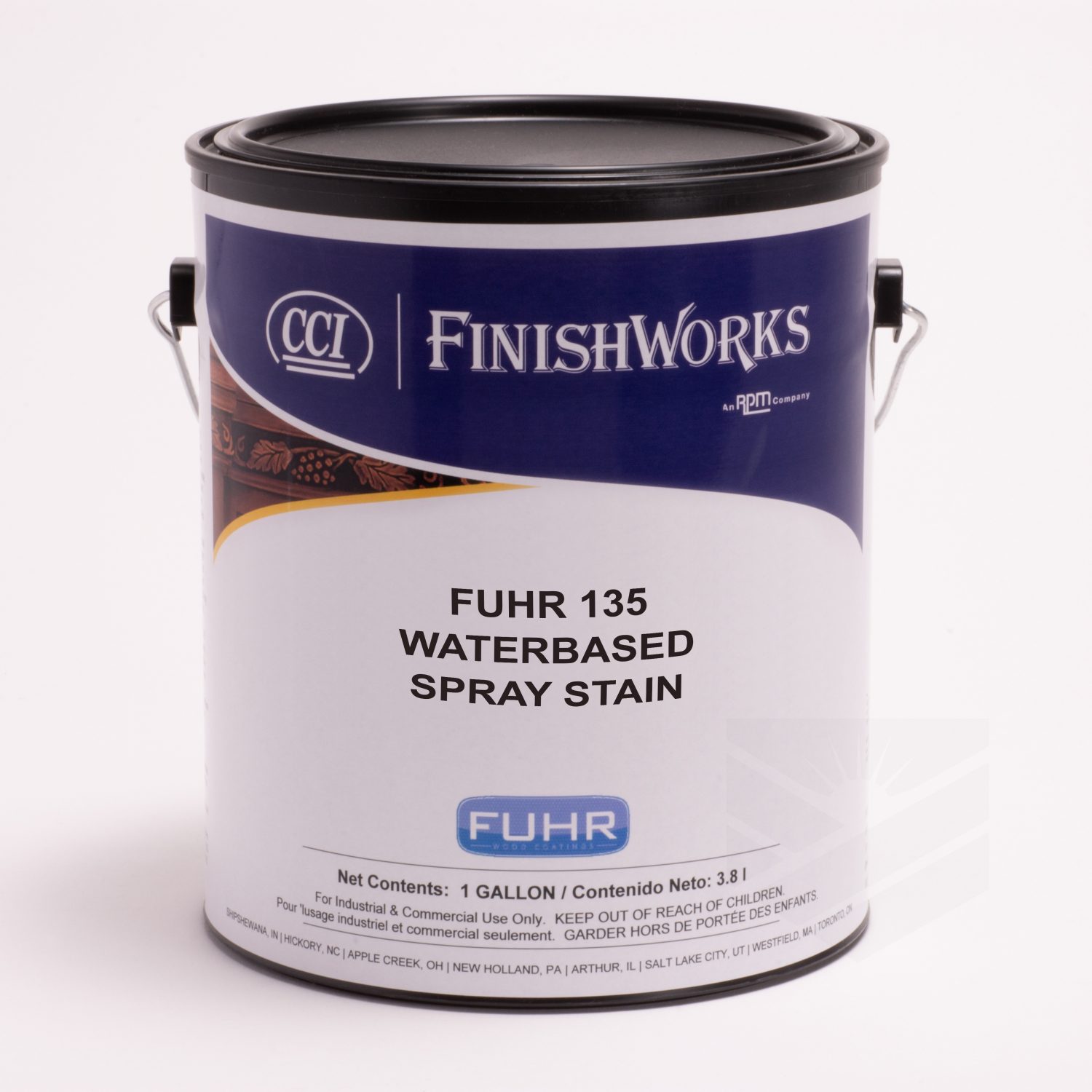 Fuhr 135 Waterbased Spray Stain
The 135 waterbased spray stain (dye) has excellent clarity, allowing you to build color in multiple coats. It can also be used as a "Spray-No-Wipe" stain and is suitable when doing dye-wipe combination colors.
*To see a color chart representing these 22 colors, see Stain Chart.
Description

Color

Size

Product #

Price

Quantity

Action

Fuhr 135 Waterbased Spray Stain-Golden Pecan

Color

Golden Pecan

Size

1 quart

FHR13501-Q

Call for Price

Fuhr 135 Waterbased Spray Stain-Golden Pecan

Color

Golden Pecan

Size

1 gal

FHR13501-G

Call for Price

Fuhr 135 Waterbased Spray Stain-Special Walnut

Color

Special Walnut

Size

1 quart

FHR13502-Q

Call for Price

Fuhr 135 Waterbased Spray Stain-Special Walnut

Color

Special Walnut

Size

1 gal

FHR13502-G

Call for Price

Fuhr 135 Waterbased Spray Stain-Red Mahogany

Color

Red Mahogany

Size

1 quart

FHR13503-Q

Call for Price

Fuhr 135 Waterbased Spray Stain-Red Mahogany

Color

Red Mahogany

Size

1 gal

FHR13503-G

Call for Price

Fuhr 135 Waterbased Spray Stain-Driftwood

Color

Driftwood

Size

1 quart

FHR13504-Q

Call for Price

Fuhr 135 Waterbased Spray Stain-Driftwood

Color

Driftwood

Size

1 gal

FHR13504-G

Call for Price

Fuhr 135 Waterbased Spray Stain-Dark Walnut

Color

Dark Walnut

Size

1 quart

FHR13505-Q

Call for Price

Fuhr 135 Waterbased Spray Stain-Dark Walnut

Color

Dark Walnut

Size

1 gal

FHR13505-G

Call for Price

Fuhr 135 Waterbased Spray Stain-Puritan Pine

Color

Puritan Pine

Size

1 quart

FHR13506-Q

Call for Price

Fuhr 135 Waterbased Spray Stain-Puritan Pine

Color

Puritan Pine

Size

1 gal

FHR13506-G

Call for Price

Fuhr 135 Waterbased Spray Stain-Early American

Color

Early American

Size

1 quart

FHR13507-Q

Call for Price

Fuhr 135 Waterbased Spray Stain-Early American

Color

Early American

Size

1 gal

FHR13507-G

Call for Price

Fuhr 135 Waterbased Spray Stain-Antique Cherry

Color

Antique Cherry

Size

1 quart

FHR13508-Q

Call for Price

Fuhr 135 Waterbased Spray Stain-Antique Cherry

Color

Antique Cherry

Size

1 gal

FHR13508-G

Call for Price

Fuhr 135 Waterbased Spray Stain-Provincial

Color

Provincial

Size

1 quart

FHR13509-Q

Call for Price

Fuhr 135 Waterbased Spray Stain-Provincial

Color

Provincial

Size

1 gal

FHR13509-G

Call for Price

Fuhr 135 Waterbased Spray Stain-Fruitwood

Color

Fruitwood

Size

1 quart

FHR13510-Q

Call for Price

Fuhr 135 Waterbased Spray Stain-Fruitwood

Color

Fruitwood

Size

1 gal

FHR13510-G

Call for Price

Fuhr 135 Waterbased Spray Stain-Colonial Maple

Color

Colonial Maple

Size

1 quart

FHR13511-Q

Call for Price

Fuhr 135 Waterbased Spray Stain-Colonial Maple

Color

Colonial Maple

Size

1 gal

FHR13511-G

Call for Price

Fuhr 135 Waterbased Spray Stain-Golden Oak

Color

Golden Oak

Size

1 quart

FHR13512-Q

Call for Price

Fuhr 135 Waterbased Spray Stain-Golden Oak

Color

Golden Oak

Size

1 gal

FHR13512-G

Call for Price

Fuhr 135 Waterbased Spray Stain-Jacobean

Color

Jacobean

Size

1 quart

FHR13513-Q

Call for Price

Fuhr 135 Waterbased Spray Stain-Jacobean

Color

Jacobean

Size

1 gal

FHR13513-G

Call for Price

Fuhr 135 Waterbased Spray Stain-Ebony

Color

Ebony

Size

1 quart

FHR13514-Q

Call for Price

Fuhr 135 Waterbased Spray Stain-Ebony

Color

Ebony

Size

1 gal

FHR13514-G

Call for Price

Fuhr 135 Waterbased Spray Stain-Red Oak

Color

Red Oak

Size

1 quart

FHr13515-Q

Call for Price

Fuhr 135 Waterbased Spray Stain-Red Oak

Color

Red Oak

Size

1 gal

FHr13515-G

Call for Price

Fuhr 135 Waterbased Spray Stain-Picked Oak

Color

Picked Oak

Size

1 quart

FHR13516-Q

Call for Price

Fuhr 135 Waterbased Spray Stain-Picked Oak

Color

Picked Oak

Size

1 gal

FHR13516-G

Call for Price

Fuhr 135 Waterbased Spray Stain-Ipswich Pine

Color

Ipswich Pine

Size

1 quart

FHR13517-Q

Call for Price

Fuhr 135 Waterbased Spray Stain-Ipswich Pine

Color

Ipswich Pine

Size

1 gal

FHR13517-G

Call for Price

Fuhr 135 Waterbased Spray Stain-Cherry

Color

Cherry

Size

1 quart

FHR13518-Q

Call for Price

Fuhr 135 Waterbased Spray Stain-Cherry

Color

Cherry

Size

1 gal

FHR13518-G

Call for Price

Fuhr 135 Waterbased Spray Stain-English Chestnut

Color

English Chestnut

Size

1 quart

FHR13519-Q

Call for Price

Fuhr 135 Waterbased Spray Stain-English Chestnut

Color

English Chestnut

Size

1 gal

FHR13519-G

Call for Price

Fuhr 135 Waterbased Spray Stain-Light Walnut

Color

Light Walnut

Size

1 quart

FHR13520-Q

Call for Price

Fuhr 135 Waterbased Spray Stain-Light Walnut

Color

Light Walnut

Size

1 gal

FHR13520-G

Call for Price

Fuhr 135 Waterbased Spray Stain-Medium Red Mahogany

Color

Medium Red Mahogany

Size

1 quart

FHR13521-Q

Call for Price

Fuhr 135 Waterbased Spray Stain-Medium Red Mahogany

Color

Medium Red Mahogany

Size

1 gal

FHR13521-G

Call for Price

Fuhr 135 Waterbased Spray Stain-Nutmeg Brown

Color

Nutmeg Brown

Size

1 quart

FHR13522-Q

Call for Price

Fuhr 135 Waterbased Spray Stain-Nutmeg Brown

Color

Nutmeg Brown

Size

1 gal

FHR13522-G

Call for Price

Fuhr 135 Waterbased Spray Stain-Clear Base

Color

Clear Base

Size

1 quart

FHR135-10-Q

Call for Price

Fuhr 135 Waterbased Spray Stain-Clear Base

Color

Clear Base

Size

1 gal

FHR135-10-G

Call for Price