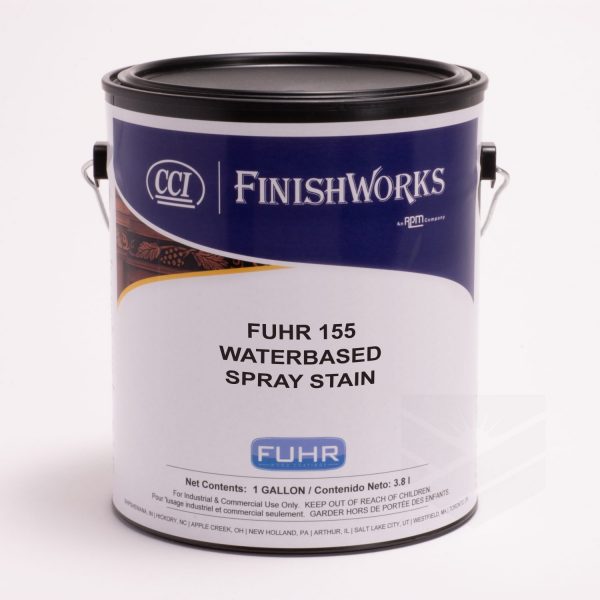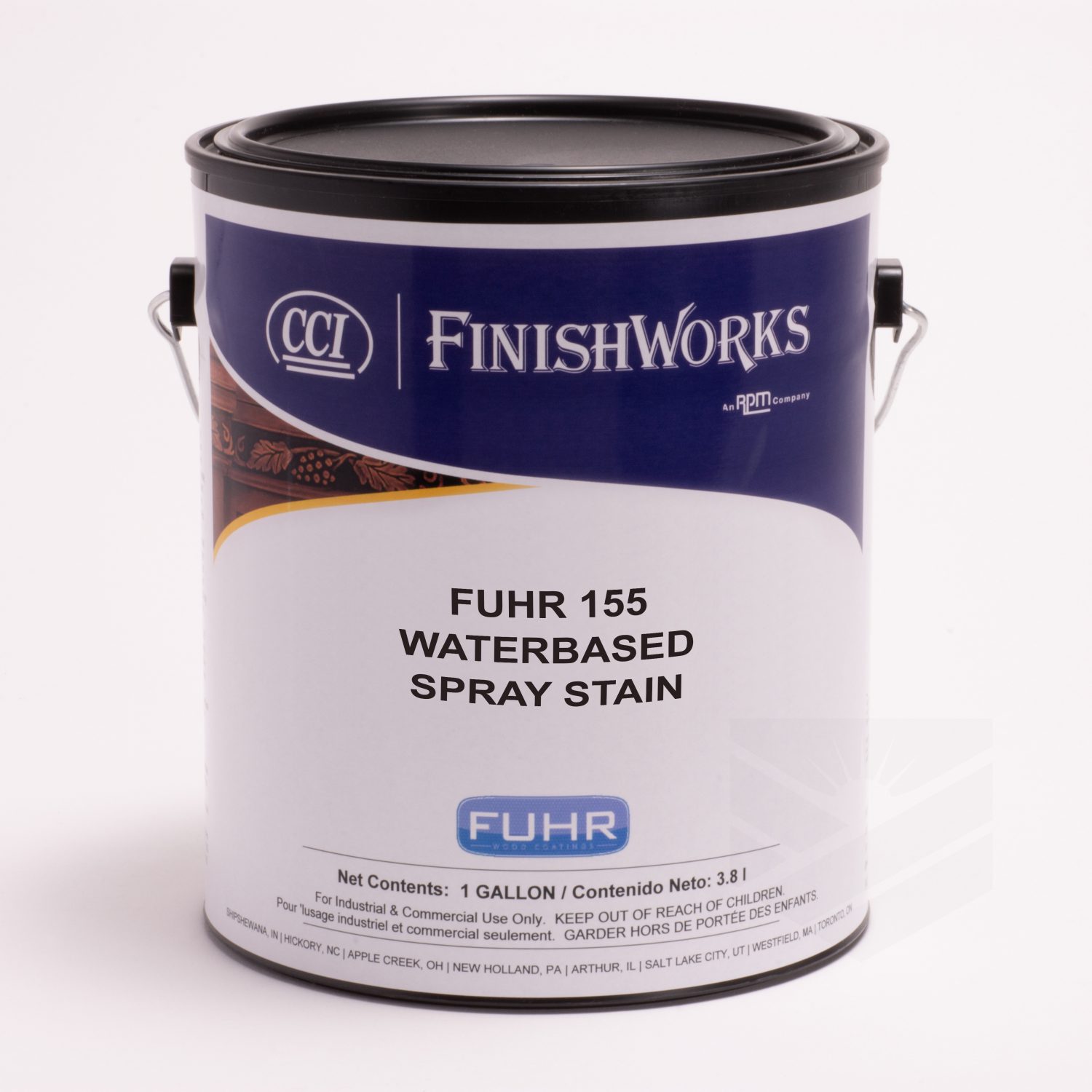 Fuhr 155 Waterbased Spray Stain
The 155 is a 0 VOC waterbased spray-on dye stain with little to no grain raising. It has excellent clarity and is good to use as is, or as a base stain in a dye-wipe combination. Only add dye concentrates as it is NOT made to accept pigments. Intended as a spray-on penetrating stain.
*To see a color chart representing these 22 colors, see Stain Chart.
Description

Color

Size

Product #

Price

Quantity

Action

Fuhr 155 Waterbased Spray Stain-Golden Pecan

Color

Golden Pecan

Size

1 quart

FHR15501-Q

Call for Price

Fuhr 155 Waterbased Spray Stain-Golden Pecan

Color

Golden Pecan

Size

1 gal

FHR15501-G

Call for Price

Fuhr 155 Waterbased Spray Stain-Special Walnut

Color

Special Walnut

Size

1 quart

FHR15502-Q

Call for Price

Fuhr 155 Waterbased Spray Stain-Special Walnut

Color

Special Walnut

Size

1 gal

FHR15502-G

Call for Price

Fuhr 155 Waterbased Spray Stain-Red Mahogany

Color

Red Mahogany

Size

1 quart

FHR15503-Q

Call for Price

Fuhr 155 Waterbased Spray Stain-Red Mahogany

Color

Red Mahogany

Size

1 gal

FHR15503-G

Call for Price

Fuhr 155 Waterbased Spray Stain-Driftwood

Color

Driftwood

Size

1 quart

FHR15504-Q

Call for Price

Fuhr 155 Waterbased Spray Stain-Driftwood

Color

Driftwood

Size

1 gal

FHR15504-G

Call for Price

Fuhr 155 Waterbased Spray Stain-Dark Walnut

Color

Dark Walnut

Size

1 quart

FHR15505-Q

Call for Price

Fuhr 155 Waterbased Spray Stain-Dark Walnut

Color

Dark Walnut

Size

1 gal

FHR15505-G

Call for Price

Fuhr 155 Waterbased Spray Stain-Puritan Pine

Color

Puritan Pine

Size

1 quart

FHR15506-Q

Call for Price

Fuhr 155 Waterbased Spray Stain-Puritan Pine

Color

Puritan Pine

Size

1 gal

FHR15506-G

Call for Price

Fuhr 155 Waterbased Spray Stain-Early American

Color

Early American

Size

1 quart

FHR15507-Q

Call for Price

Fuhr 155 Waterbased Spray Stain-Early American

Color

Early American

Size

1 gal

FHR15507-G

Call for Price

Fuhr 155 Waterbased Spray Stain-Antique Cherry

Color

Antique Cherry

Size

1 quart

FHR15508-Q

Call for Price

Fuhr 155 Waterbased Spray Stain-Antique Cherry

Color

Antique Cherry

Size

1 gal

FHR15508-G

Call for Price

Fuhr 155 Waterbased Spray Stain-Provincial

Color

Provincial

Size

1 quart

FHR15509-Q

Call for Price

Fuhr 155 Waterbased Spray Stain-Provincial

Color

Provincial

Size

1 gal

FHR15509-G

Call for Price

Fuhr 155 Waterbased Spray Stain-Fruitwood

Color

Fruitwood

Size

1 quart

FHR15510-Q

Call for Price

Fuhr 155 Waterbased Spray Stain-Fruitwood

Color

Fruitwood

Size

1 gal

FHR15510-G

Call for Price

Fuhr 155 Waterbased Spray Stain-Colonial Maple

Color

Colonial Maple

Size

1 quart

FHR15511-Q

Call for Price

Fuhr 155 Waterbased Spray Stain-Colonial Maple

Color

Colonial Maple

Size

1 gal

FHR15511-G

Call for Price

Fuhr 155 Waterbased Spray Stain-Golden Oak

Color

Golden Oak

Size

1 quart

FHR15512-Q

Call for Price

Fuhr 155 Waterbased Spray Stain-Golden Oak

Color

Golden Oak

Size

1 gal

FHR15512-G

Call for Price

Fuhr 155 Waterbased Spray Stain-Jacobean

Color

Jacobean

Size

1 quart

FHR15513-Q

Call for Price

Fuhr 155 Waterbased Spray Stain-Jacobean

Color

Jacobean

Size

1 gal

FHR15513-G

Call for Price

Fuhr 155 Waterbased Spray Stain-Ebony

Color

Ebony

Size

1 quart

FHR15514-Q

Call for Price

Fuhr 155 Waterbased Spray Stain-Ebony

Color

Ebony

Size

1 gal

FHR15514-G

Call for Price

Fuhr 155 Waterbased Spray Stain-Red Oak

Color

Red Oak

Size

1 quart

FHr15515-Q

Call for Price

Fuhr 155 Waterbased Spray Stain-Red Oak

Color

Red Oak

Size

1 gal

FHr15515-G

Call for Price

Fuhr 155 Waterbased Spray Stain-Picked Oak

Color

Picked Oak

Size

1 quart

FHR15516-Q

Call for Price

Fuhr 155 Waterbased Spray Stain-Picked Oak

Color

Picked Oak

Size

1 gal

FHR15516-G

Call for Price

Fuhr 155 Waterbased Spray Stain-Ipswich Pine

Color

Ipswich Pine

Size

1 quart

FHR15517-Q

Call for Price

Fuhr 155 Waterbased Spray Stain-Ipswich Pine

Color

Ipswich Pine

Size

1 gal

FHR15517-G

Call for Price

Fuhr 155 Waterbased Spray Stain-Cherry

Color

Cherry

Size

1 quart

FHR15518-Q

Call for Price

Fuhr 155 Waterbased Spray Stain-Cherry

Color

Cherry

Size

1 gal

FHR15518-G

Call for Price

Fuhr 155 Waterbased Spray Stain-English Chestnut

Color

English Chestnut

Size

1 quart

FHR15519-Q

Call for Price

Fuhr 155 Waterbased Spray Stain-English Chestnut

Color

English Chestnut

Size

1 gal

FHR15519-G

Call for Price

Fuhr 155 Waterbased Spray Stain-Light Walnut

Color

Light Walnut

Size

1 quart

FHR15520-Q

Call for Price

Fuhr 155 Waterbased Spray Stain-Light Walnut

Color

Light Walnut

Size

1 gal

FHR15520-G

Call for Price

Fuhr 155 Waterbased Spray Stain-Medium Red Mahogany

Color

Medium Red Mahogany

Size

1 quart

FHR15521-Q

Call for Price

Fuhr 155 Waterbased Spray Stain-Medium Red Mahogany

Color

Medium Red Mahogany

Size

1 gal

FHR15521-G

Call for Price

Fuhr 155 Waterbased Spray Stain-Nutmeg Brown

Color

Nutmeg Brown

Size

1 quart

FHR15522-Q

Call for Price

Fuhr 155 Waterbased Spray Stain-Nutmeg Brown

Color

Nutmeg Brown

Size

1 gal

FHR15522-G

Call for Price

Fuhr 155 Waterbased Spray Stain-Clear Base

Color

Clear Base

Size

1 quart

FHR155-10-Q

Call for Price

Fuhr 155 Waterbased Spray Stain-Clear Base

Color

Clear Base

Size

1 gal

FHR155-10-G

Call for Price