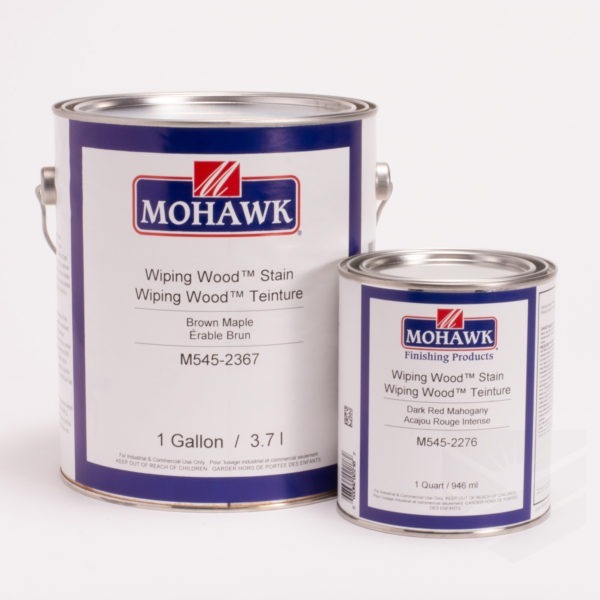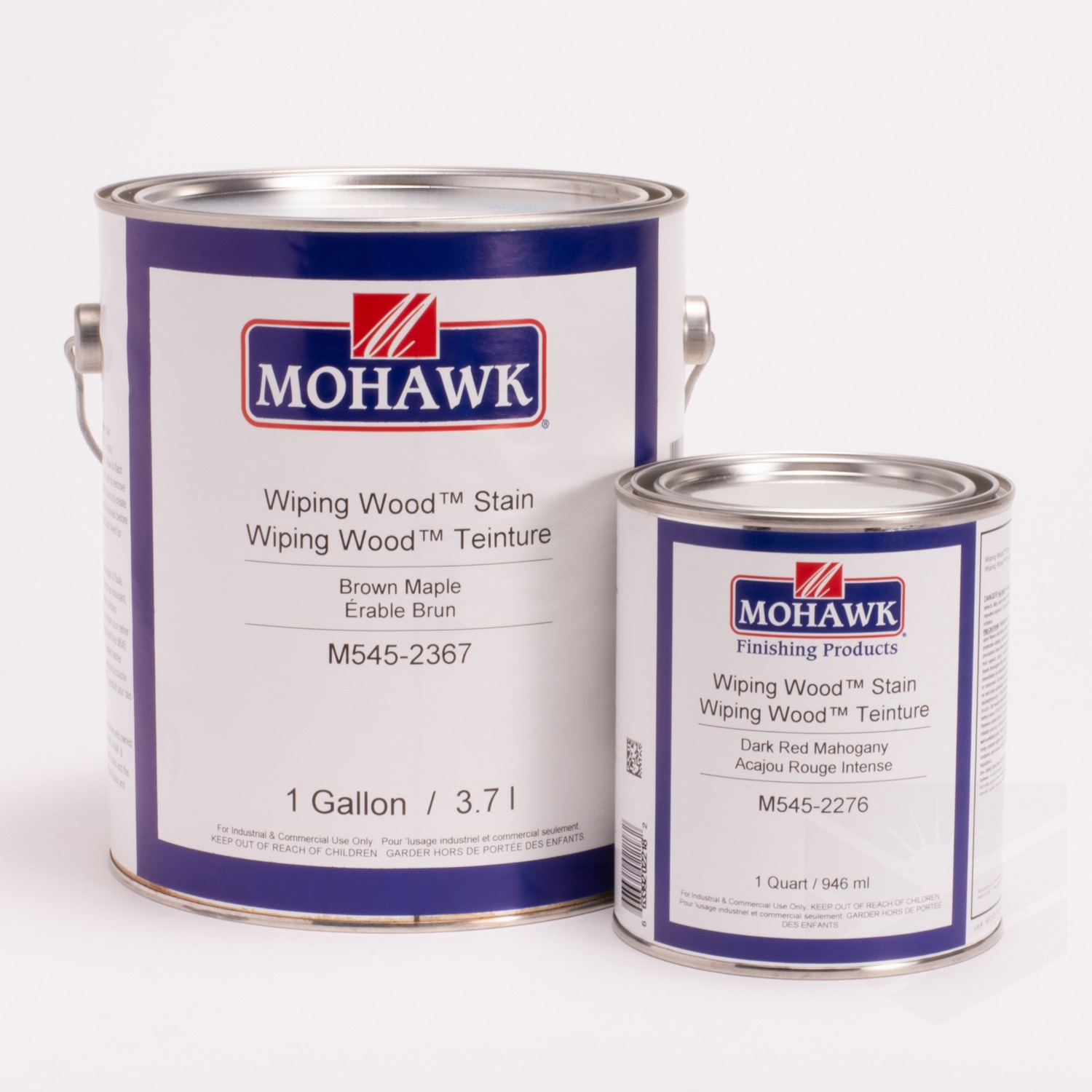 Mohawk Wiping Wood Stain
Semi-transparent, pigmented, solvent-based stain. Non-grain raising, fade resistant. Easy stir, soft-settling formula. Only 30 minutes drying time is needed before a lacquer sealer coat can be sprayed. Apply by spray, brush or cloth. Pigmented Wiping Stains are easier to control because there's less lapping. An ideal uniforming stain when applied over dye stains prior to sealing. A dark color tone is easily lightened with Wood Stain Reducer S-15. This stain will never bleed through the finish. Virtually any finish can be applied over Wiping Wood™ Stain: lacquer, shellac, varnish, polyurethane, acrylics and many others.
⚠WARNING: Cancer and Reproductive Harm – www.P65Warnings.ca.gov. Applies to these product(s).
*To see a color chart representing these 36 Mohawk Wiping Wood Stains, see Stain Chart.
Description

Color

Size

Product #

Price

Quantity

Action

Mohawk Wiping Wood Stain-Antique White (special order)

Color

Antique White

Size

1 quart

M545-4126

Call for Price

Mohawk Wiping Wood Stain-Antique White (special order)

Color

Antique White

Size

1 gal

M545-4127

Call for Price

Mohawk Wiping Wood Stain-Black (special order)

Color

Black

Size

1 quart

M545-2246

Call for Price

Mohawk Wiping Wood Stain-Black (special order)

Color

Black

Size

1 gal

M545-2247

Call for Price

Mohawk Wiping Wood Stain-Brown Mahogany

Color

Brown Mahogany

Size

1 quart

M545-2296

Call for Price

Mohawk Wiping Wood Stain-Brown Mahogany

Color

Brown Mahogany

Size

1 gal

M545-2297

Call for Price

Mohawk Wiping Wood Stain-Brown Maple

Color

Brown Maple

Size

1 quart

M545-2366

Call for Price

Mohawk Wiping Wood Stain-Brown Maple

Color

Brown Maple

Size

1 gal

M545-2367

Call for Price

Mohawk Wiping Wood Stain-Burnt Sienna (special order)

Color

Burnt Sienna

Size

1 quart

M545-4766

Call for Price

Mohawk Wiping Wood Stain-Burnt Sienna (special order)

Color

Burnt Sienna

Size

1 gal

M545-4767

Call for Price

Mohawk Wiping Wood Stain-Burnt Umber (special order)

Color

Burnt Umber

Size

1 quart

M545-14356

Call for Price

Mohawk Wiping Wood Stain-Burnt Umber (special order)

Color

Burnt Umber

Size

1 gal

M545-14357

Call for Price

Mohawk Wiping Wood Stain-Cherry

Color

Cherry

Size

1 quart

M545-4086

Call for Price

Mohawk Wiping Wood Stain-Cherry

Color

Cherry

Size

1 gal

M545-4087

Call for Price

Mohawk Wiping Wood Stain-Colonial Maple (special order)

Color

Colonial Maple

Size

1 quart

M545-2406

Call for Price

Mohawk Wiping Wood Stain-Colonial Maple (special order)

Color

Colonial Maple

Size

1 gal

M545-2407

Call for Price

Mohawk Wiping Wood Stain-Dark Fruitwood

Color

Dark Fruitwood

Size

1 quart

M545-D4046

Call for Price

Mohawk Wiping Wood Stain-Dark Fruitwood

Color

Dark Fruitwood

Size

1 gal

M545-D4047

Call for Price

Mohawk Wiping Wood Stain-Dark Golden Oak (special order)

Color

Dark Golden Oak

Size

1 quart

M545-2206

Call for Price

Mohawk Wiping Wood Stain-Dark Golden Oak (special order)

Color

Dark Golden Oak

Size

1 gal

M545-2207

Call for Price

Mohawk Wiping Wood Stain-Dark Red Mahogany

Color

Dark Red Mahogany

Size

1 quart

M545-2276

Call for Price

Mohawk Wiping Wood Stain-Dark Red Mahogany

Color

Dark Red Mahogany

Size

1 gal

M545-2277

Call for Price

Mohawk Wiping Wood Stain-English Chestnut (special order)

Color

English Chestnut

Size

1 quart

M545-10056

Call for Price

Mohawk Wiping Wood Stain-English Chestnut (special order)

Color

English Chestnut

Size

1 gal

M545-10057

Call for Price

Mohawk Wiping Wood Stain-Extra Dark Walnut

Color

Extra Dark Walnut

Size

1 quart

M545-2096

Call for Price

Mohawk Wiping Wood Stain-Extra Dark Walnut

Color

Extra Dark Walnut

Size

1 gal

M545-2097

Call for Price

Mohawk Wiping Wood Stain-Fiddlestone Cherry

Color

Fiddlestone Cherry

Size

1 quart

M545-1606

Call for Price

Mohawk Wiping Wood Stain-Fiddlestone Cherry

Color

Fiddlestone Cherry

Size

1 gal

M545-1607

Call for Price

Mohawk Wiping Wood Stain-Honey (special order)

Color

Honey

Size

1 quart

M545-10006

Call for Price

Mohawk Wiping Wood Stain-Honey (special order)

Color

Honey

Size

1 gal

M545-10007

Call for Price

Mohawk Wiping Wood Stain-Jacobean (special order)

Color

Jacobean

Size

1 quart

M545-10046

Call for Price

Mohawk Wiping Wood Stain-Jacobean (special order)

Color

Jacobean

Size

1 gal

M545-10047

Call for Price

Mohawk Wiping Wood Stain-Light Fruitwood

Color

Light Fruitwood

Size

1 quart

M545-L4046

Call for Price

Mohawk Wiping Wood Stain-Light Fruitwood

Color

Light Fruitwood

Size

1 gal

M545-L4047

Call for Price

Mohawk Wiping Wood Stain-Light Golden Oak

Color

Light Golden Oak

Size

1 quart

M545-4156

Call for Price

Mohawk Wiping Wood Stain-Light Golden Oak

Color

Light Golden Oak

Size

1 gal

M545-4157

Call for Price

Mohawk Wiping Wood Stain-Light Red Mahogany

Color

Light Red Mahogany

Size

1 quart

M545-2186

Call for Price

Mohawk Wiping Wood Stain-Light Red Mahogany

Color

Light Red Mahogany

Size

1 gal

M545-2187

Call for Price

Mohawk Wiping Wood Stain-Light Walnut

Color

Light Walnut

Size

1 quart

M545-2066

Call for Price

Mohawk Wiping Wood Stain-Light Walnut

Color

Light Walnut

Size

1 gal

M545-2067

Call for Price

Mohawk Wiping Wood Stain-Medium Brown Walnut

Color

Medium Brown Walnut

Size

1 quart

M545-2076

Call for Price

Mohawk Wiping Wood Stain-Medium Brown Walnut

Color

Medium Brown Walnut

Size

1 gal

M545-2077

Call for Price

Mohawk Wiping Wood Stain-Medium Dark Walnut

Color

Medium Dark Walnut

Size

1 quart

M545-2346

Call for Price

Mohawk Wiping Wood Stain-Medium Dark Walnut

Color

Medium Dark Walnut

Size

1 gal

M545-2347

Call for Price

Mohawk Wiping Wood Stain-Medium Walnut (special order)

Color

Medium Walnut

Size

1 quart

M545-02056

Call for Price

Mohawk Wiping Wood Stain-Medium Walnut (special order)

Color

Medium Walnut

Size

1 gal

M545-02057

Call for Price

Mohawk Wiping Wood Stain-Modern Mahogany

Color

Modern Mahogany

Size

1 quart

M545-2736

Call for Price

Mohawk Wiping Wood Stain-Modern Mahogany

Color

Modern Mahogany

Size

1 gal

M545-2737

Call for Price

Mohawk Wiping Wood Stain-Natural

Color

Natural

Size

1 quart

M545-0026

Call for Price

Mohawk Wiping Wood Stain-Natural

Color

Natural

Size

1 gal

M545-0027

Call for Price

Mohawk Wiping Wood Stain-Nutmeg (special order)

Color

Nutmeg

Size

1 quart

M545-4116

Call for Price

Mohawk Wiping Wood Stain-Nutmeg (special order)

Color

Nutmeg

Size

1 gal

M545-4117

Call for Price

Mohawk Wiping Wood Stain-Perfect Brown

Color

Perfect Brown

Size

1 quart

M545-2496

Call for Price

Mohawk Wiping Wood Stain-Perfect Brown

Color

Perfect Brown

Size

1 gal

M545-2497

Call for Price

Mohawk Wiping Wood Stain-Raw Umber (special order)

Color

Raw Umber

Size

1 quart

M545-01436

Call for Price

Mohawk Wiping Wood Stain-Raw Umber (special order)

Color

Raw Umber

Size

1 gal

M545-01437

Call for Price

Mohawk Wiping Wood Stain-Red Mahogany

Color

Red Mahogany

Size

1 quart

M545-2466

Call for Price

Mohawk Wiping Wood Stain-Red Mahogany

Color

Red Mahogany

Size

1 gal

M545-2467

Call for Price

Mohawk Wiping Wood Stain-Saddle (special order)

Color

Saddle

Size

1 quart

M545-10026

Call for Price

Mohawk Wiping Wood Stain-Saddle (special order)

Color

Saddle

Size

1 gal

M545-10027

Call for Price

Mohawk Wiping Wood Stain-Shale Grey (special order)

Color

Shale Grey

Size

1 quart

M545-10016

Call for Price

Mohawk Wiping Wood Stain-Shale Grey (special order)

Color

Shale Grey

Size

1 gal

M545-10017

Call for Price

Mohawk Wiping Wood Stain-Statesman Oak (special order)

Color

Statesman Oak

Size

1 quart

M545-15226

Call for Price

Mohawk Wiping Wood Stain-Statesman Oak (special order)

Color

Statesman Oak

Size

1 gal

M545-15227

Call for Price

Mohawk Wiping Wood Stain-Van Dyke Brown (special order)

Color

Van Dyke Brown

Size

1 quart

M545-14786

Call for Price

Mohawk Wiping Wood Stain-Van Dyke Brown (special order)

Color

Van Dyke Brown

Size

1 gal

M545-14787

Call for Price

Mohawk Wiping Wood Stain-Walnut

Color

Walnut

Size

1 quart

M545-3596

Call for Price

Mohawk Wiping Wood Stain-Walnut

Color

Walnut

Size

1 gal

M545-3597

Call for Price

Mohawk Wiping Wood Stain-Weathered Oak (special order)

Color

Weathered Oak

Size

1 quart

M545-10036

Call for Price

Mohawk Wiping Wood Stain-Weathered Oak (special order)

Color

Weathered Oak

Size

1 gal

M545-10037

Call for Price

Mohawk Wiping Wood Stain-White (special order)

Color

White

Size

1 quart

M545-2026

Call for Price

Mohawk Wiping Wood Stain-White (special order)

Color

White

Size

1 gal

M545-2027

Call for Price
Description

Product #

Price

Quantity

Action

Description

Stain Deck, M545 Wiping Wood Stain

Product #

M900-1003

Price

Call for Price