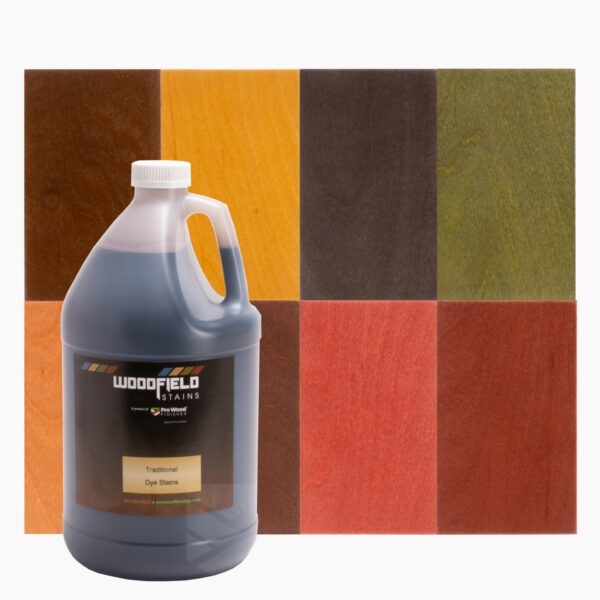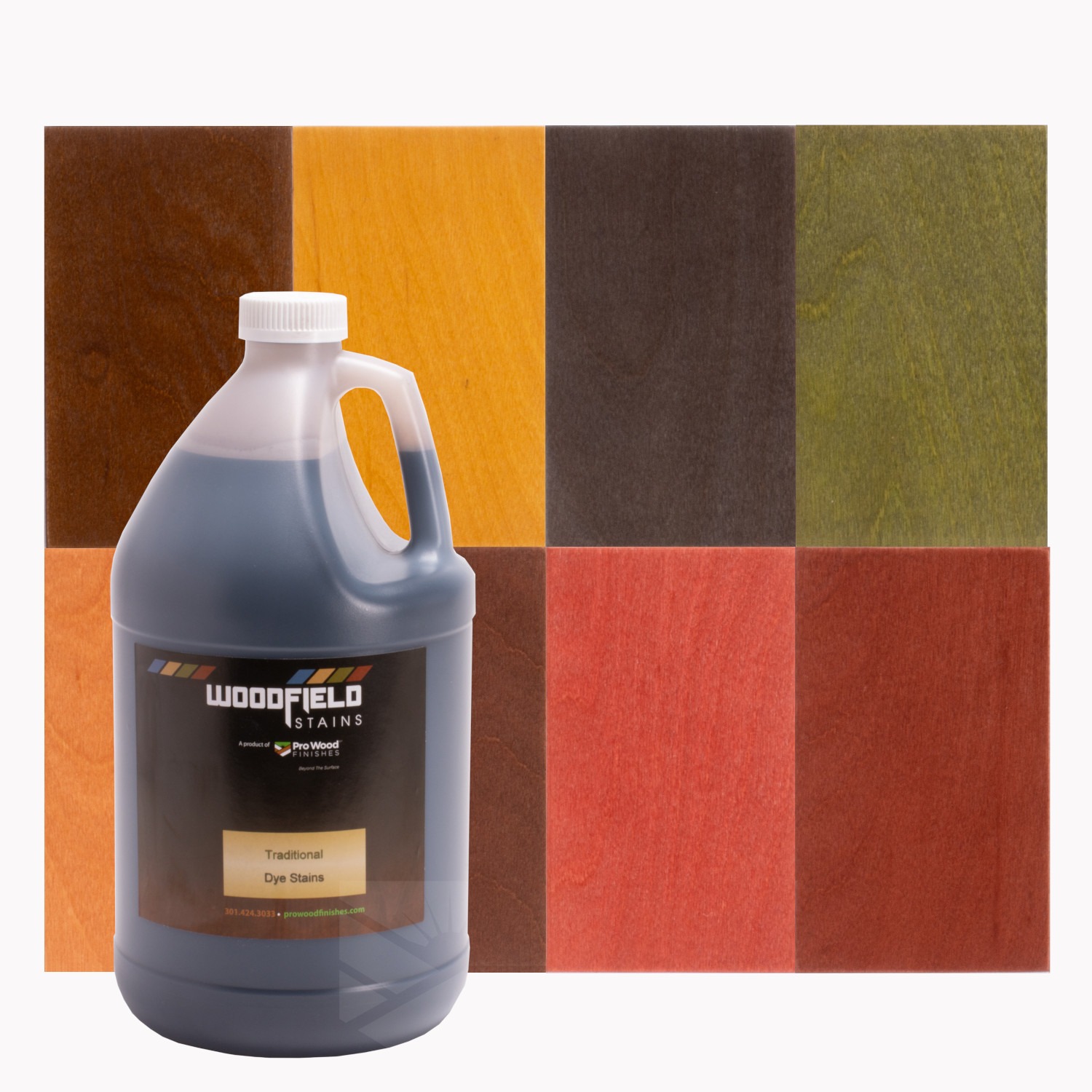 Woodfield Traditional Dye Stains
These Traditional alcohol based dye stains are made from German metallized dyes, for better light-fastness. Typical use is as a pre-stain sprayed directly on wood. Due to their transparency they enhance but do not hide the grain of the wood. They dry very fast and can be stained over within 10 minutes (@70°F). There is a large selection of popular and deep rich colors to choose from. They may be intermixed to achieve any color you may need.
*To see a color chart representing these 29 available Woodfield Traditional Dye Stains, see Stain Chart.
Description

Color

Size

Product #

Price

Quantity

Action

Woodfield Traditional Dye Stains-Special Brown

Color

Special Brown

Size

1 quart

WDS30200-Q

Call for Price

Woodfield Traditional Dye Stains-Special Brown

Color

Special Brown

Size

1 gal

WDS30200-G

Call for Price

Woodfield Traditional Dye Stains-Bright Yellow

Color

Bright Yellow

Size

1 quart

WDS30201-Q

Call for Price

Woodfield Traditional Dye Stains-Bright Yellow

Color

Bright Yellow

Size

1 gal

WDS30201-G

Call for Price

Woodfield Traditional Dye Stains-Bordeaux

Color

Bordeaux

Size

1 quart

WDS30202-Q

Call for Price

Woodfield Traditional Dye Stains-Bordeaux

Color

Bordeaux

Size

1 gal

WDS30202-G

Call for Price

Woodfield Traditional Dye Stains-Red

Color

Red

Size

1 quart

WDS30203-Q

Call for Price

Woodfield Traditional Dye Stains-Red

Color

Red

Size

1 gal

WDS30203-G

Call for Price

Woodfield Traditional Dye Stains-Amber Orange

Color

Amber Orange

Size

1 quart

WDS30204-Q

Call for Price

Woodfield Traditional Dye Stains-Amber Orange

Color

Amber Orange

Size

1 gal

WDS30204-G

Call for Price

Woodfield Traditional Dye Stains-Golden Oak

Color

Golden Oak

Size

1 quart

WDS30205-Q

Call for Price

Woodfield Traditional Dye Stains-Golden Oak

Color

Golden Oak

Size

1 gal

WDS30205-G

Call for Price

Woodfield Traditional Dye Stains-Warm/Black Ebony

Color

Warm/Black Ebony

Size

1 quart

WDS30206-Q

Call for Price

Woodfield Traditional Dye Stains-Warm/Black Ebony

Color

Warm/Black Ebony

Size

1 gal

WDS30206-G

Call for Price

Woodfield Traditional Dye Stains-Green

Color

Green

Size

1 quart

WDS30207-Q

Call for Price

Woodfield Traditional Dye Stains-Green

Color

Green

Size

1 gal

WDS30207-G

Call for Price

Woodfield Traditional Dye Stains-Blue

Color

Blue

Size

1 quart

WDS30208-Q

Call for Price

Woodfield Traditional Dye Stains-Blue

Color

Blue

Size

1 gal

WDS30208-G

Call for Price

Woodfield Traditional Dye Stains-Violet

Color

Violet

Size

1 quart

WDS30209-Q

Call for Price

Woodfield Traditional Dye Stains-Violet

Color

Violet

Size

1 gal

WDS30209-G

Call for Price

Woodfield Traditional Dye Stains-Golden Brown

Color

Golden Brown

Size

1 quart

WDS30210-Q

Call for Price

Woodfield Traditional Dye Stains-Golden Brown

Color

Golden Brown

Size

1 gal

WDS30210-G

Call for Price

Woodfield Traditional Dye Stains-Red Brown

Color

Red Brown

Size

1 quart

WDS30211-Q

Call for Price

Woodfield Traditional Dye Stains-Red Brown

Color

Red Brown

Size

1 gal

WDS30211-G

Call for Price

Woodfield Traditional Dye Stains-Appalachian Brown

Color

Appalachian Brown

Size

1 quart

WDS30212-Q

Call for Price

Woodfield Traditional Dye Stains-Appalachian Brown

Color

Appalachian Brown

Size

1 gal

WDS30212-G

Call for Price

Woodfield Traditional Dye Stains-Golden

Color

Golden

Size

1 quart

WDS30213-Q

Call for Price

Woodfield Traditional Dye Stains-Golden

Color

Golden

Size

1 gal

WDS30213-G

Call for Price

Woodfield Traditional Dye Stains-Cherry Mahogany

Color

Cherry Mahogany

Size

1 quart

WDS30001-Q

Call for Price

Woodfield Traditional Dye Stains-Cherry Mahogany

Color

Cherry Mahogany

Size

1 gal

WDS30001-G

Call for Price

Woodfield Traditional Dye Stains-Dark Walnut

Color

Dark Walnut

Size

1 quart

WDS30002-Q

Call for Price

Woodfield Traditional Dye Stains-Dark Walnut

Color

Dark Walnut

Size

1 gal

WDS30002-G

Call for Price

Woodfield Traditional Dye Stains-Amber Fruitwood

Color

Amber Fruitwood

Size

1 quart

WDS30003-Q

Call for Price

Woodfield Traditional Dye Stains-Amber Fruitwood

Color

Amber Fruitwood

Size

1 gal

WDS30003-G

Call for Price

Woodfield Traditional Dye Stains-American Walnut

Color

American Walnut

Size

1 quart

WDS30004-Q

Call for Price

Woodfield Traditional Dye Stains-American Walnut

Color

American Walnut

Size

1 gal

WDS30004-G

Call for Price

Woodfield Traditional Dye Stains-Nutmeg Brown

Color

Nutmeg Brown

Size

1 quart

WDS30005-Q

Call for Price

Woodfield Traditional Dye Stains-Nutmeg Brown

Color

Nutmeg Brown

Size

1 gal

WDS30005-G

Call for Price

Woodfield Traditional Dye Stains-Dark Red Mahogany

Color

Dark Red Mahogany

Size

1 quart

WDS30006-Q

Call for Price

Woodfield Traditional Dye Stains-Dark Red Mahogany

Color

Dark Red Mahogany

Size

1 gal

WDS30006-G

Call for Price

Woodfield Traditional Dye Stains-Extra Dark Walnut

Color

Extra Dark Walnut

Size

1 quart

WDS30007-Q

Call for Price

Woodfield Traditional Dye Stains-Extra Dark Walnut

Color

Extra Dark Walnut

Size

1 gal

WDS30007-G

Call for Price

Woodfield Traditional Dye Stains-Golden Fruitwood

Color

Golden Fruitwood

Size

1 quart

WDS30008-Q

Call for Price

Woodfield Traditional Dye Stains-Golden Fruitwood

Color

Golden Fruitwood

Size

1 gal

WDS30008-G

Call for Price

Woodfield Traditional Dye Stains-Light Brown Mahogany

Color

Light Brown Mahogany

Size

1 quart

WDS30009-Q

Call for Price

Woodfield Traditional Dye Stains-Light Brown Mahogany

Color

Light Brown Mahogany

Size

1 gal

WDS30009-G

Call for Price

Woodfield Traditional Dye Stains-Light Red Mahogany

Color

Light Red Mahogany

Size

1 quart

WDS30010-Q

Call for Price

Woodfield Traditional Dye Stains-Light Red Mahogany

Color

Light Red Mahogany

Size

1 gal

WDS30010-G

Call for Price

Woodfield Traditional Dye Stains-Light Walnut

Color

Light Walnut

Size

1 quart

WDS30011-Q

Call for Price

Woodfield Traditional Dye Stains-Light Walnut

Color

Light Walnut

Size

1 gal

WDS30011-G

Call for Price

Woodfield Traditional Dye Stains-Medium Brown Mahogany

Color

Medium Brown Mahogany

Size

1 quart

WDS30012-Q

Call for Price

Woodfield Traditional Dye Stains-Medium Brown Mahogany

Color

Medium Brown Mahogany

Size

1 gal

WDS30012-G

Call for Price

Woodfield Traditional Dye Stains-Medium Brown Walnut

Color

Medium Brown Walnut

Size

1 quart

WDS30013-Q

Call for Price

Woodfield Traditional Dye Stains-Medium Brown Walnut

Color

Medium Brown Walnut

Size

1 gal

WDS30013-G

Call for Price

Woodfield Traditional Dye Stains-Medium Red Mahogany

Color

Medium Red Mahogany

Size

1 quart

WDS30014-Q

Call for Price

Woodfield Traditional Dye Stains-Medium Red Mahogany

Color

Medium Red Mahogany

Size

1 gal

WDS30014-G

Call for Price

Woodfield Traditional Dye Stains-Raw Umber

Color

Raw Umber

Size

1 quart

WDS30015-Q

Call for Price

Woodfield Traditional Dye Stains-Raw Umber

Color

Raw Umber

Size

1 gal

WDS30015-G

Call for Price