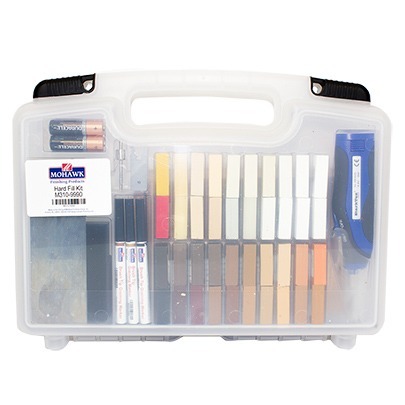 Mohawk Hard Fill Kit
Mohawk's Hard Fill Kit contains all the products and tools needed to repair minor and medium defects in wood and rigid plastic in a handy carrying case. Recommended for repairs on floors, tops, fronts, sides, doors, drawers and wood surfaces. Contents:
40 Hard Fills; 3 Brush Tip Graining Markers; Finish & Filler Scraper; Hard Fill Leveling Tool; Hard Fill Scraper; Battery Operated Burn-In Knife; Sandpaper; Non-Woven Hand Pad; Lint Free Cloth; Carrying Case; Instruction Sheet.
⚠WARNING: Cancer and Reproductive Harm – www.P65Warnings.ca.gov. Applies to these product(s).
For a sample chart of the Hard Fill Kit Replacement Sticks corresponding colors see Information Sheet.
For a sample chart of all available colors see Stain Chart.
Description

Product #

Price

Quantity

Action

Hard Fill Kit

M310-9990

Call for Price
Replacement Sticks (1.5") for Hard Fill Kit
Description

Color

Size

Product #

Price

Quantity

Action

Description

Hard Fill Replacement Sticks-Natural 47601

Color

Natural 47601

Size

1.5 in

Product #

M314-0000

Price

Call for Price

Description

Hard Fill Replacement Sticks-Deep Red Mahogany 114

Color

Deep Red Mahogany 114

Size

1.5 in

Product #

M314-0004

Price

Call for Price

Description

Hard Fill Replacement Sticks-Light Grey 7035

Color

Light Grey 7035

Size

1.5 in

Product #

M314-0007

Price

Call for Price

Description

Hard Fill-Trans Green Brown 303

Color

Trans Green Brown 303

Size

1.5 in

Product #

M314-0032

Price

Call for Price

Description

Hard Fill-Medium Tan 106

Color

Medium Tan 106

Size

1.5 in

Product #

M314-0079

Price

Call for Price

Description

Hard Fill-White 9010

Color

White 9010

Size

1.5 in

Product #

M314-0202

Price

Call for Price

Description

Hard Fill-Light Red Mahogany 113

Color

Light Red Mahogany 113

Size

1.5 in

Product #

M314-0218

Price

Call for Price

Description

Hard Fill-Black 9005

Color

Black 9005

Size

1.5 in

Product #

M314-0224

Price

Call for Price

Description

Hard Fill-Colonial Maple 138

Color

Colonial Maple 138

Size

1.5 in

Product #

M314-0240

Price

Call for Price

Description

Hard Fill-Sand Stone 155

Color

Sand Stone 155

Size

1.5 in

Product #

M314-0330

Price

Call for Price

Description

Hard Fill-Off White 351

Color

Off White 351

Size

1.5 in

Product #

M314-0334

Price

Call for Price

Description

Hard Fill-Off White Seafoam 178

Color

Off White Seafoam 178

Size

1.5 in

Product #

M314-0340

Price

Call for Price

Description

Hard Fill-Snow White 354

Color

Snow White 354

Size

1.5 in

Product #

M314-0354

Price

Call for Price

Description

Hard Fill-Honey Maple 158

Color

Honey Maple 158

Size

1.5 in

Product #

M314-0360

Price

Call for Price

Description

Hard Fill-American Brown Walnut 164

Color

American Brown Walnut 164

Size

1.5 in

Product #

M314-0369

Price

Call for Price

Description

Hard Fill-Almond 201

Color

Almond 201

Size

1.5 in

Product #

M314-0401

Price

Call for Price

Description

Hard Fill-Champagne 203

Color

Champagne 203

Size

1.5 in

Product #

M314-0402

Price

Call for Price

Description

Hard Fill-Cherry 48201

Color

Cherry 48201

Size

1.5 in

Product #

M314-0408

Price

Call for Price

Description

Hard Fill-Light Golden Oak 47801

Color

Light Golden Oak 47801

Size

1.5 in

Product #

M314-0415

Price

Call for Price

Description

Hard Fill-Clear 901

Color

Clear 901

Size

1.5 in

Product #

M314-0901

Price

Call for Price

Description

Hard Fill-Natural Tone 902

Color

Natural Tone 902

Size

1.5 in

Product #

M314-0902

Price

Call for Price

Description

Hard Fill-Transparent Yellow 905

Color

Transparent Yellow 905

Size

1.5 in

Product #

M314-0905

Price

Call for Price

Description

Hard Fill-Red 907

Color

Red 907

Size

1.5 in

Product #

M314-0907

Price

Call for Price

Description

Hard Fill-Provincial White 355

Color

Provincial White 355

Size

1.5 in

Product #

M314-1506

Price

Call for Price

Description

Hard Fill-Silk 357

Color

Silk 357

Size

1.5 in

Product #

M314-2063

Price

Call for Price

Description

Hard Fill-Salem Maple 143

Color

Salem Maple 143

Size

1.5 in

Product #

M314-4006

Price

Call for Price

Description

Hard Fill-Fawn Glaze 356

Color

Fawn Glaze 356

Size

1.5 in

Product #

M314-4012

Price

Call for Price

Description

Hard Fill-Praline 103

Color

Praline 103

Size

1.5 in

Product #

M314-4035

Price

Call for Price

Description

Hard Fill-Oak Hickory Light Natural 154

Color

Oak Hickory Light Natural 154

Size

1.5 in

Product #

M314-4038

Price

Call for Price

Description

Hard Fill-Light Fawn 159

Color

Light Fawn 159

Size

1.5 in

Product #

M314-4057

Price

Call for Price

Description

Hard Fill-Mocha 121

Color

Mocha 121

Size

1.5 in

Product #

M314-4062

Price

Call for Price

Description

Hard Fill-Peppercorn 163

Color

Peppercorn 163

Size

1.5 in

Product #

M314-4070

Price

Call for Price

Description

Hard Fill-Kona 157

Color

Kona 157

Size

1.5 in

Product #

M314-4071

Price

Call for Price

Description

Hard Fill-Natural IV 156

Color

Natural IV 156

Size

1.5 in

Product #

M314-6869

Price

Call for Price

Description

Hard Fill-Mist 9001

Color

Mist 9001

Size

1.5 in

Product #

M314-7635

Price

Call for Price

Description

Hard Fill-Arctic White 9016

Color

Arctic White 9016

Size

1.5 in

Product #

M314-8618

Price

Call for Price

Description

Hard Fill-Gardenia 9003

Color

Gardenia 9003

Size

1.5 in

Product #

M314-9055

Price

Call for Price

Description

Hard Fill-Heritage Cherry 166

Color

Heritage Cherry 166

Size

1.5 in

Product #

M314-9835

Price

Call for Price

Description

Hard Fill-Amber White 353

Color

Amber White 353

Size

1.5 in

Product #

M314-9923

Price

Call for Price