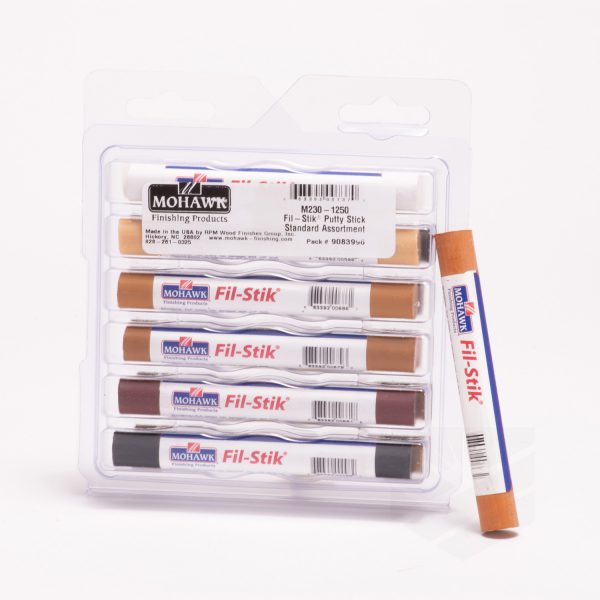 Mohawk 12 Pack Fil-Stik Assortments
Quickly and easily eliminate scratches, nicks or abrasions on wood furniture, picture frames, plastics and paneling with Fil-Stik®, our semi-hard filler putty sticks. No heat or special tools required. Just simply rub the wax stick in damaged areas to fill and scrape remaining product off using a credit card to leave an even, leveled surface. Works well on most wooden surfaces in low traffic areas. Can be protected with Tone Finish aerosols or other top coatings.
For a sample chart of all Six 12-Pack Assortments and corresponding colors see Information Sheet.
To get more information regarding these products see Technical Data Sheet.
For a sample chart of all available colors see Stain Chart.
Description

Product #

Price

Quantity

Action

Fil-Stik® 12 Pack Assortment (1)

M230-1200

Call for Price

Fil-Stik® 12 Pack Maple/Walnut Assortment (2)

M230-1210

Call for Price

Fil-Stik® 12 Pack Light Assortment (6)

M230-1220

Call for Price

Fil-Stik® 12 Pack Light Gray Assortment (9)

M230-1230

Call for Price

Fil-Stik® 12 Pack Medium/Dark Gray Assortment (10)

M230-1240

Call for Price

Fil-Stik® 12 Pack Standard Assortment (3)

M230-1250

Call for Price