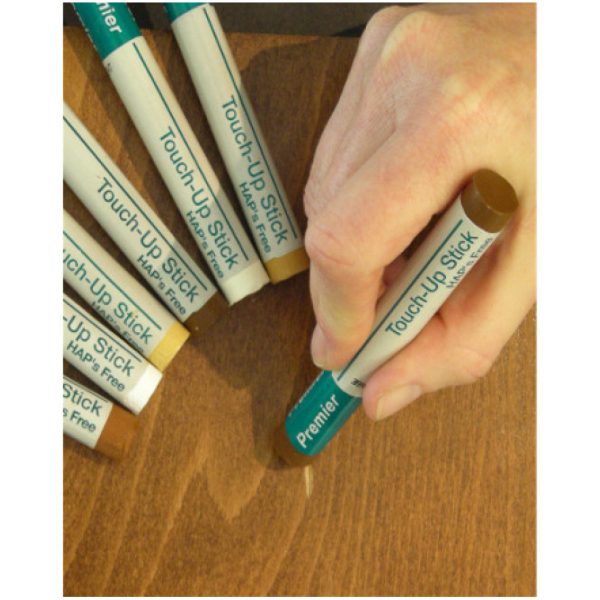 Premier & Gemini White Wax Putty Sticks
Premier: The wax touch-up / fill stick is simple to use for making a cosmetic repair to damage on fine furniture or cabinetry. Premier sticks are manufactured for the industry using the finest waxes and pigments available. To use the product, simply rub the stick back and forth over the void until the void is completely filled. Then remove the excess by either scraping off with a plastic putty knife (credit card) or you can buff off with a soft cotton cloth. For making cosmetic repairs on finished furniture or cabinetry. Small dings or damage. Staple and nail holes. Small cracks and splits. Gemini: These wax sticks feature an exclusive blend of waxes offering superior glide and a more durable fill. They are one third larger than most competitors fill sticks and provide an outstanding value.
To see the Premier color chart see Stain Chart.
Description

Color

Product #

Price

Quantity

Action

PremierTouch-Up / Fill Stick – P101, Transparent

Color

Transparent

P101

Call for Price

PremierTouch-Up / Fill Stick – P181, Pure White

Color

Pure White

P181

Call for Price

PremierTouch-Up / Fill Stick – P185, Pearl White

Color

Pearl White

P185

Call for Price

PremierTouch-Up / Fill Stick – P186, Parchment

Color

Parchment

P186

Call for Price

PremierTouch-Up / Fill Stick – P189, Pickle Frost

Color

Pickle Frost

P189

Call for Price

Gemini Wax & Blend Sticks-White

Color

White

WS-2177

Call for Price

Gemini Wax & Blend Sticks-Transparent White

Color

Transparent White

WS-2437

Call for Price

Gemini Wax & Blend Sticks-White

Color

White

WS-3000

Call for Price

Gemini Wax & Blend Sticks-CC White

Color

CC White

WS-3040

Call for Price