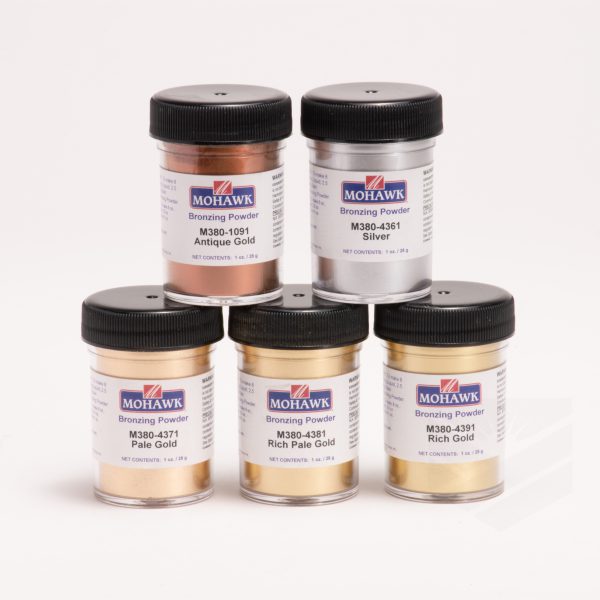 Mohawk Individual Bronzing Powders
Concentrated lining grade bronzing colors free of fillers and extenders. Used to decorate picture frames, furniture, lamps, antique objects and many other items.
Raised portions of a frame can be burnished to a higher luster thus creating a contrast with the rest of the work. Packaged by volume.
⚠WARNING: Cancer Harm – www.P65Warnings.ca.gov. Applies to these product(s).
To see all included colors in this assortment see Information Sheet.
To get more information regarding these products see Technical Data Sheet
For a sample chart of all 5 available colors see Stain Chart.
Description

Color

Size

Product #

Price

Quantity

Action

Description

Bronzing Powder Antique Gold

Color

Antique Gold

Size

1 oz

Product #

M380-1091

Price

Call for Price

Description

Bronzing Powder Silver

Color

Silver

Size

1 oz

Product #

M380-4361

Price

Call for Price

Description

Bronzing Powder Pale Gold

Color

Pale Gold

Size

1 oz

Product #

M380-4371

Price

Call for Price

Description

Bronzing Powder Rich Pale Gold

Color

Rich Pale Gold

Size

1 oz

Product #

M380-4381

Price

Call for Price

Description

Bronzing Powder Rich Gold

Color

Rich Gold

Size

1 oz

Product #

M380-4391

Price

Call for Price
Description

Color

Size

Product #

Price

Quantity

Action

Description

Bronzing Powder Antique Gold (special order)

Color

Antique Gold

Size

8 oz

Product #

M380-1094

Price

Call for Price

Description

Bronzing Powder Silver (special order)

Color

Silver

Size

8 oz

Product #

M380-4364

Price

Call for Price

Description

Bronzing Powder Pale Gold (special order)

Color

Pale Gold

Size

8 oz

Product #

M380-4374

Price

Call for Price

Description

Bronzing Powder Rich Pale Gold (special order)

Color

Rich Pale Gold

Size

8 oz

Product #

M380-4384

Price

Call for Price

Description

Bronzing Powder Rich Gold (special order)

Color

Rich Gold

Size

8 oz

Product #

M380-4394

Price

Call for Price
Description

Size

Color

Product #

Price

Quantity

Action

Description

Blendal & Bronzing Powders Stain Kit

Size

1 oz

Color

Assortment

Product #

M881-0001

Price

Call for Price